As the infection of the new coronavirus continues to spread throughout the country, medical staff are risking their lives for the sake of patients. Thus, Students at Ritsumeikan Asia Pacific University stood up for staff who are living with fear and tension. The students decided to express their gratitude towards medical staff who continue to fight against the invisible enemy called Covid-19.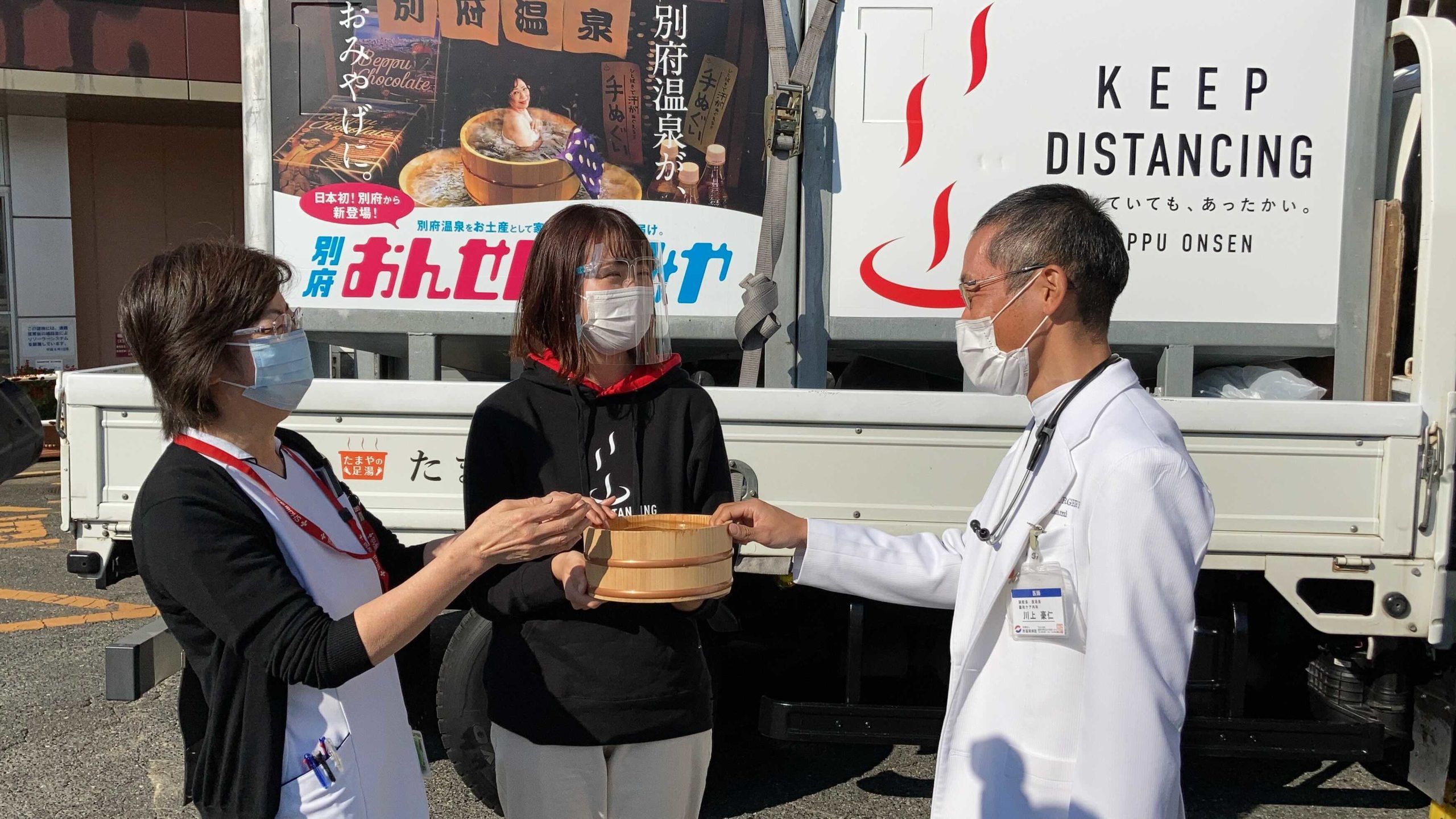 Refreshing body and mind with 100% hot spring origin.
The name is called "Let's overcome with Onsen" project.
The group consists of an associate professor called Shinohara and six students from Ritsumeikan Asia Pacific University (APU) located in Beppu, Oita Prefecture, gathering up seven volunteers in total. And they raised approximately 480,000 yen worth of crowdfunding to deliver 100% Beppu hot springs to medical staff nationwide from Oita City, also known as hot spring prefecture. As the first project, the team delivered 100% hot spring originated and over 45 degrees celsius water filled with healing and gratitude to 10 private homes, including medical staff at Nishifukuoka Hospital in Fukuoka Prefecture and other medical staff who wished to deliver hot spring water in Fukuoka Prefecture.
This project was launched after several months of discussion among volunteer members.
It is told that the team's unity has increased through continuous online meetings, the launch of crowdfunding, and the coordination with municipal officers in Beppu City Hall.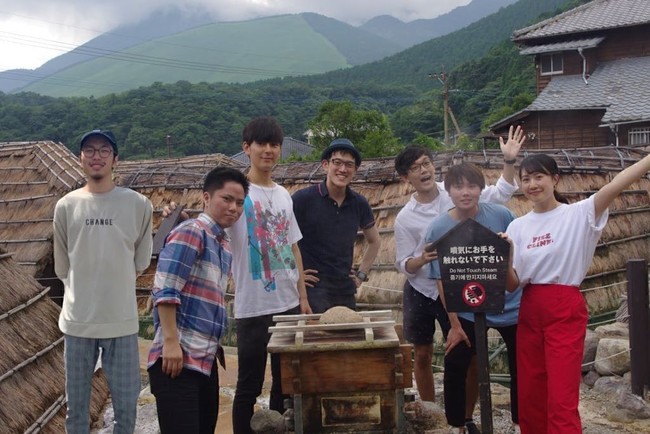 Here is an interview of Murakami Masao from "Let's overcome with onsen" about how he thinks about the project.
Murakami  : I would like to express my sincere gratitude to the medical staff who are ceaselessly fighting on the front lines due against Covid-19."When the spread of the new corona-virus overpowered the world, we felt powerless when we couldn't do anything. And that motivated us to start this crowdfunding project because we wanted to deliver the hot springs of Oita prefecture to medical staff as "Gratitude" " and  "healing". We will do our best to lead the project to succeed. Moreover, We are accepting additional fundings. Thank you so much."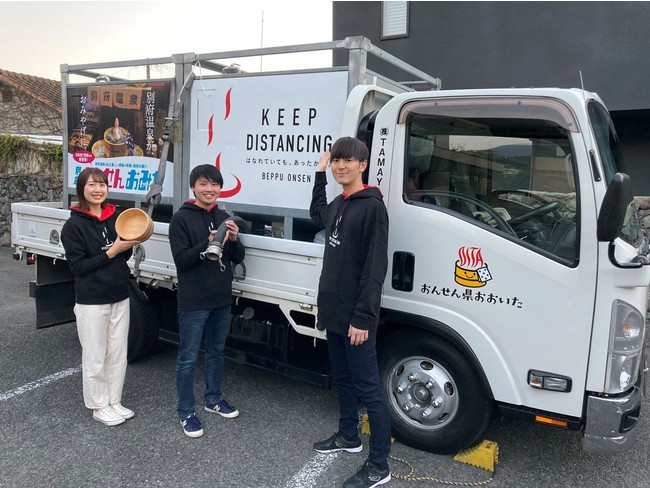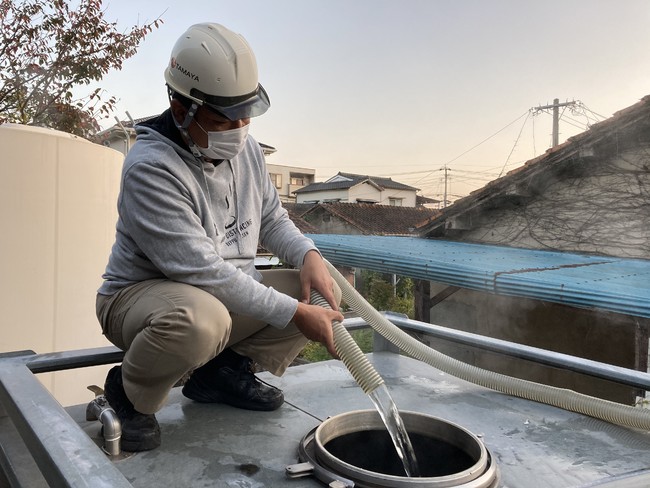 For the hot spring delivery, Beppu City Industrial Cooperation and Cooperation Platform B-bizLINK Cooperation, which was established in Beppu in 2017 collaborated. The name is "Beppu Onsen Palace", which brought natural hot springs drawn from Beppu's sources to the whole country by using special delivery trucks.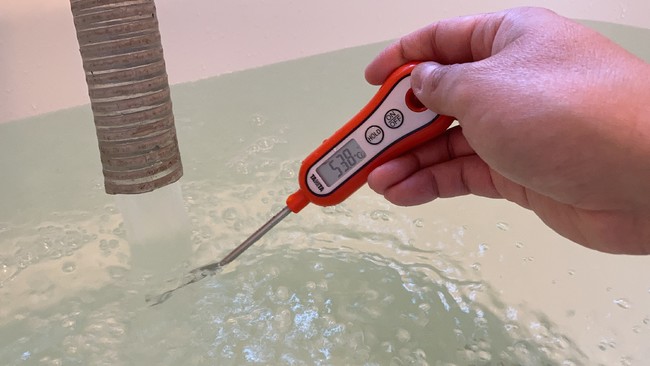 Nishi-Fukuoka Hospital Vice director Kawagami Takehito, who received the hot-spring, mentioned.
Kawakami : I heard through an acquaintance that students were planning this activity. And I applied because our hospital staff was the one who needed this. Due to the effects of the new coronavirus infection, so many things affected our lives such as medical staff all over the world working their best to prevent infection and numerous staff including their families stuck in their house. I would like to express my sincere gratitude to the project members for carrying out a wonderful project.  We thank them for supporting all the people throughout the country, and I hope projects like "Let's overcome with onsen" spread out throughout the country."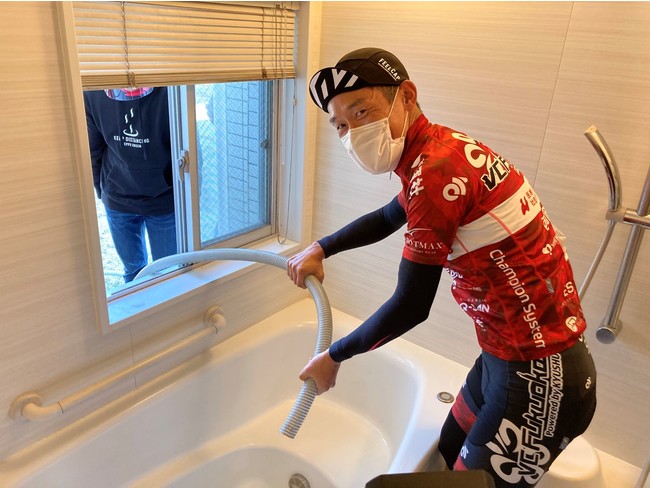 Possible things through hot-spring area
"healing those who are exhausted" "making somebody relaxing moment"
The hot-spring not only heals the body but also has the power to soothe and embrace people's minds. We might not accomplish our goals, or lose something due to the covid-19. Beppu City, which is a tourist site, might not be able to welcome numerous tourists, and hotels and restaurants are trying their best to overcome this situation.
"I want to support those who are going through a hard time. I want you to relax in the hot spring. If it's difficult for you to come, I will deliver it."
The project was launched with a warm heart from the professor and the students.
We are looking forward to the project in the future!
About
【 Information about Let's overcome with onsen project 】
Please see the progress and the information through Facebook
Facebook https://www.facebook.com/ouchionsentodoketai
Please contact us through G-mail if you have any inquiries.
Gmail ouchionsen0616@gmail.com

【 About the Hot-spring delivery 】
Time : 2020/11/14 (sat) ~ 15 (sun) 2days
Place: Nishi Fukuoka Hospital (Nishi-ku, Fukuoka City, Fukuoka Prefecture, Matsubara 3-chome, 18-8), and other medical corporations in Fukuoka Prefecture
volume: 4000 Liters 1 truck (4 tons truck)
Quality: Simple, mild alkaline hot springs drawn in Beppu city
Temperature: storing the hot-spring in the tank after being pumped up from the Beppu city.
45 Celsius when on the delivery.
Amount of the hot-spring - 200~300 liters per individual place.

【 About the crowdfunding 】
Platforms: CAMPFIRE (campfire)
How to help: Receiving support through crowdfunding.
Project page URL : https://camp-fire.jp/projects/view/308762 
Period : 2020/9/19 (sat) ~ 2020/10/25 (sun)
Amount : 479,000yen (target amount : 2 million yen)
Number of supporters: 65

【 About Ritsumeikan Asia Pacific University (APU) 】
Opening: April 1, 2000
Address: 1-1 Jumonjibaru, Beppu, Oita prefecture
Summary: A private university established by Ritsumeikan foundation in Beppu, Oita Prefecture.
The environment of 50 percent of faculties and students from foreign nationals.
It has 2 faculties (Asia-pacific studies and International school of management), and graduate schools.
Number of students: 5745 (May 1st, 2020),
International students : 2691, domestic students : 3054
The number of nationalities: 90 nationalities and places (May 1st, 2020).