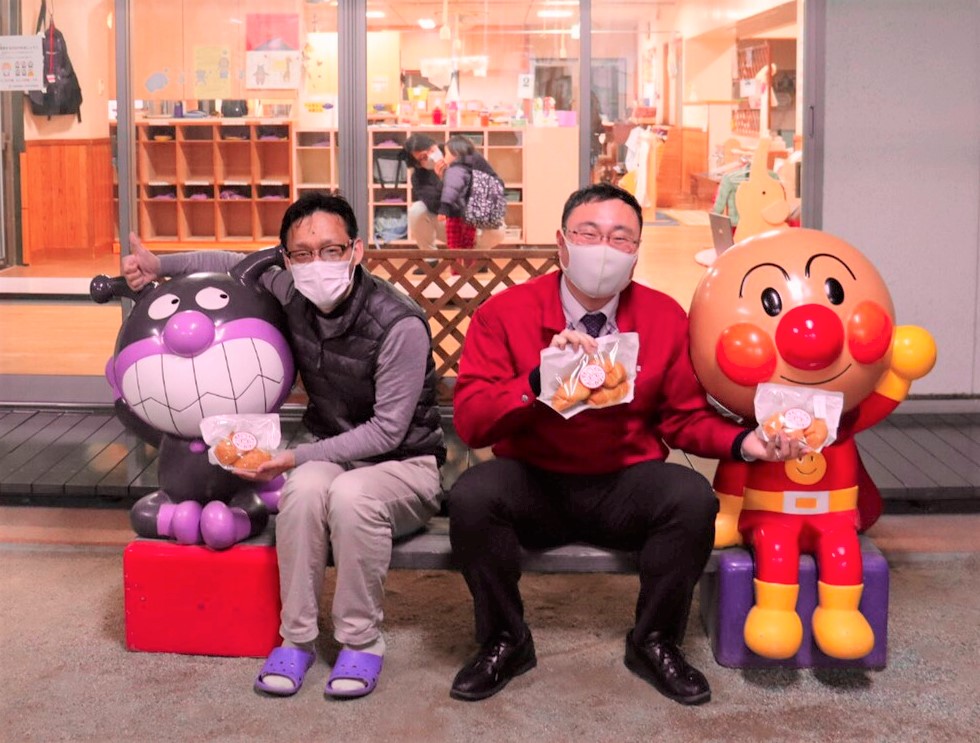 Mr. Masakatsu Yada,  Director of Mochigahama Nursery School (left), and Mr. Tomonari Haraguchi of Nanko Bussan Corporation (right)
In English, we have a popular phrase "breaking bread". The phrase has many different meanings, to "break bread" with someone could mean the physical act of sitting down and having a meaningful conversation or connecting with someone over a meal. It also used to refer to a social interaction where something is shared between people, this could be food, money, ideas, etc. Breaking bread is a perfect description of the relationship between the two people I had the opportunity to interview on this day. 
If you are like me, you have watched the news, seen the tweets, and read the articles about how businesses have been forced to adapt to our "new normal" and how those that haven't been able to, have been alternately forced to shut their doors. I recently had the opportunity to sit down and talk with two family business owners in Beppu, who are also members of the Junior Chamber International. And in light of this new normal, we conducted our interview over a zoom call. 
Young business owners who took a U-turn to Beppu
The two successors are Mr. Tomonari Haraguchi and Mr. Masakatsu Yada, both young businessmen in their thirties.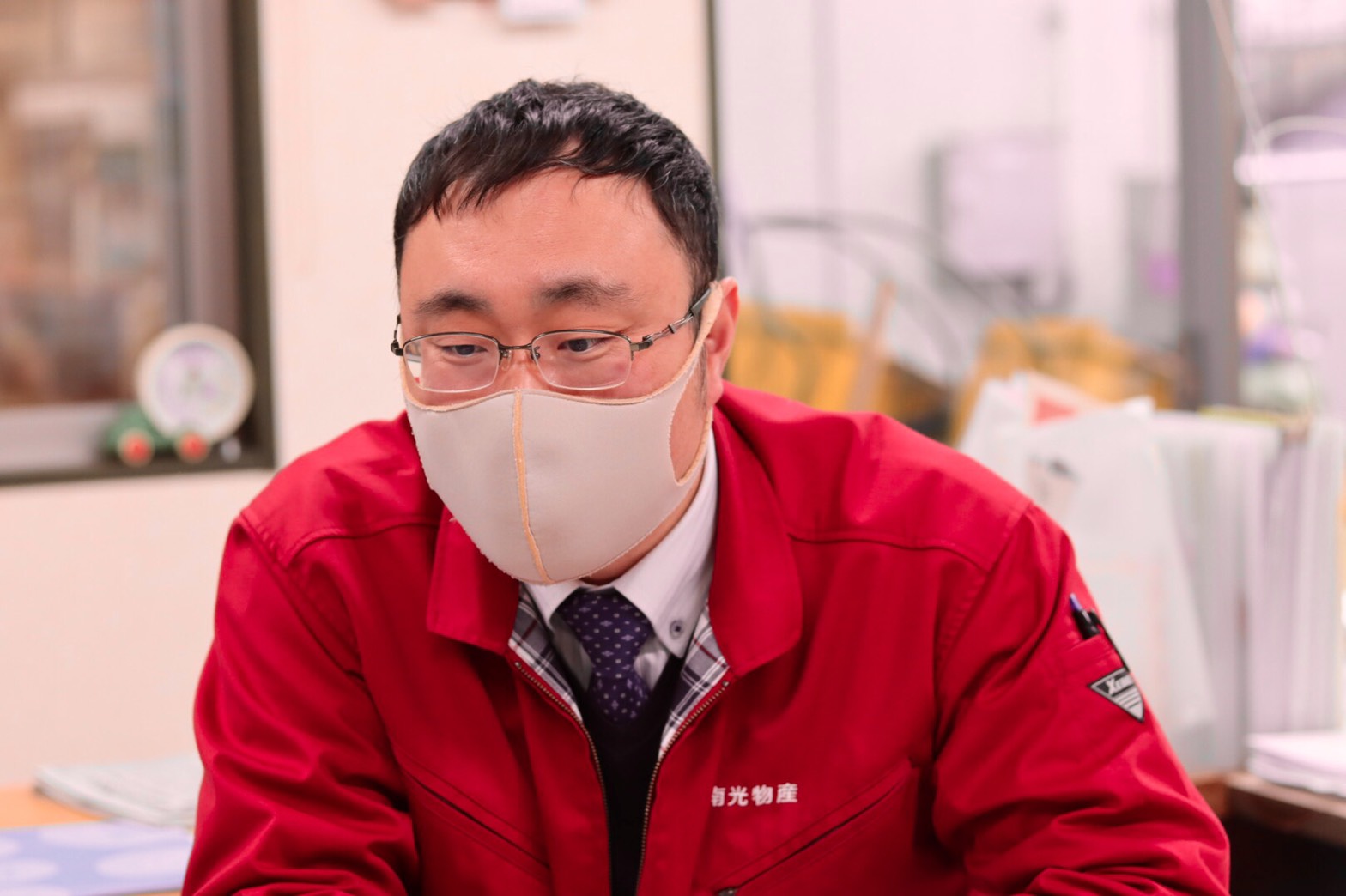 Mr. Haraguchi is the president of Nanko Bussan Co., Ltd., a confectionery manufacturer and wholesaler in Beppu, which produces confectionaries using zabon*1. Nanko Bussan cut into bite-sized pieces zabon peels and candies and sells them at reasonable prices, and the store has many of them, including Yuzu Ichiban (yuzu jam busse cake), which won the Minister of Agriculture, Forestry and Fisheries Award, and Yaki Yaseuma (baked crackers with soybean flour and black sesame), which won the Honorary President Award.
*1 :This fruit is called "the king of citrus fruits". It has a very pleasant aroma and a soft, sweet and sour flavor. In Beppu, there is a city-run zabon garden.
After graduating from Meiji University, Mr. Haraguchi studied in Australia for a year and has worked in the AEON Group in sales, logistics, and human resource management.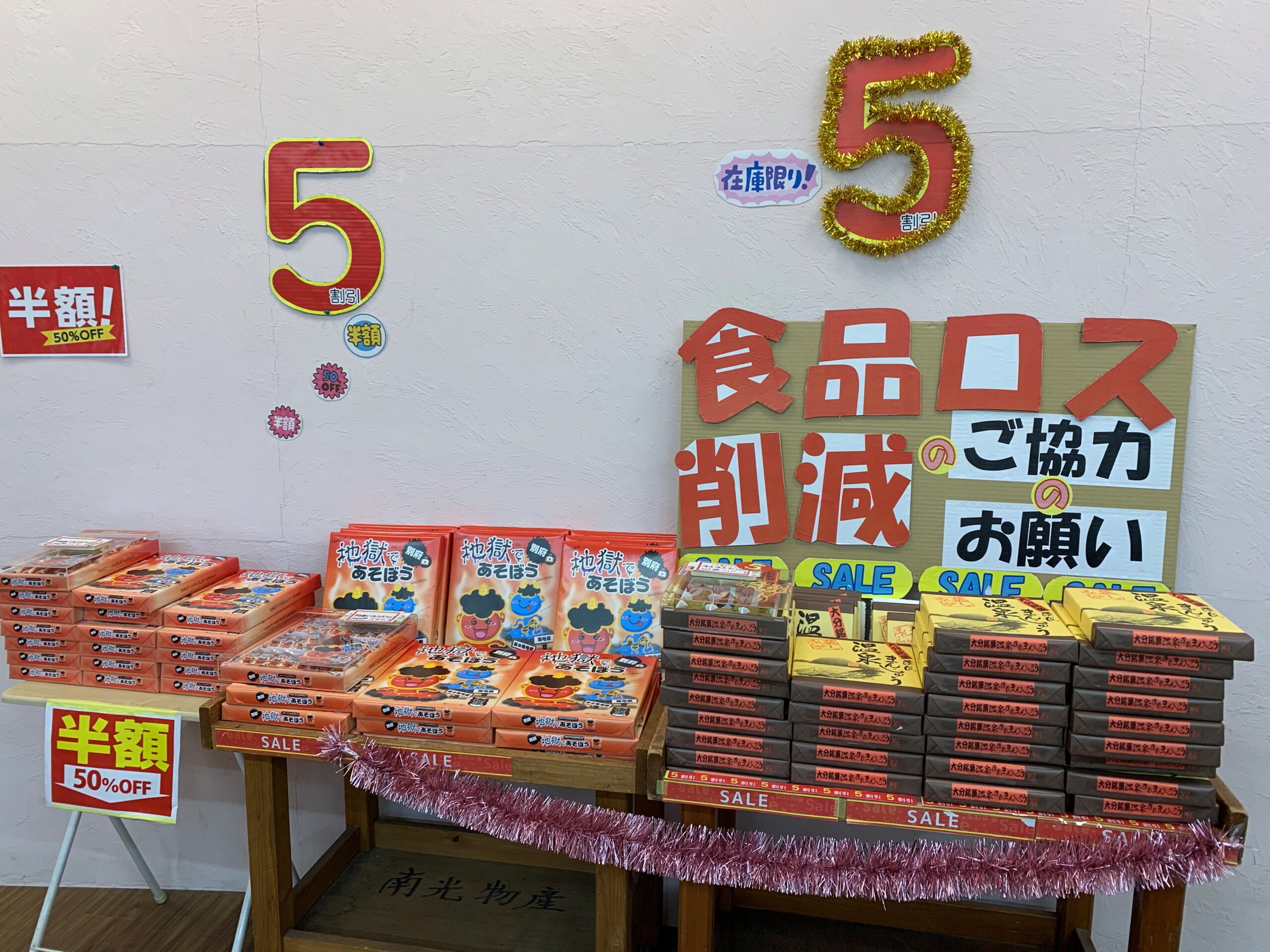 Nanko Bussan, which has sales outlets at its headquarters, is continuing its activities to reduce food loss.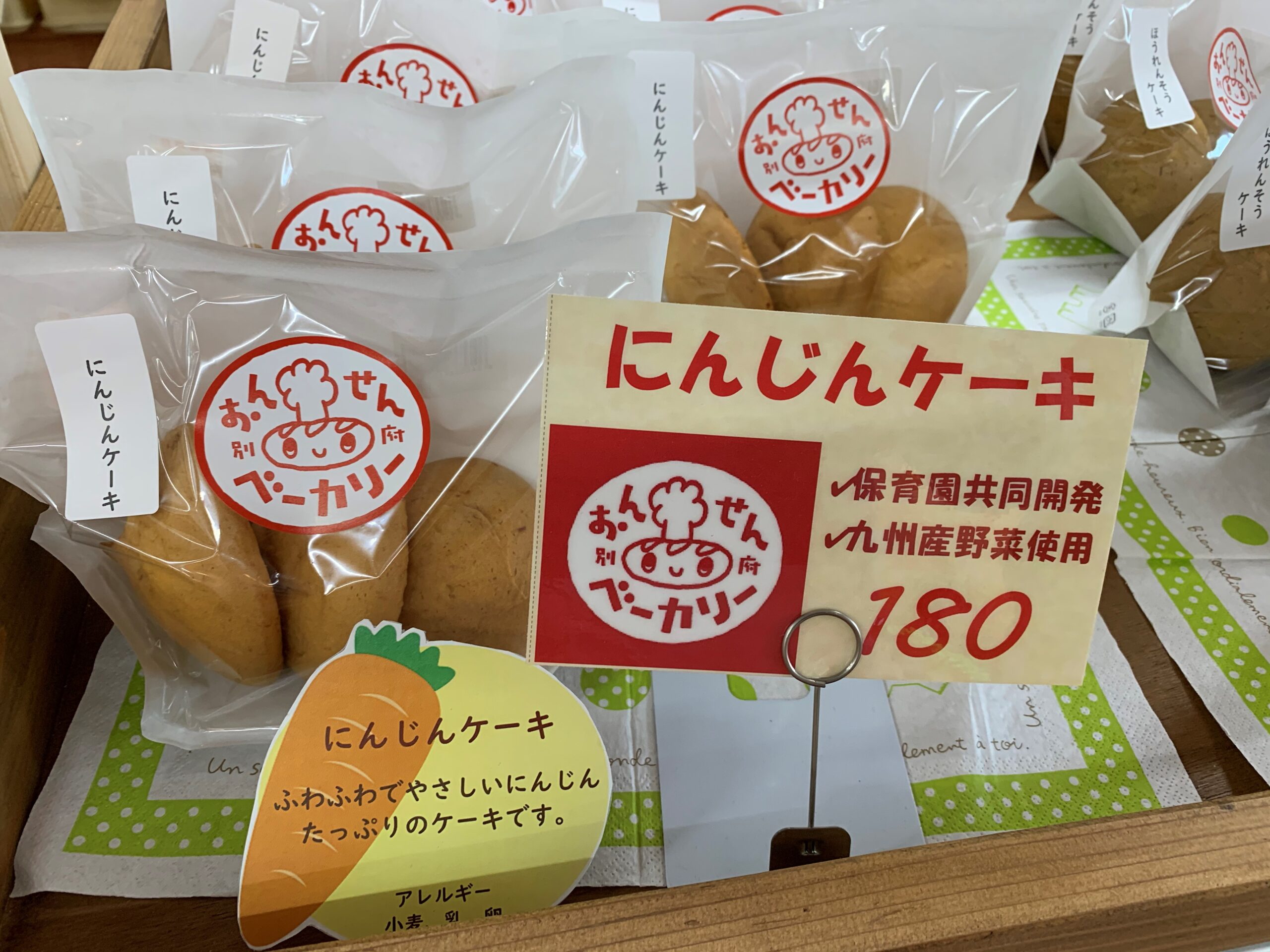 One of the products created in collaboration with Mochigahama Nursery School is the carrot cake.Other products such as spinach cake can also be purchased at the store.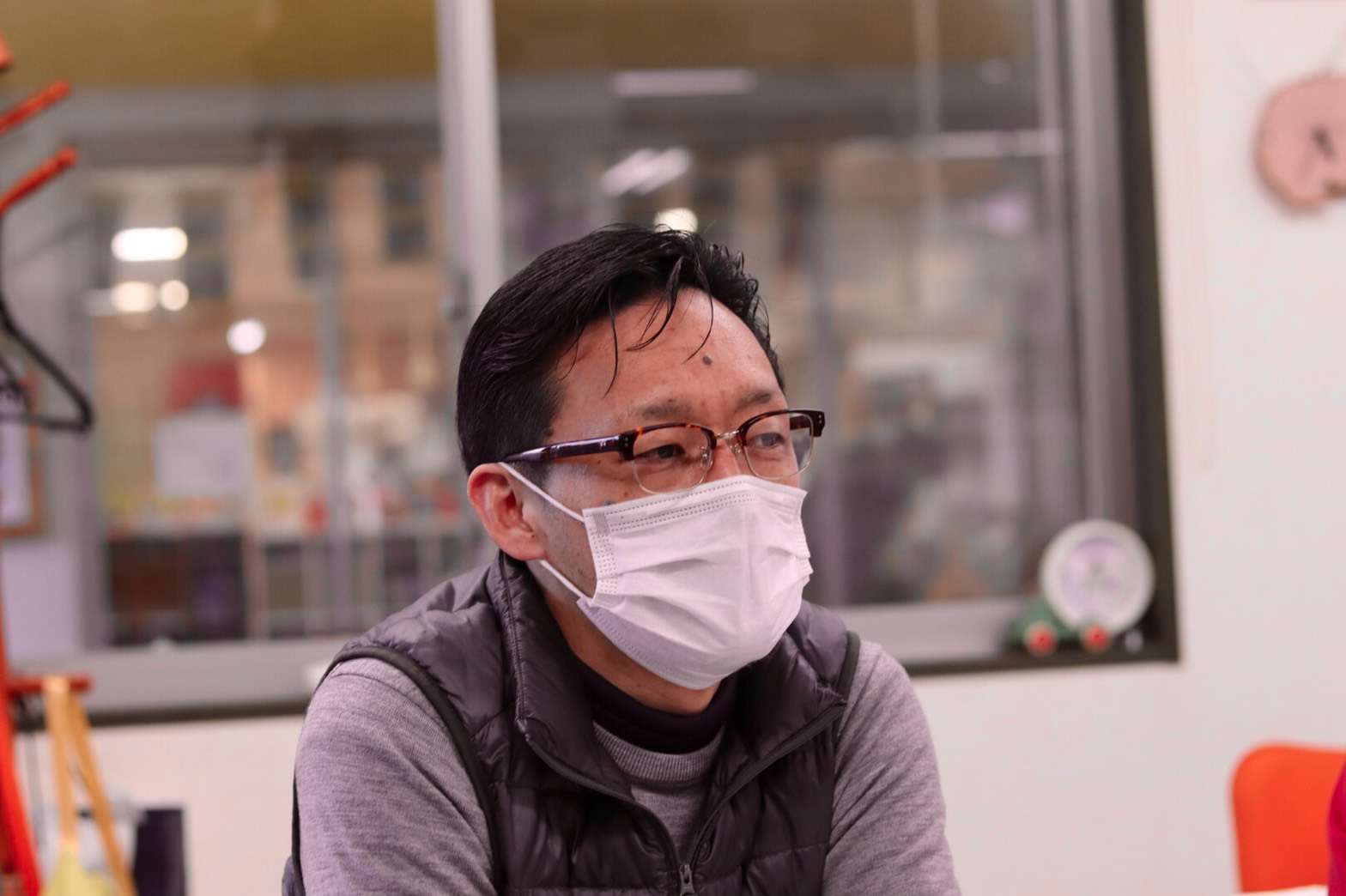 Mr. Yada is the  Director of Mochigahama Nursery School, which was founded by his grandfather. Like Mr. Haraguchi, Mr. Yada worked at one of Japan's leading hotels for 11 years before becoming the deputy director, and has built his career in the hotel's I.T as a manager.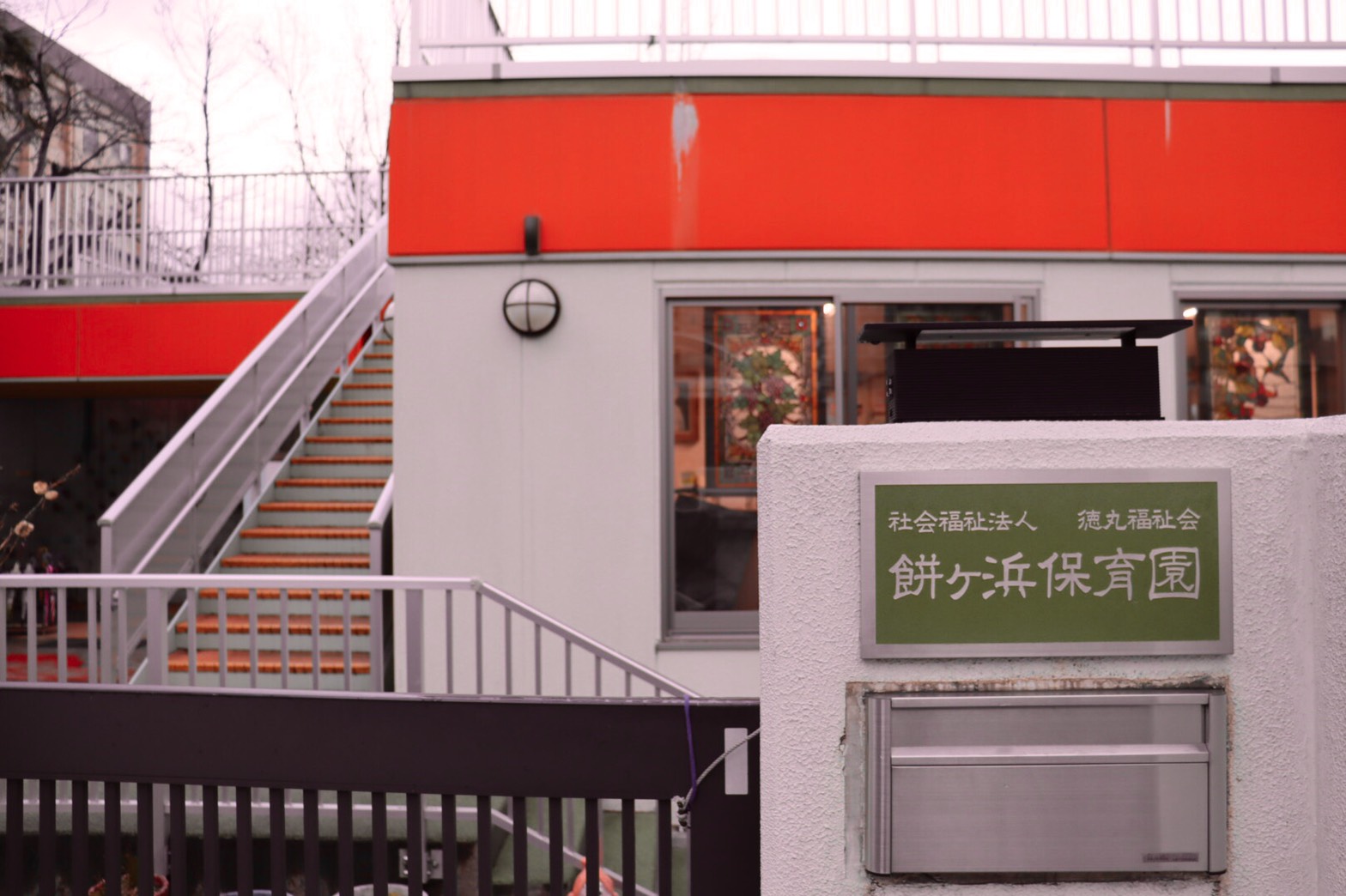 This interview was conducted at Mochigahama Nursery School.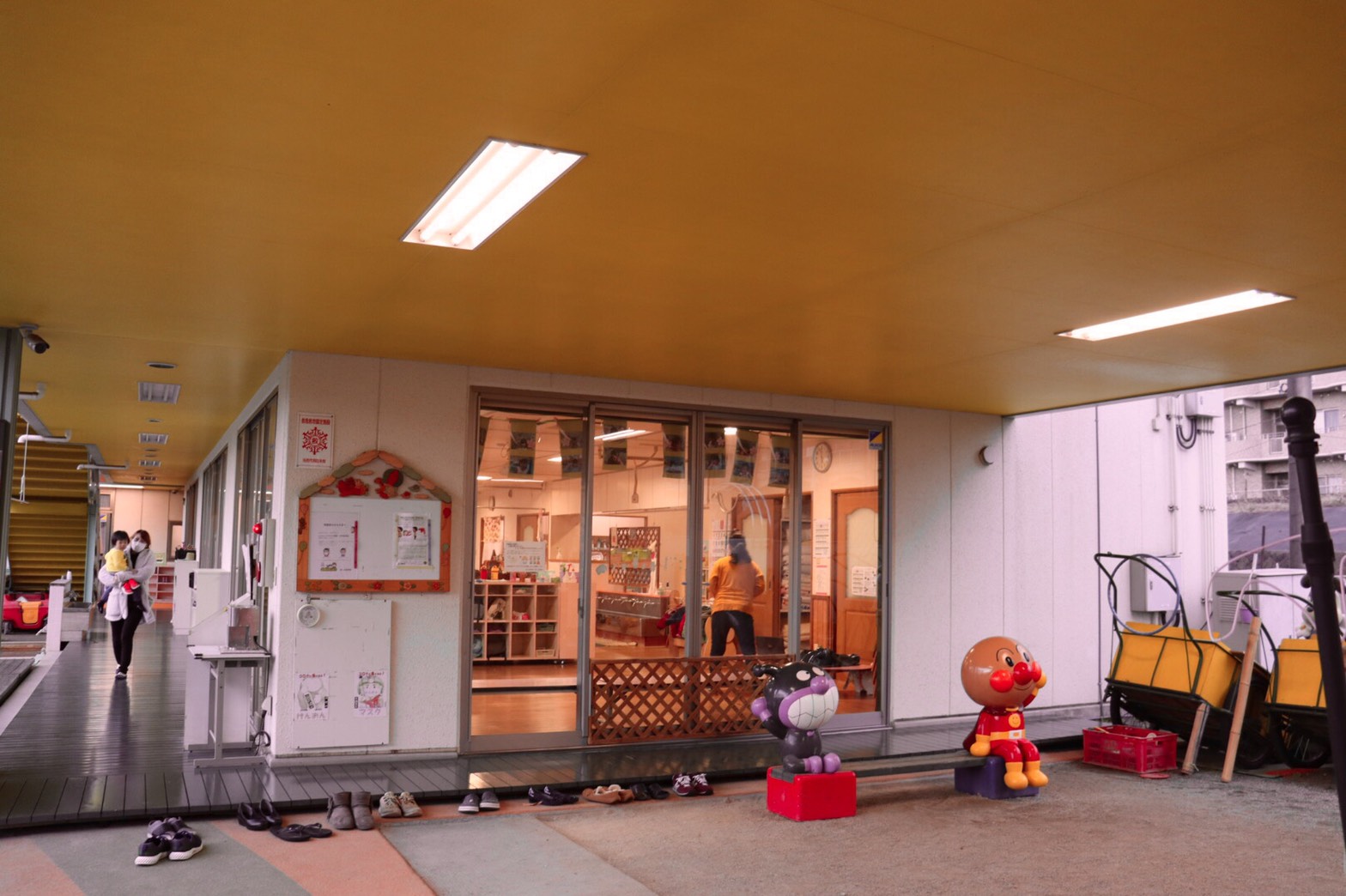 Like Mr. Haraguchi and Mr. Yada, many of Beppu's second-and third-generation business owners started their careers at major companies outside of the prefecture before returning to Beppu in their 30s to take over the business from their fathers.
When you look at Mr. Yada and Mr. Haraguchi, it is hard to see how these two businessmen, from completely different sectors, could possibly have come together. The two gentlemen met through an organization in Beppu, the Junior Chamber International. Junior Chamber International is an organization made up of entrepreneurs and professionals in Japan between ages 20 and 40. 
Working together to build resilient companies in the age of COVID-19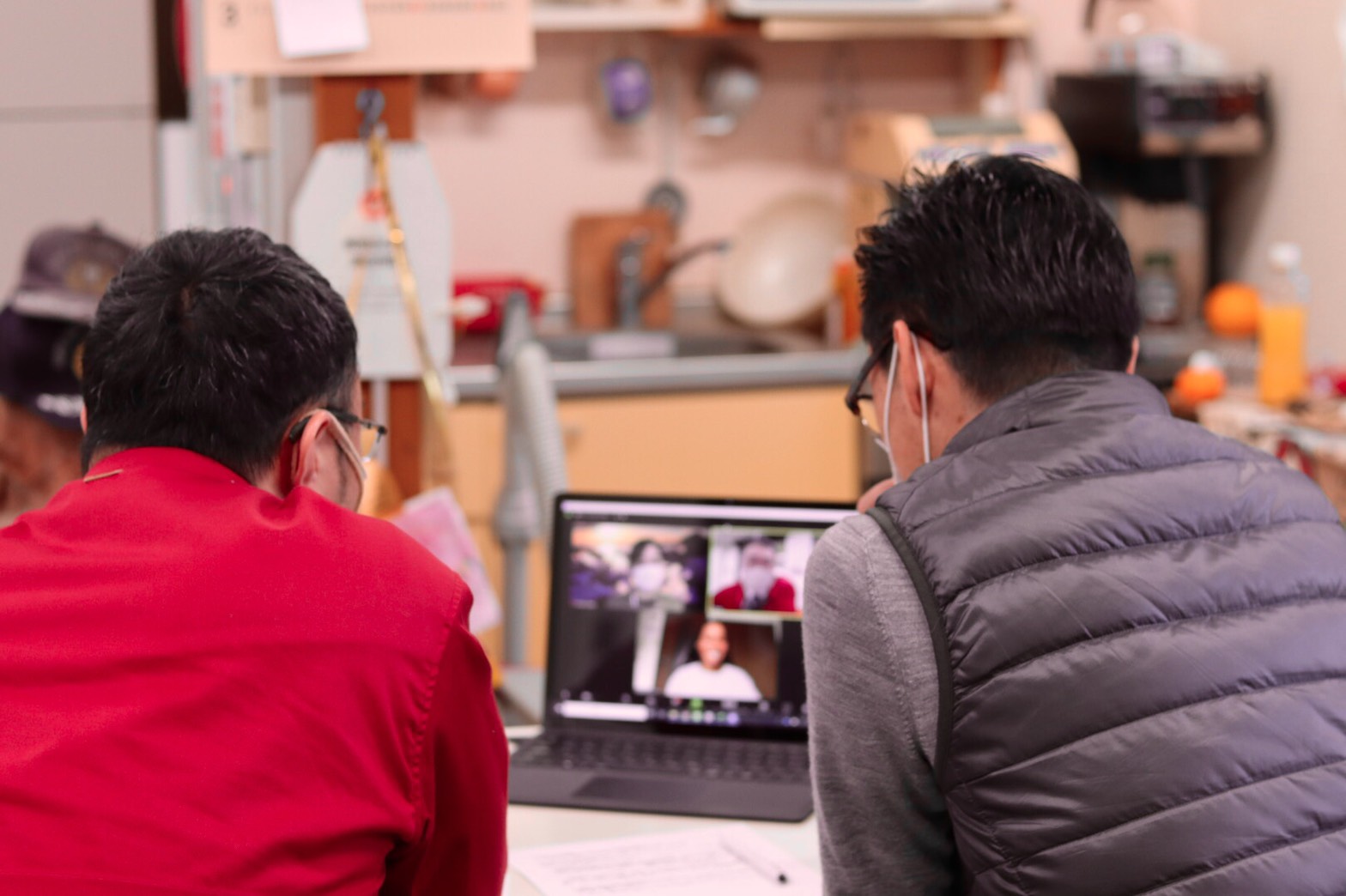 This interview was conducted using Zoom. The two of them listened intently to the questions from the interviewer, Thato.
Thato: Can you tell us about the impact of the new coronavirus on your business?
Mr. Haraguchi: Like many companies throughout Japan and in Beppu City, Nanko Bussan was strongly influenced by COVID-19. Nanko Bussan's products are mainly sold at souvenir shops and hotels in Beppu, and the majority of our customers are tourists visiting Beppu. Since those tourists stopped coming to Beppu, there were no more people to buy souvenirs, and our products stopped selling at all.
Thato: Beppu is an international tourist city, so the impact of COVID-19 was particularly significant, right?
Mr. Harakuchi: Yes. Moreover, I became the president of Nanko Bussan in April 2020, just as the global spread of the disease began. At the same time,  the state of emergency was declared nationwide, and the company's net sales dropped by 90%. Souvenir shops and hotels returned up to 12 million yen worth of merchandise, and I didn't know whether to feel sad or lonely, and I couldn't even cry. But we couldn't just give up there. Nanko Bussan team tried to recover from the loss by selling some of our products at half price and making them available for purchase on the Internet. We also donated the unsold products to businesses in the city, hoping that they would bring joy to local people rather than being discarded.
Thato: This is not something you often see many businesses doing. And food waste is a really big problem, it is good to see companies making an effort to prevent that.
Mr. Yada: I had just read in a newspaper or on TV that Nanko Bussan was in a difficult situation, and I thought, "Is there anything we can do in cooperation with our nursery school? 
I immediately contacted Mr. Haraguchi. I wondered if I could use Nanko Bussan's extra souvenirs as snacks for the children, and that's how the collaboration with Mochigahama Nursery School started.
Nanko Bussan quickly responded to the ordeal brought about by COVID-19, using the same materials and equipment to produce spinach bread, cheese bread, and other bread for the locals, and provided them to Mochigahama Nursery School and other schools in the Beppu area. Nanko Bussan overcame a period of hardship and was able to recover its losses to a profit loss of 20% over the previous year at a time when the GoTo Travel campaign was active.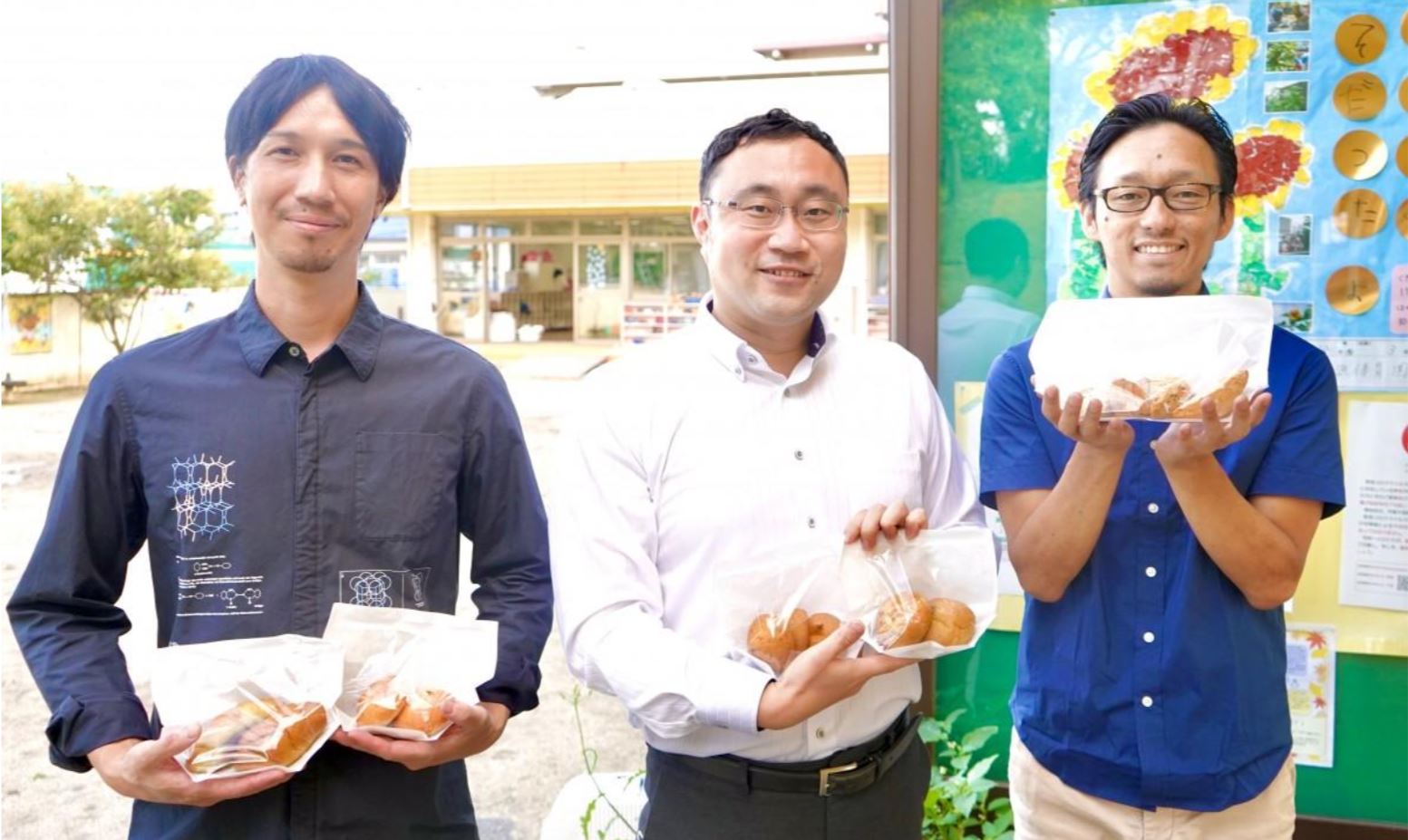 The collaboration between the two companies was also featured in the Oita Keizai Shimbun. (From right to left: Mr. Yada, Mr. Haraguchi, and Mr. Matsuo of Nanko Bussan's manufacturing department)
Also, the broadcast "JIMOTO, OITA" on Oita Asahi Broadcasting on November 11, 2020, drew a great response.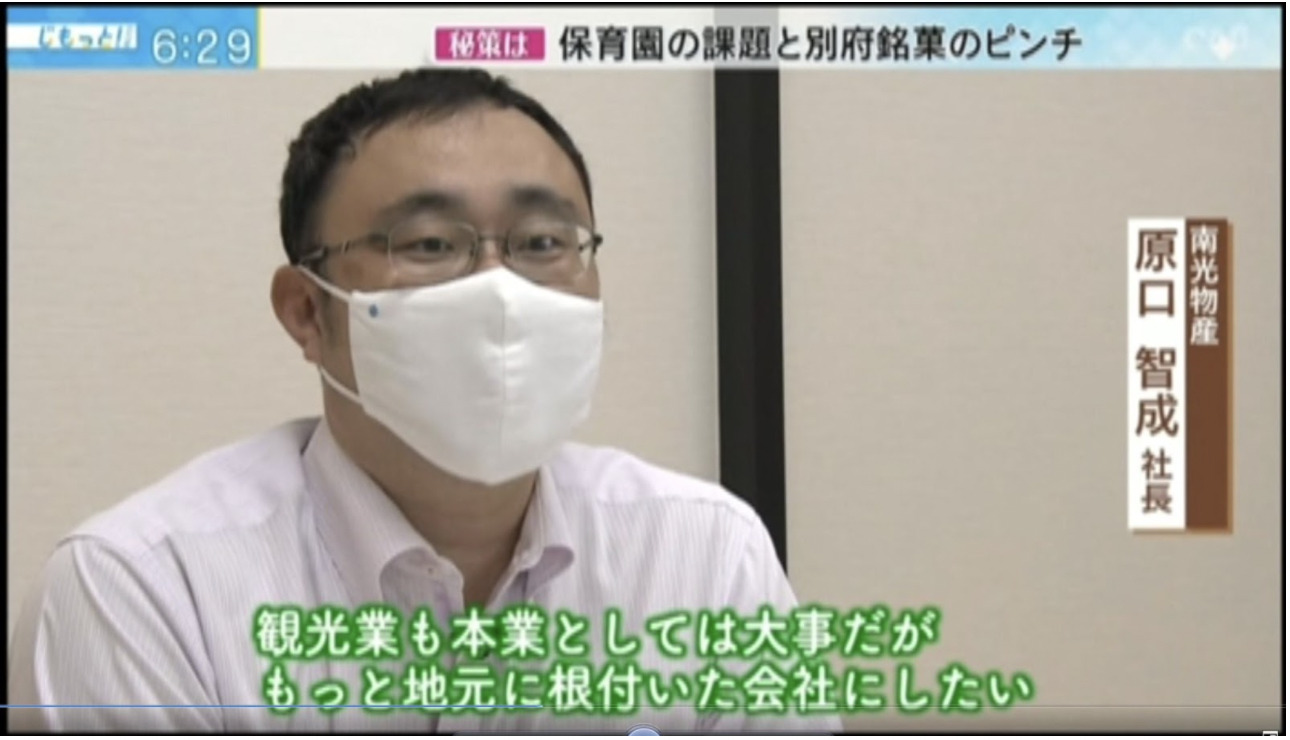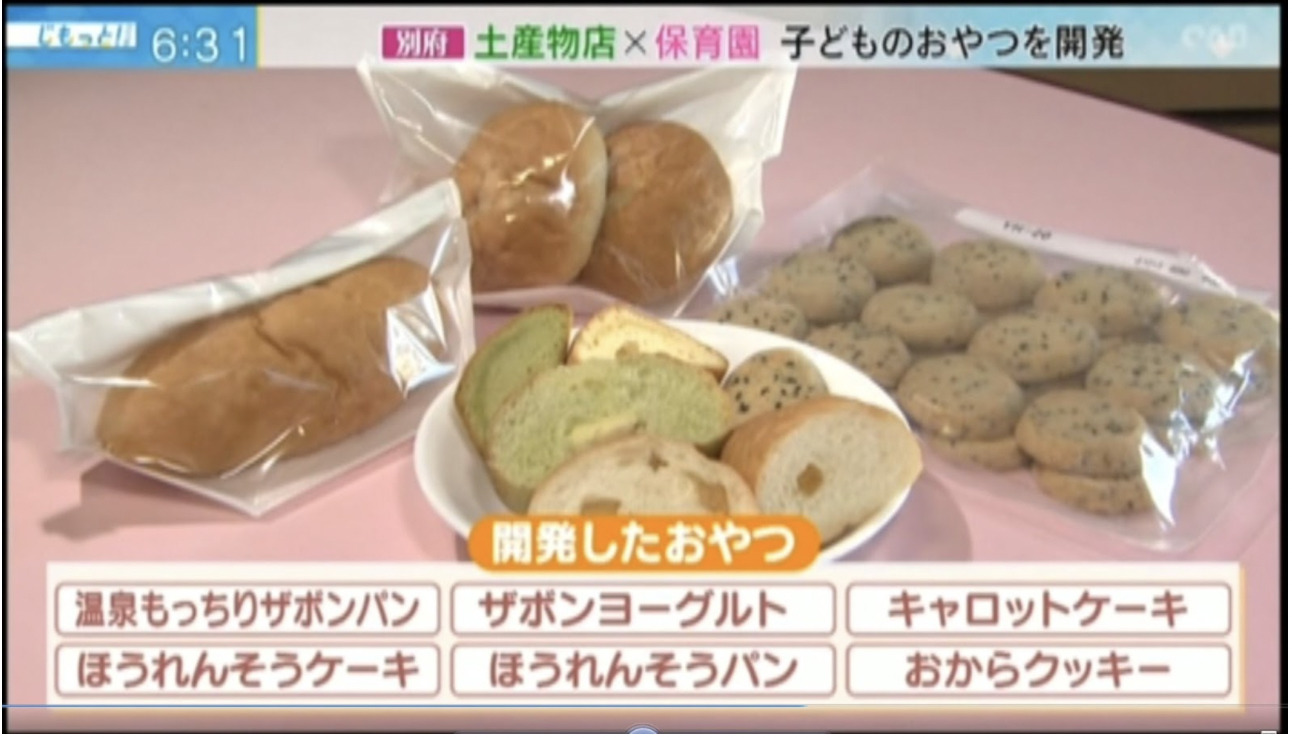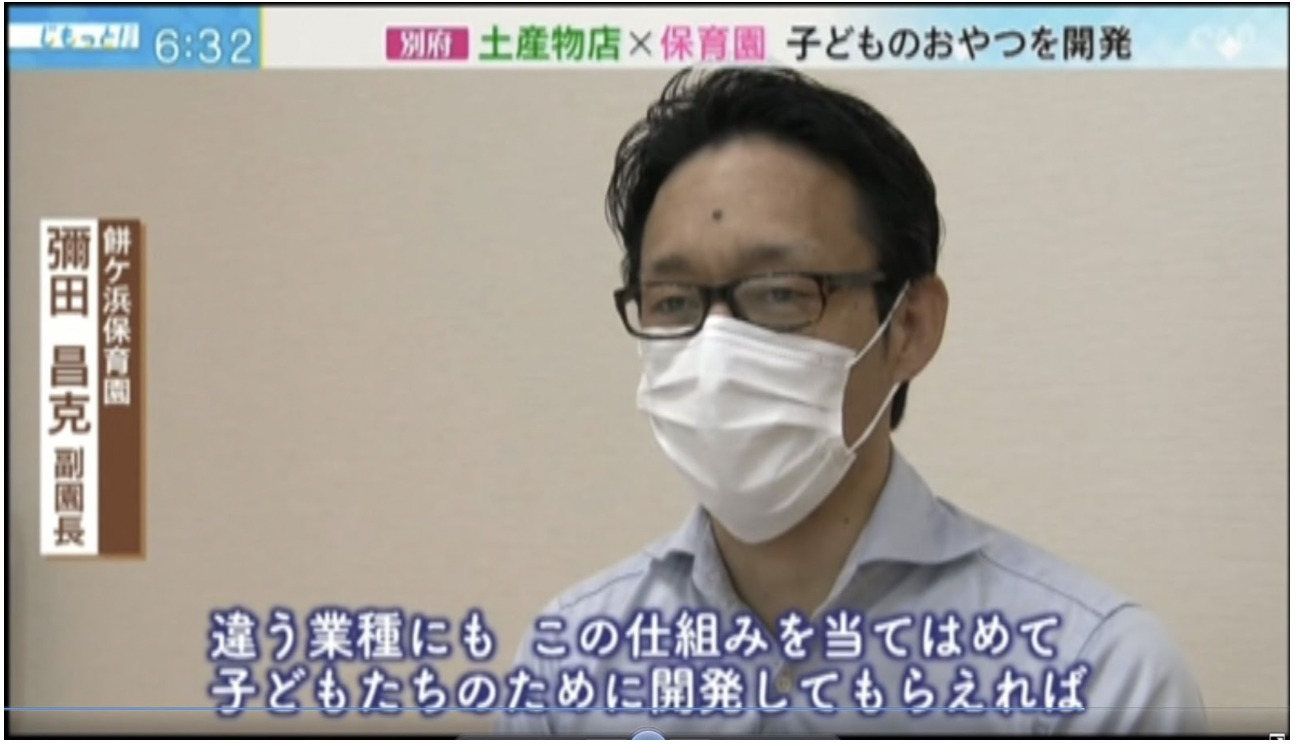 Thato: The collaboration between Nanko Bussan and Mochigahama Nursery School is an unexpected one but one that works so well.  It is interesting to see how they have been able to collaborate on a personal and professional level  based on both their strengths and the things they are both most knowledgeable about. Both these businessmen's ability to adapt and support each other is admirable.
Challenges you are facing and where you aim to go
Mr. Yada went on to talk about some of the challenges he feels he is facing.
Mr. Yada: I have learned and realized many things from this Corona pandemic. Even if tourism campaigns are beneficial to Beppu businesses, Beppu City and companies need to find new approaches to recover their profits and not rely on such campaigns and government subsidies. Also, since Beppu is heavily dependent on the tourism industry, Beppu businesses need to find ways to become self-reliant outside of the COVID-19 period. We need to collaborate with other companies in the city to take on new challenges.
Thato: It is true that it would be a big blow for a tourist city like Beppu if Go to Travel were to be shut down, but in order to build a stronger more self-sufficient city businesses in Beppu will have to figure out a way to adapt to this new normal.
Mr. Haraguchi: What Mr. Yada just told us is connected to what we have already started. We have used our company's facilities and other resources to fine-tune our sales to those who have needs rather than mainly tourists who come to Beppu and make our products more accessible online. We have also worked hard to make our website more user-friendly and have created Twitter and Instagram accounts to increase our online presence. In this way, we are adapting our products to both the local and online markets. But I think there is still more we can do, and we are constantly gathering information.

Mr. Haraguchi overcame his predicament with his wisdom and ingenuity, and Mr. Yada was able to calmly analyze the economic activities of not only the nursery school he was running but also of Beppu as a whole. It was very encouraging to listen to their stories.
Both the businessmen emphasized the importance of taking time to reflect on what they already have, the people are resources that they already have access to and use that to fill a new need. By working together and working for your community, businesses stand such a bigger chance of sustainable success.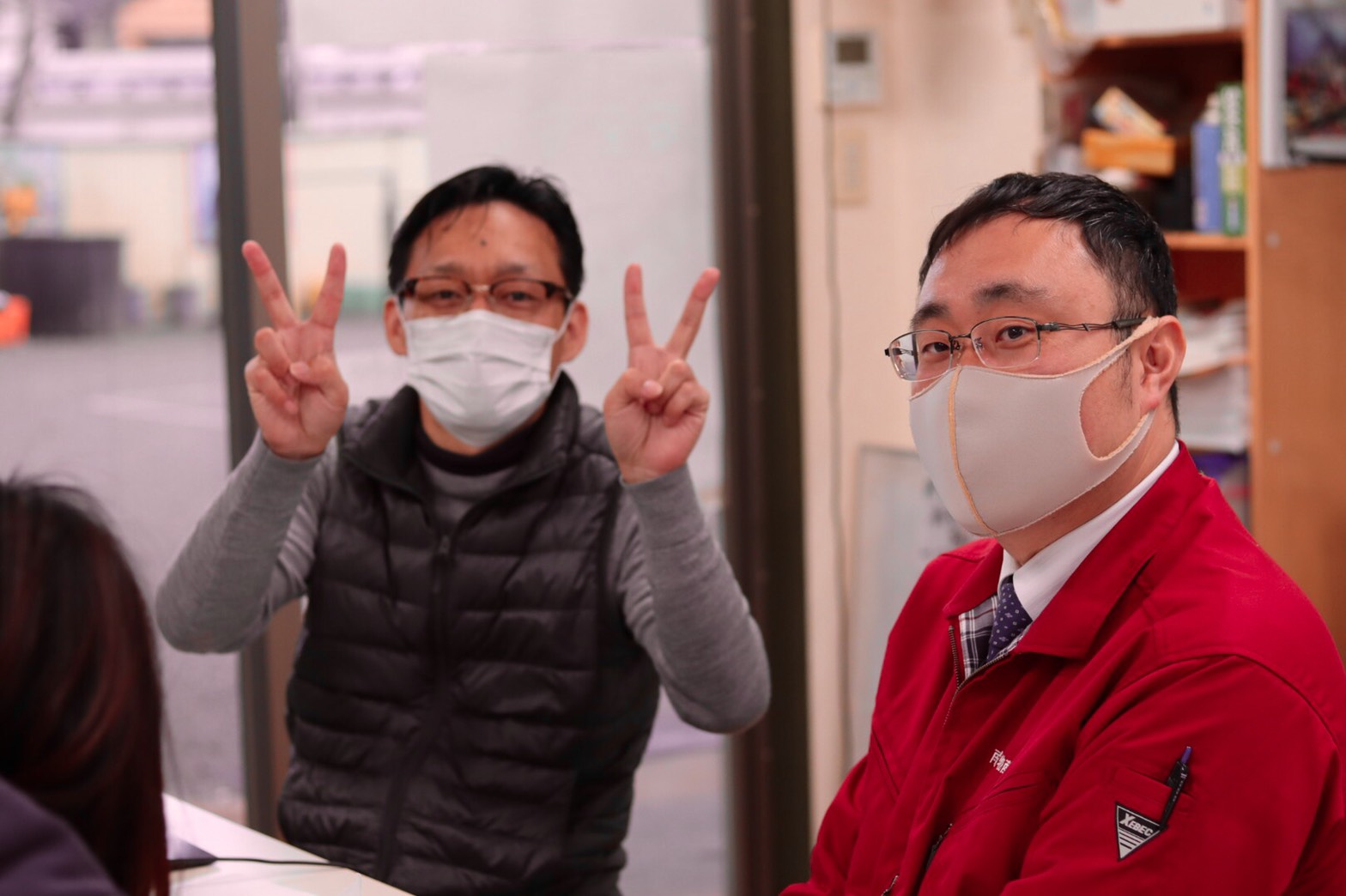 Editor's note
What is learned most from this conversation with these two incredible businessmen, is how important it is to have a community and a professional support system. This collaboration, which arguably played a big role in saving Nanko Bussan from ending up with its doors closed (as many businesses in Beppu), all started with a conversation and the literal sharing of bread.