Drones have become familiar in recent years.
You also have more opportunities to see dynamic images taken from the sky and to see them flying in riverbanks and open spaces. It may already be owned by you or your friends.Did you know that such drones will become not only entertainment but also "social infrastructure" in the future?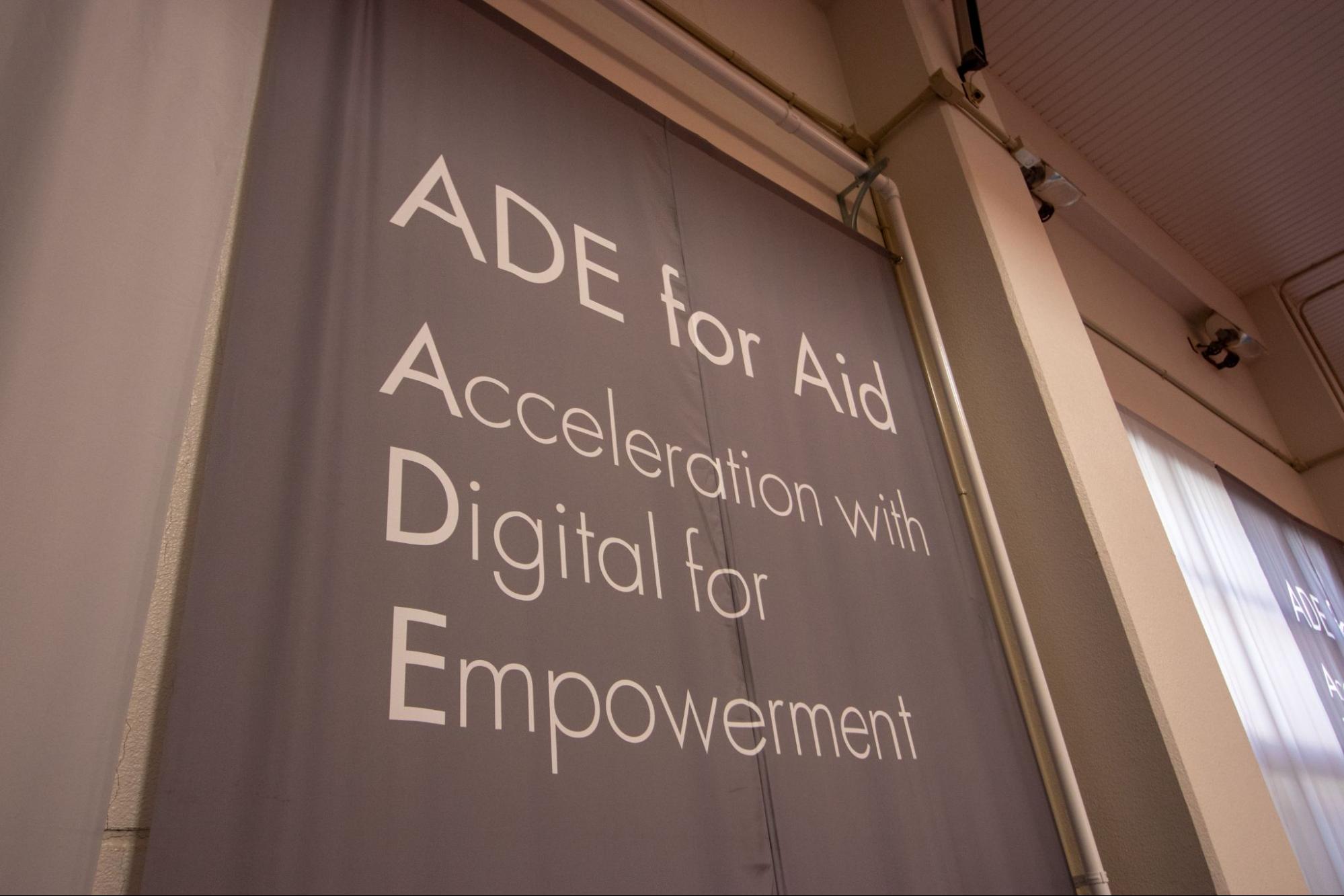 AUTOBACS SEVEN's subsidiary "ADE Co., Ltd." was the first to focus on drones and launch a new business. Japanese first drone soccer arena was opened in Beppu City, Oita Prefecture, and top Japanese players are also enrolled. What is drone soccer, which is the key to business? How does the other key, "support for independence for people with disabilities," relate to drones? I interviewed the points of concern and questions.
【Everyone at the "ADE" who responded】
・CEO  Masaaki Yatsuzuka
・Yasuharu Awaji
・Chiharu Kiyonaga
【Everyone at the "Taiyo no Ie" who cooperated】
・Motoaki Miyazaki
・Yuki Sugimoto (user)
・Aya Oda (user)
・Kazuhiro Tamura (user)
New business expanding the possibilities of "drones" that will become the next-generation social infrastructure
I interviewed Mr. Masaaki Yatsuzuka, CEO, about business development centered on drones.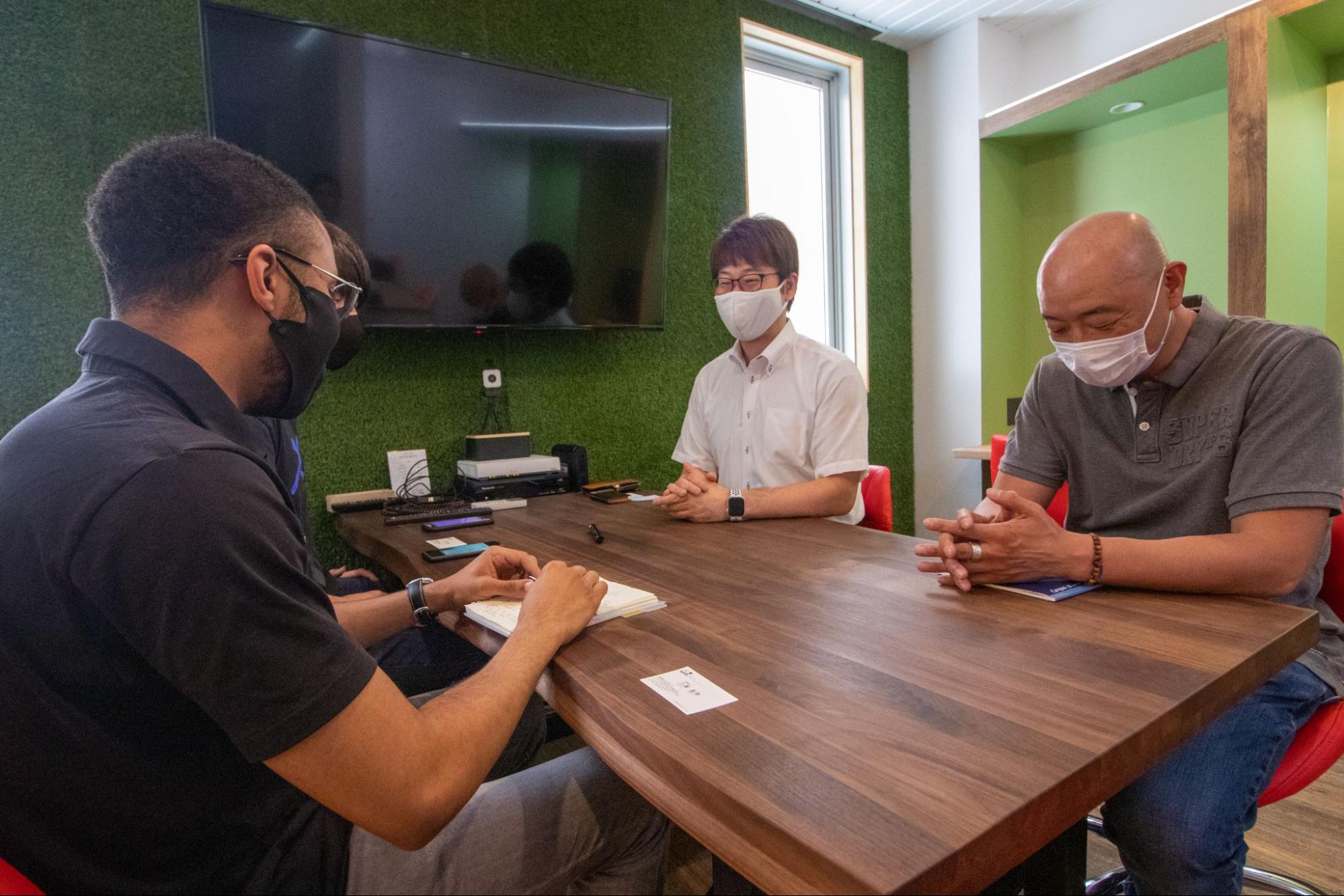 The parent company, AUTOBACS, is in the automobile industry. Why did you start the drone business as "ADE"?
 Mr. Yatsuzuka : "Society 5.0" is a concept defined by the Cabinet Office of Japan. Simply put, Society 1.0 is hunting, 2.0 is farming, 3.0 is industry, 4.0 is information, and now the generation of 5.0. In today's generation of safer and more comfortable technologies, AI and drones are regarded as "technologies that support the society of the future."
The use of drones has already begun in various fields such as home delivery, agriculture, site inspections, and use in the event of a disaster. Originally, drones were sold at more than 600 AUTOBACS stores nationwide. These drones are as a hobby or entertainment.
 Mr. Yatsuzuka :Immediately after I started selling drones, I was wondering if there were more ways to use them. At that time, when I saw a drone soccer game overseas, I thought it was interesting. Around that time, a negative image of drones was spreading in Japan. For example, it fell into the Prime Minister's Office then regulations became stricter.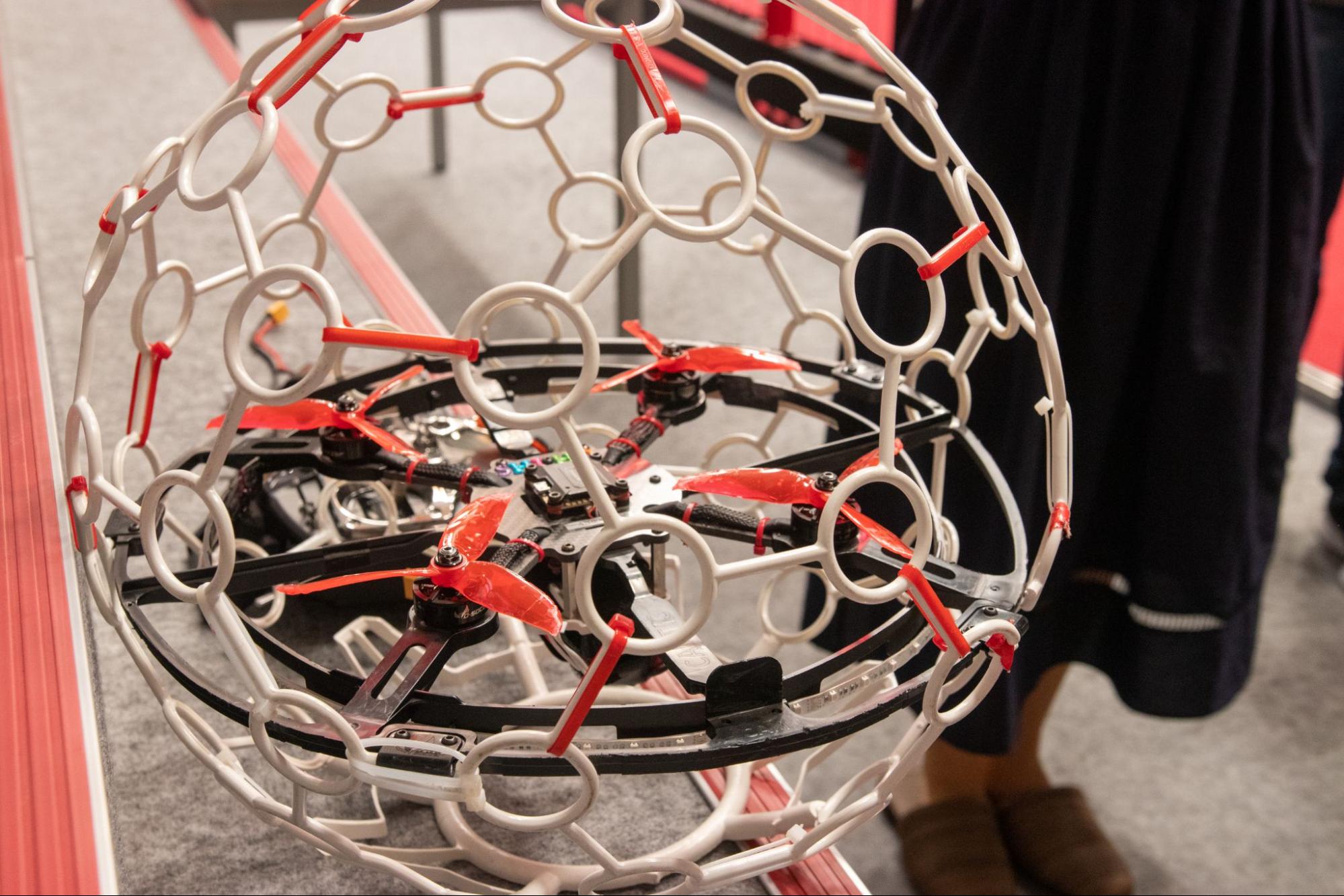 But by nature, drones are easy and fun to handle. That's why I wanted everyone to understand the fun. There is a limit to finding new ways to utilize drones and spreading the enjoyment just by selling drones. Therefore, we launched a new drone business.
What are your thoughts on the drone business and what are your goals?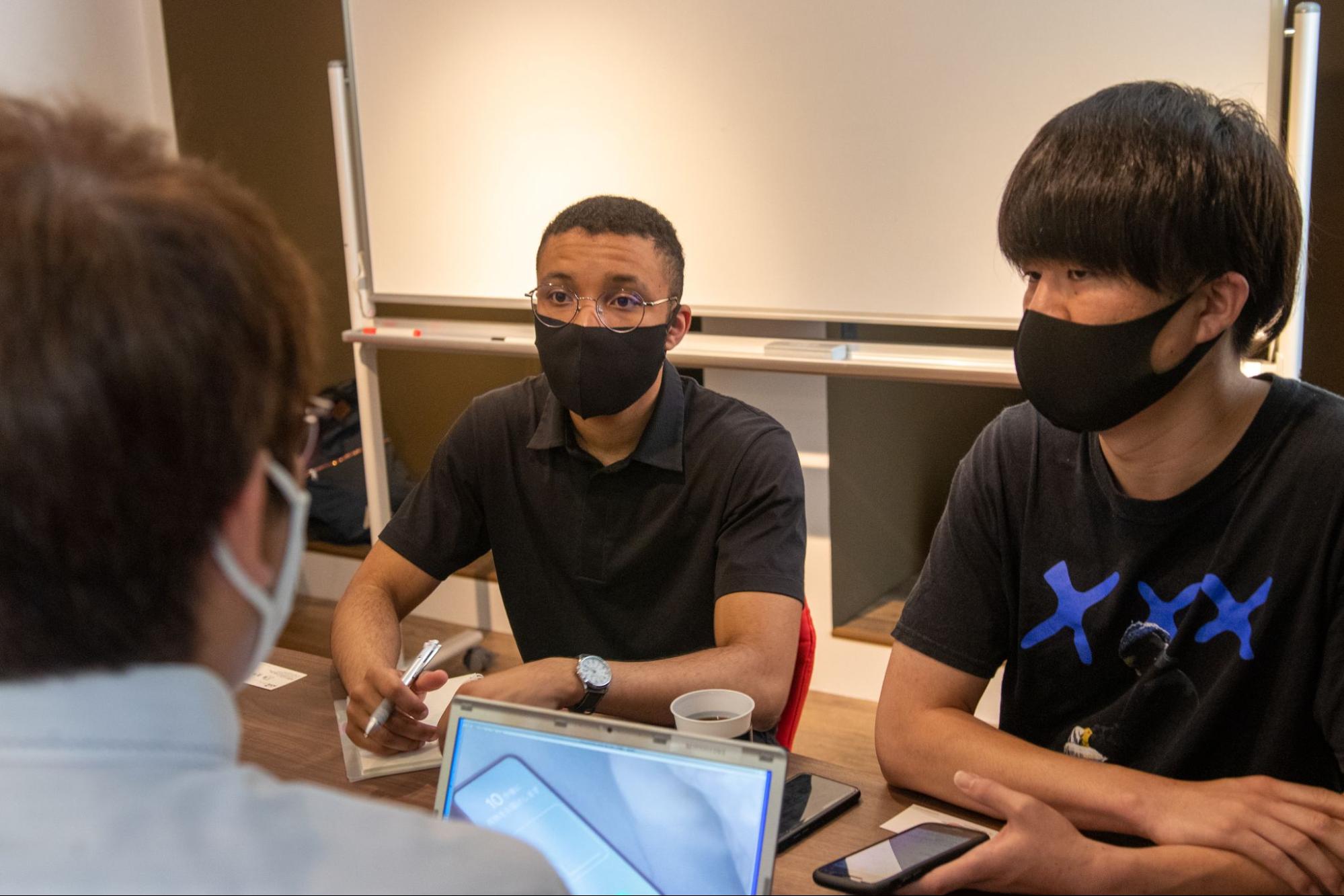 Mr. Yatsuzuka : One of the goals is to gain know-how about drones. To that end, we first incorporated drone soccer.Drone soccer is a barrier-free sport where everyone can play in the same field regardless of age, gender, or disability.
Another purpose is to collaborate with "Taiyo no Ie" to encourage people with disabilities to participate in the drone industry, create opportunities to actively appear in the world, and support their independence.
【Taiyo no Ie】
"Taiyo no Ie" in Beppu City, Oita Prefecture is a social welfare corporation that provides independence and employment support for people with disabilities. It was founded in 1965 by the late Dr. Yutaka Nakamura, who is known as the "father of sports for people with disabilities." It is a pioneer in employment support for people with disabilities and is visited by visitors from all over the country.
Drones can be handled if you can move your hands. We believe that if people with disabilities learn how to operate, it will create opportunities for them to become independent.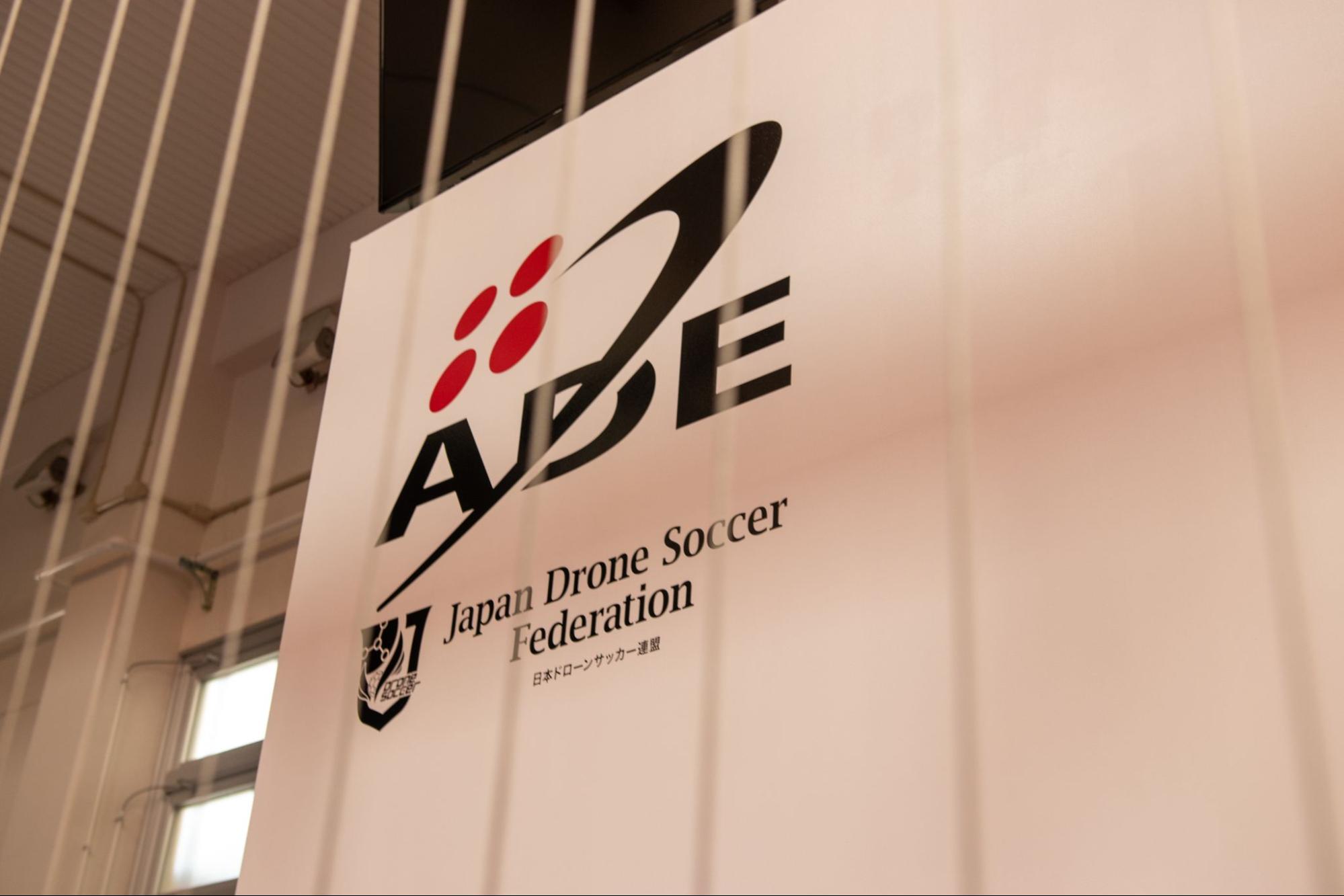 Mr. Yatsuzuka : Drones are one way to support the independence of people with disabilities. The bigger purpose is "building AI solutions"
AI always needs people to teach, but not many people can play important teacher roles. Therefore, we have opened the "AI Machine Learning Center" so that people with disabilities can play the role of teachers. It's difficult to do complicated things from the beginning, so I'm trying to start by building open data.
To make the drone business successful as a new business, to support the independent life of people with disabilities, and to contribute to the regional revitalization of Oita Prefecture by "ADE". We are promoting new businesses with these three motivations.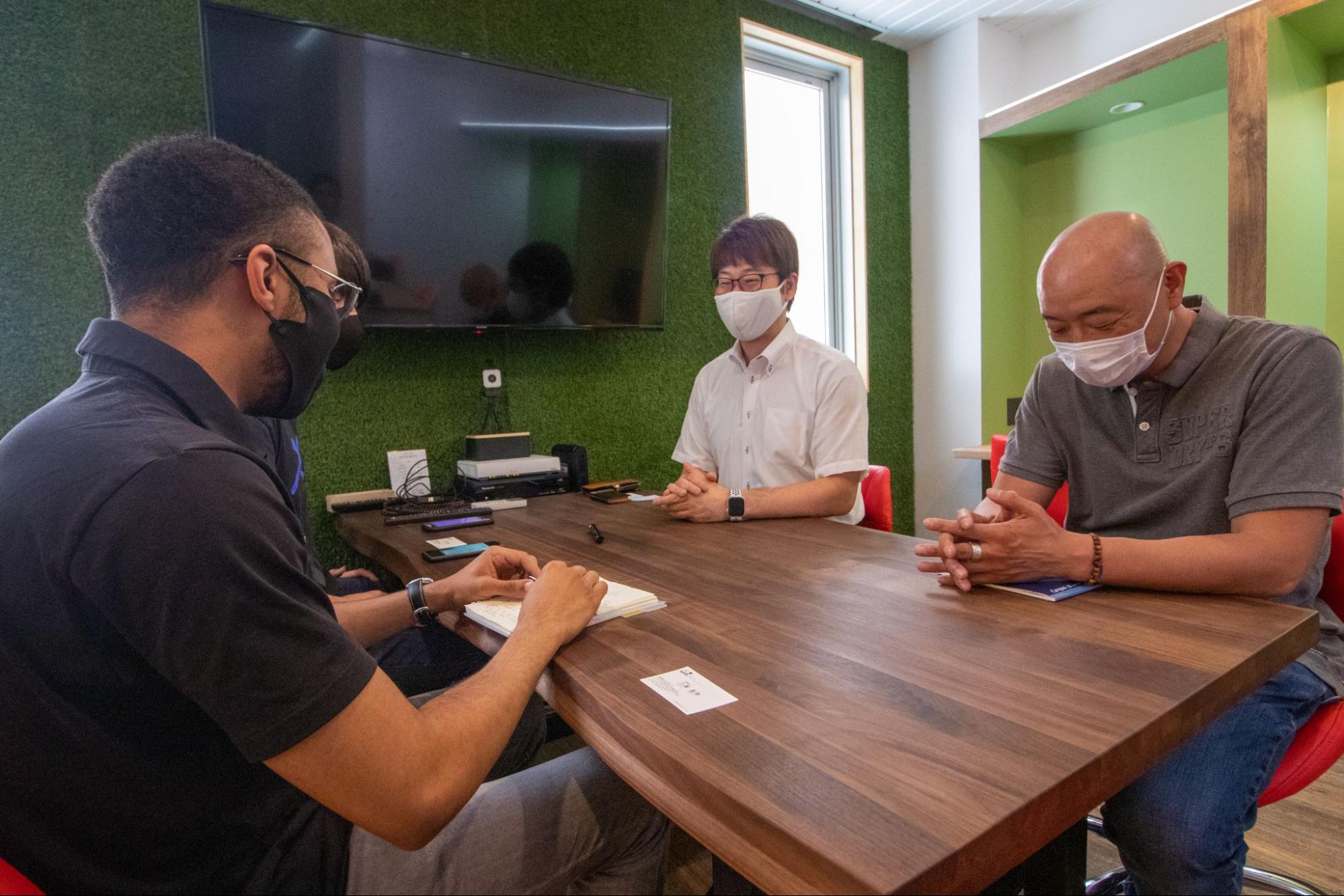 "A drone that can be used by anyone but is an important infrastructure has great potential," said Mr. Yatsuzuka (second from right in the back of the photo)
Opened Japan's first "drone soccer" arena. It is possible to learn advanced techniques while having fun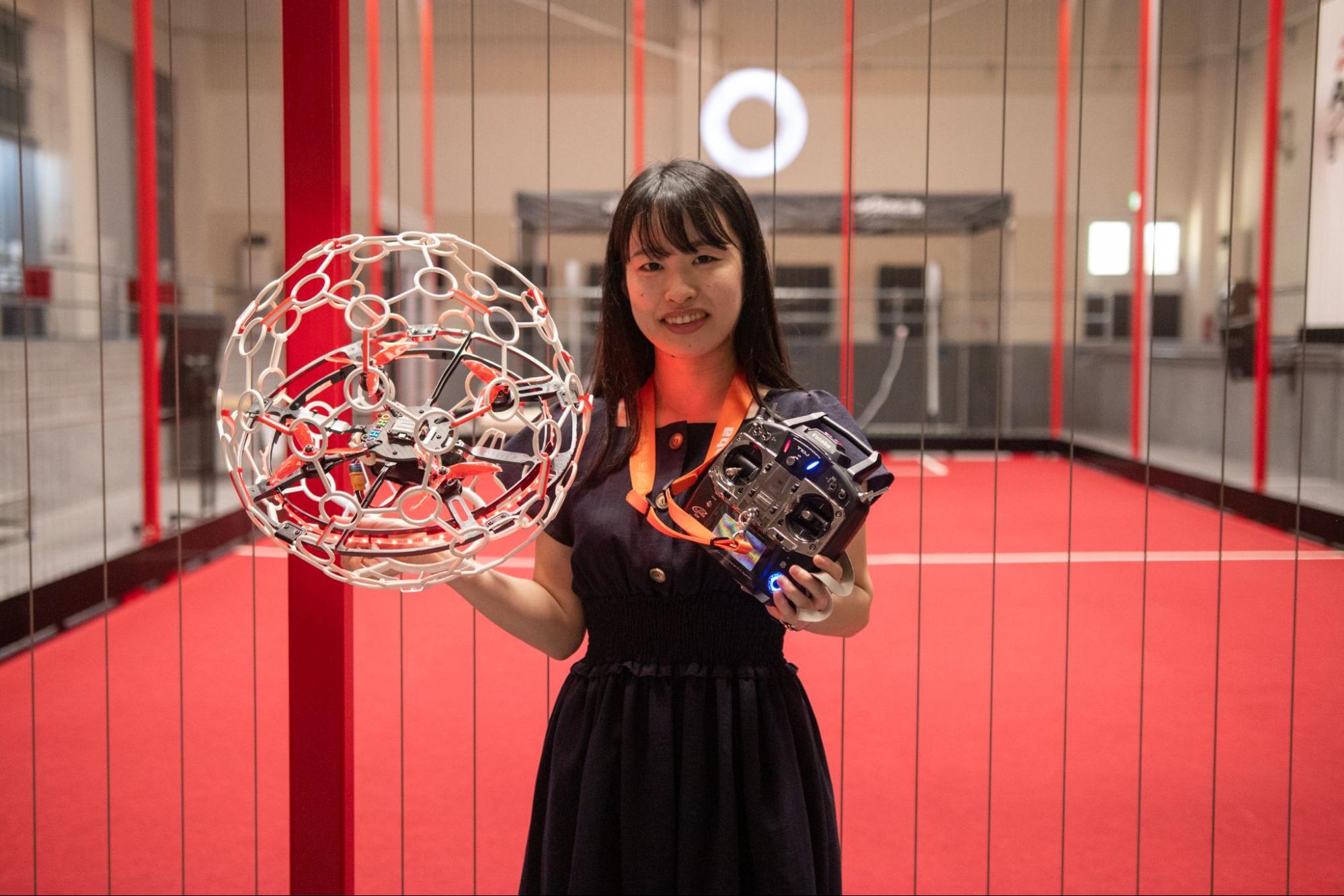 What kind of drone soccer is "ADE" currently working on?
We interviewed Shiho Yanagawa, a top Japanese player who operates the first domestic drone soccer machine.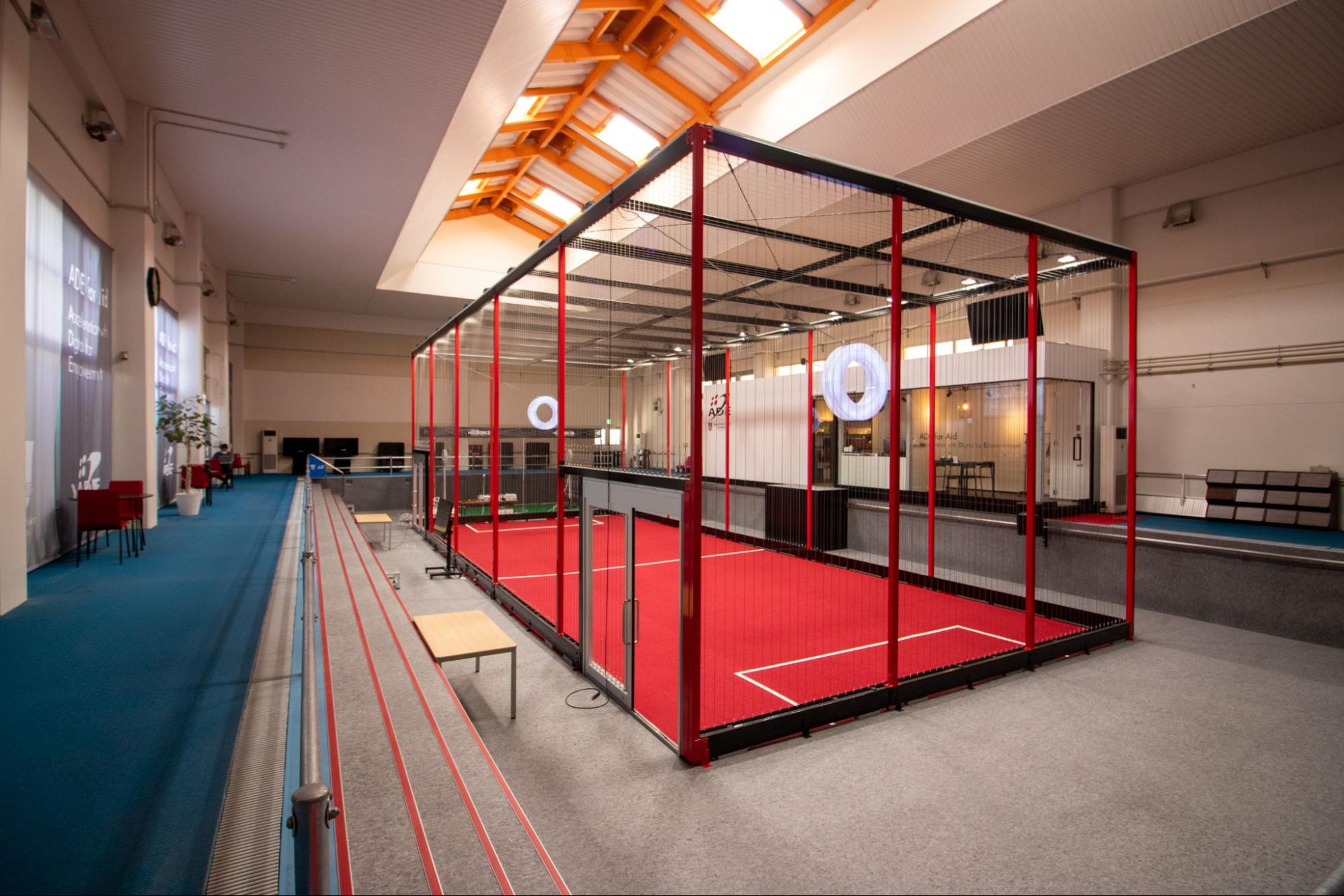 【What is drone soccer】
A game where you play a drone covered with a spherical frame 5 v 5. The feature is that everyone can enjoy together regardless of age, gender, nationality, or disability.
Japanese first official drone soccer arena in ADE. It is an image of when the drone used in the actual competition was flown. The interview team was overwhelmed by the drone that made a loud noise and moved around at a speed faster than expected. Even one drone was powerful.
What is the appeal of drone soccer?
Ms. Yanagawa :  It's a barrier-free competition, so it's attractive that anyone can enjoy it together. Also, if you follow a few rules, you have a high degree of freedom.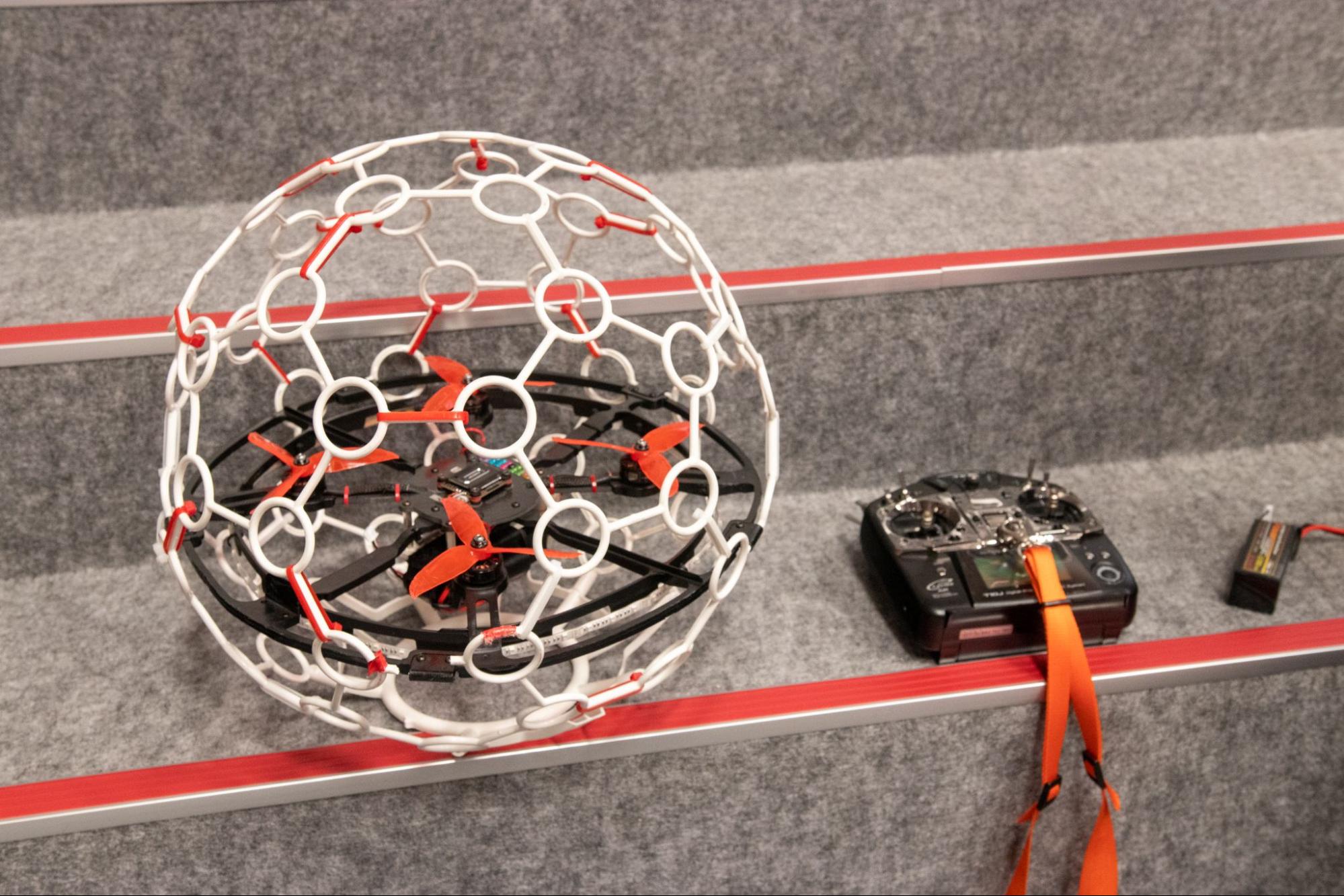 Ms. Yanagawa : Since it can be customized freely, it is possible to set a speed of 100 km / h by programming, make a small turn effective, and change the propeller.
Propellers and frames are often damaged because they hit each other violently, but since players repair everything yourself, you will acquire the technique to repair them.
How did you become a drone soccer player?
Ms. Yanagawa : Originally, I didn't like games and I had never touched a drone. To be honest, I was told by the company. At first, I had a hard time not being able to control it as I expected, but it was interesting to be able to control it freely, and now I am enjoying it very much.
Currently, I am an advisor in the club activities of "Oita Prefectural Information Science High School" where the drone arena is located, and I practice with high school students every day. Controlling drone soccer is a little difficult. But once you can do this, you can control any drone. You can learn drone technology while having fun.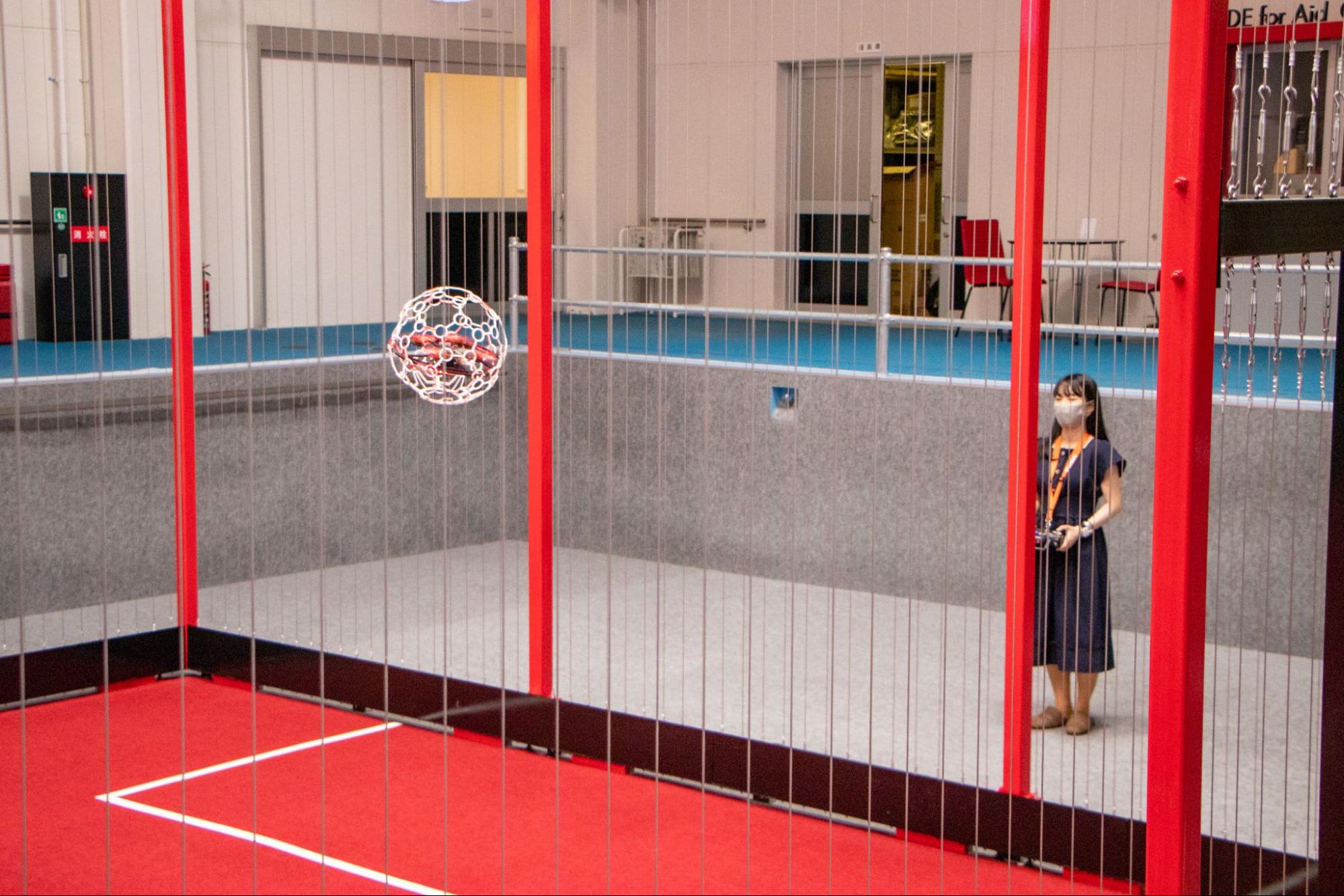 Drone soccer is still not well known in Japan, but it will attract more people in the future.
The first step towards independence support for people with disabilities. A new flow born from the creation of open data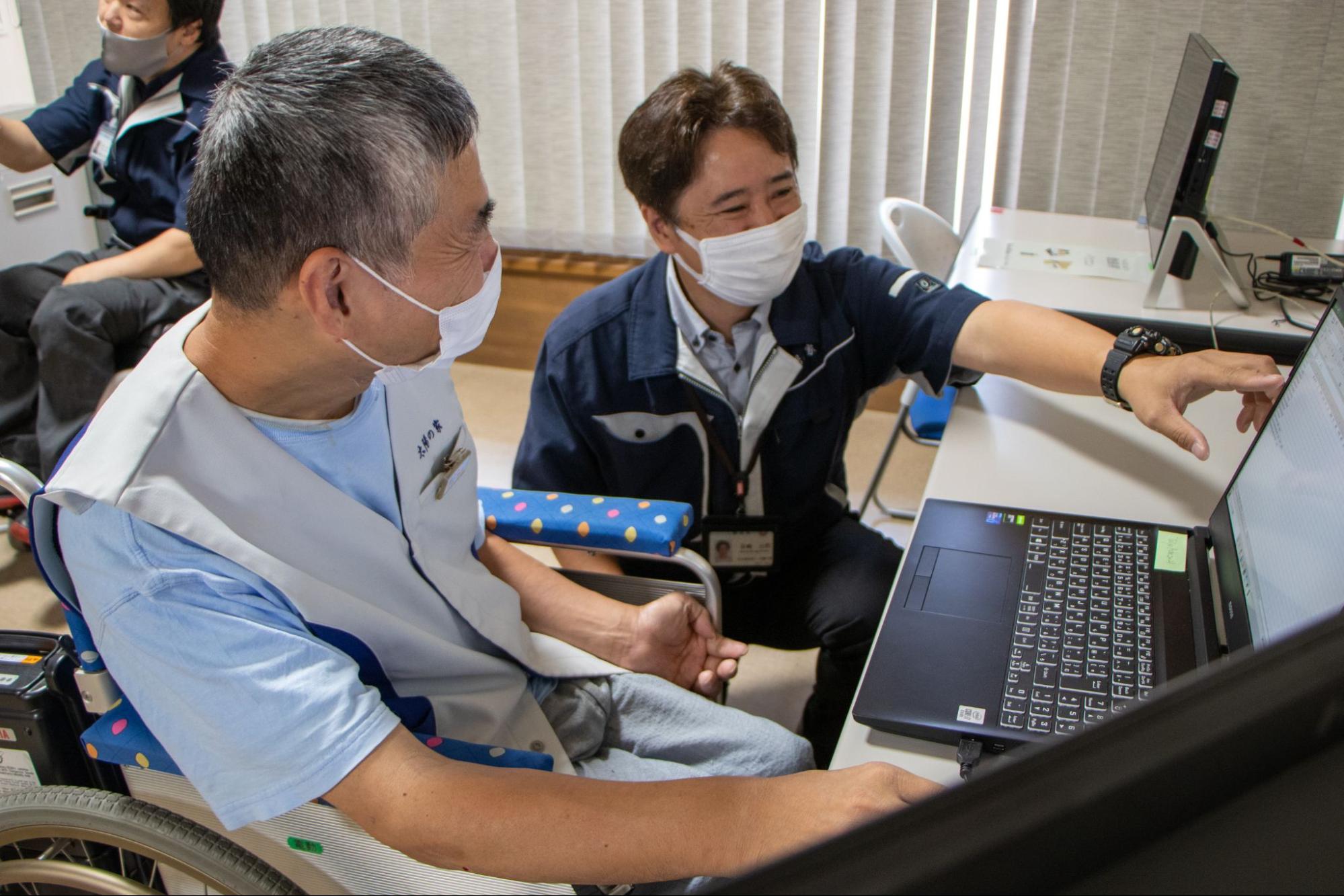 One of the keys of "ADE", employment support for people with disabilities, is being promoted in collaboration with "Taiyo no Ie" so, we visited there and observed the training. we talked to the staff, Motoaki Miyazaki, and the users who are training.
What kind of training are you doing?
Mr. Miyazaki : "Taiyo no Ie" has provided employment support centered on manufacturing, but in the future, information processing work will become a high-value-added work, and we believe that there will be demand. Even if people have a disability, they can do PC work by moving their fingertips, which is also attractive because you can communicate online. Therefore, we are taking measures to commercialize the work of creating open data by receiving orders from "ADE". The purpose is to connect to general employment and home-based employment as support for independence. Here, we are proceeding with the training while preparing a low desk for wheelchair users and preparing multiple monitors to make it easier to work.
What do people who come to the training usually do?
Mr. Miyazaki : Many people are working in the "Taiyo no Ie"workshop. Although he is excellent as a worker, he also provides an opportunity to be actively involved in PC work if he/she wishes. Because we have the idea of "opportunity rather than protection". According to our philosophy, we respect the will of people with disabilities and create many opportunities. We asked the users what motivated them to be interested in working on PCs.
Please tell us your impressions and motivations for the training for the first time!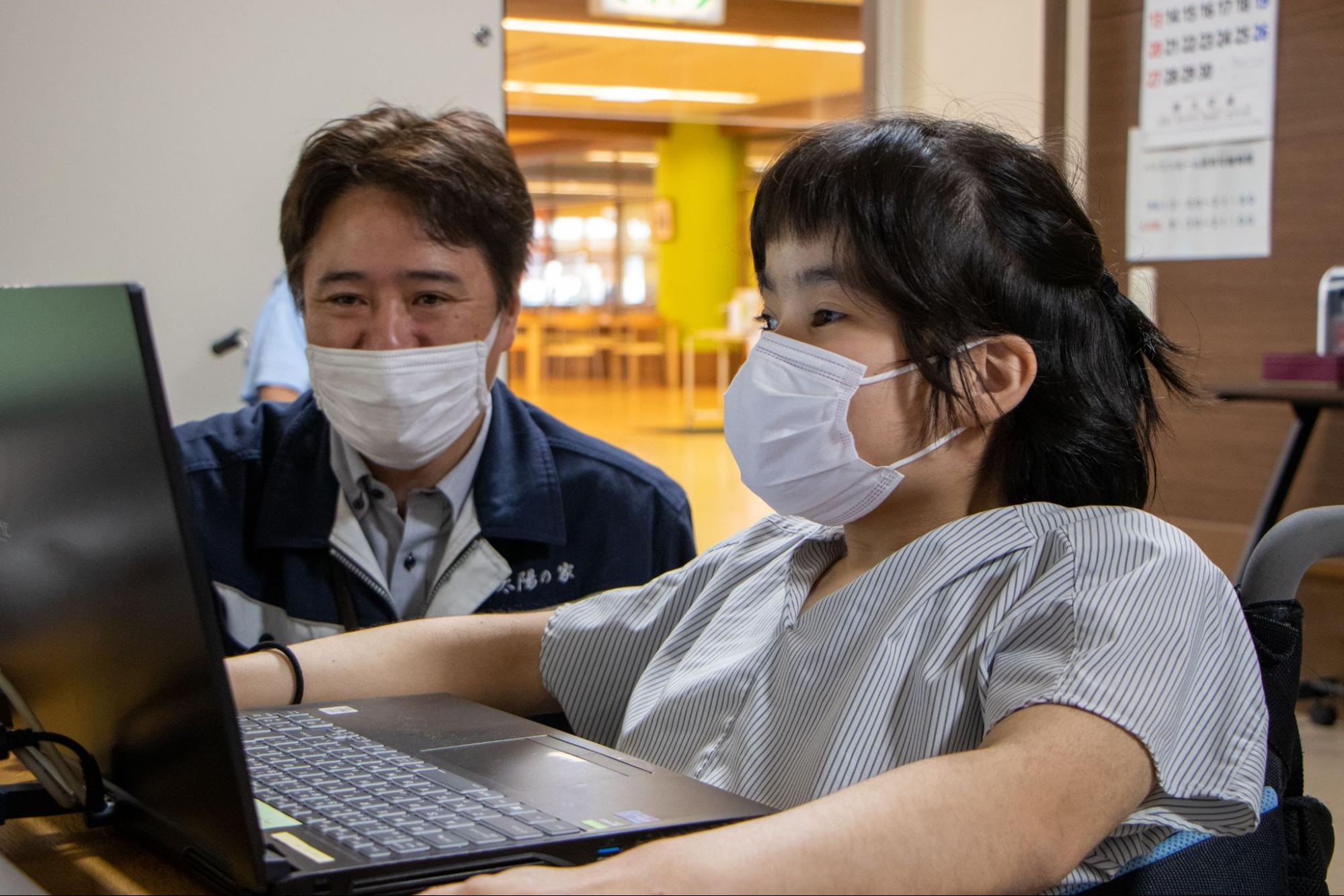 ・Yuki Sugimoto (user) : I also use my computer at home. It was difficult for me to practice for the first time, but I think I can do it.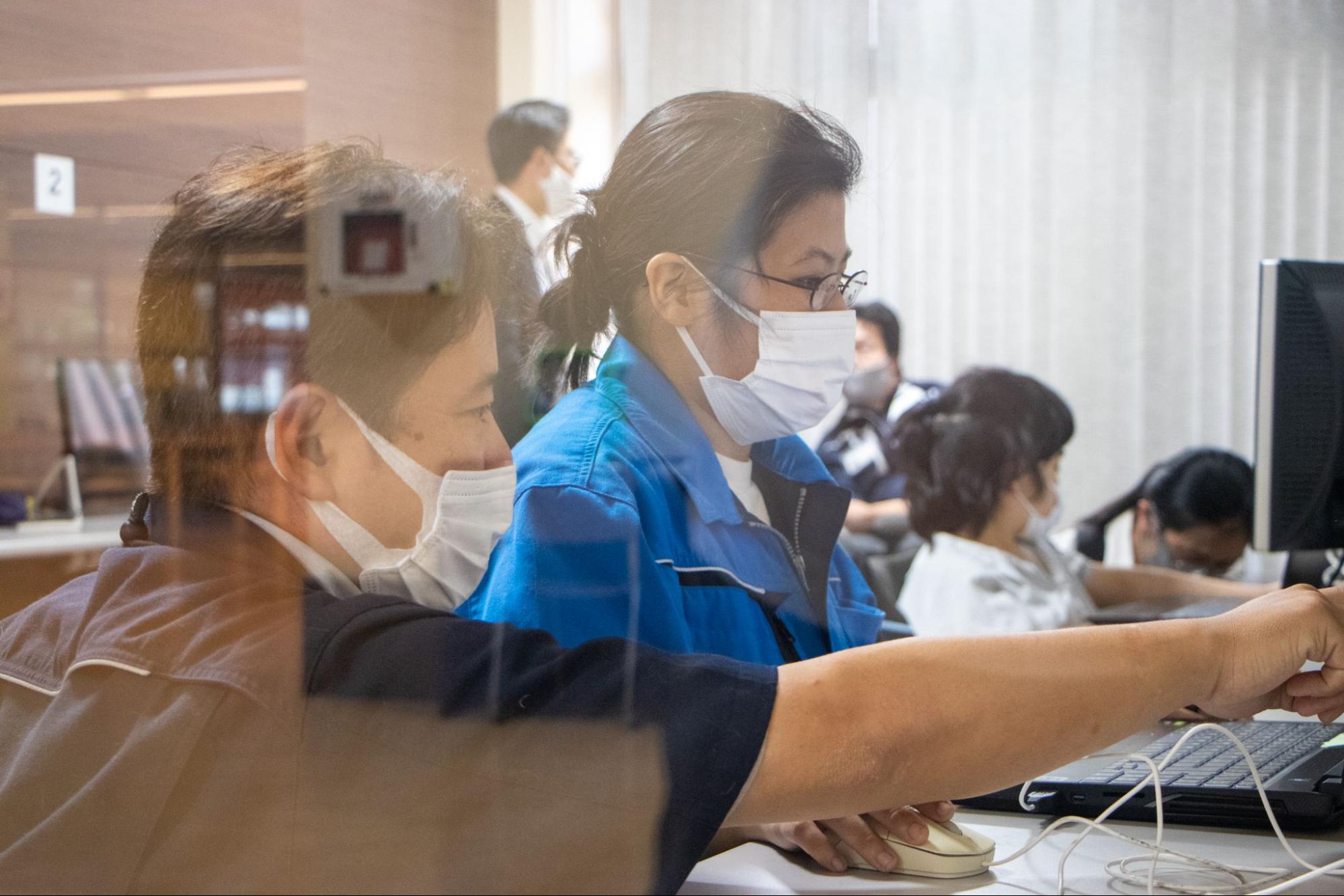 ・Aya Oda (user) : My husband works on a computer, so I was interested in trying it myself. I usually assemble parts. I am good at it, but I participated in the training because I wanted to try something new.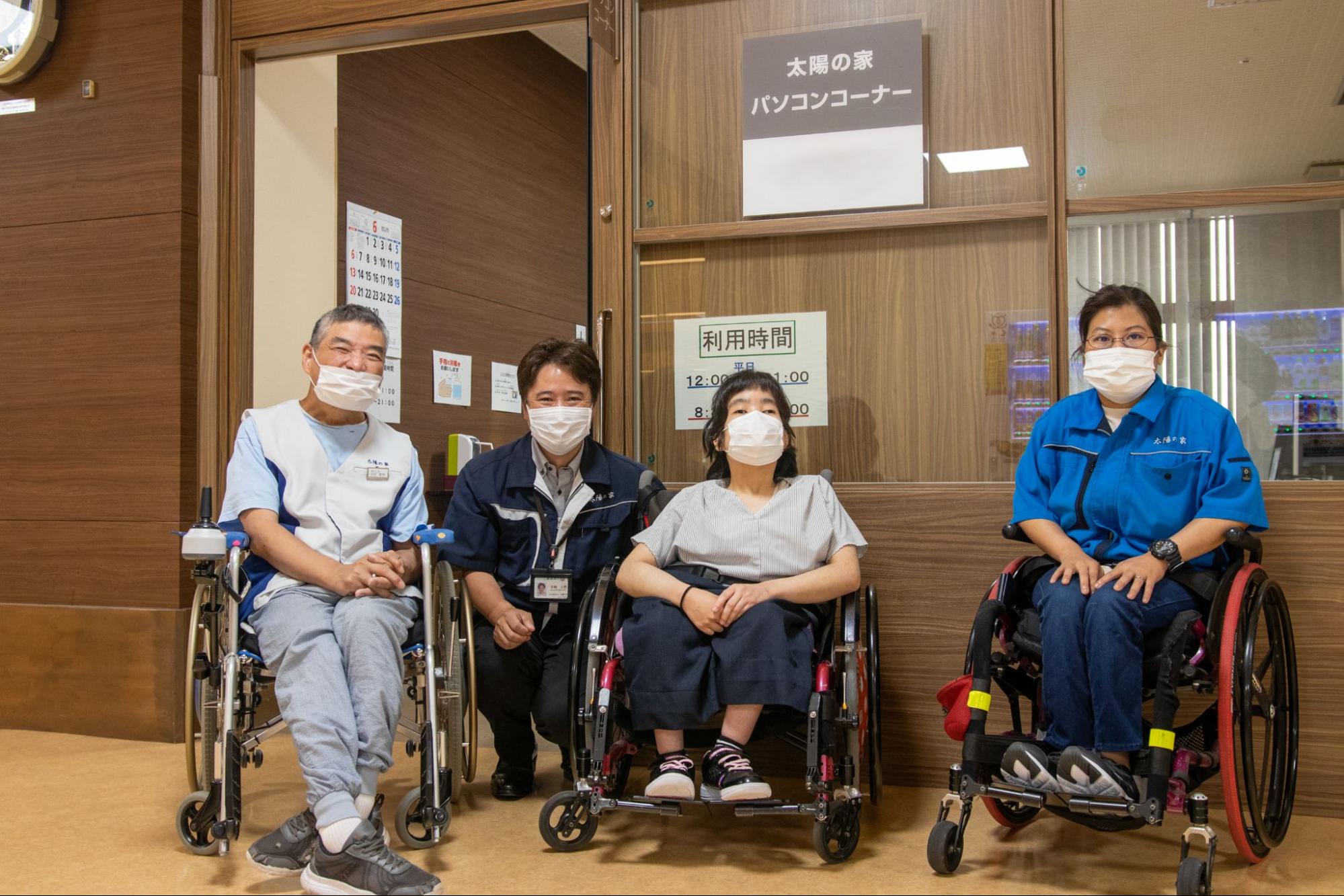 I was impressed by the positive attitude and smiles of the users who are trying new things. It may be in the not too distant future that information processing specialists will be born from here.
The aim is "domestic spread of drone soccer" and "production of engineers and entrepreneurs who are active in the world"
Finally, we asked Mr. Yatsuzuka about the future outlook.
What do you think will happen in ten years?
Mr. Yatsuzuka : The company was launched last year (2020) and is not yet connected to a big business.
However, ten years from now, drone soccer will spread all over Japan, and I would like to realize a world where everyone is enjoying drone soccer in a barrier-free environment. Furthermore, I would like to use the technology of drones to provide services in various industries and create services that support society. The goal is to nurture people who are active in the world, such as engineers and entrepreneurs, not only from drones but also from the "AI Machine Learning Center".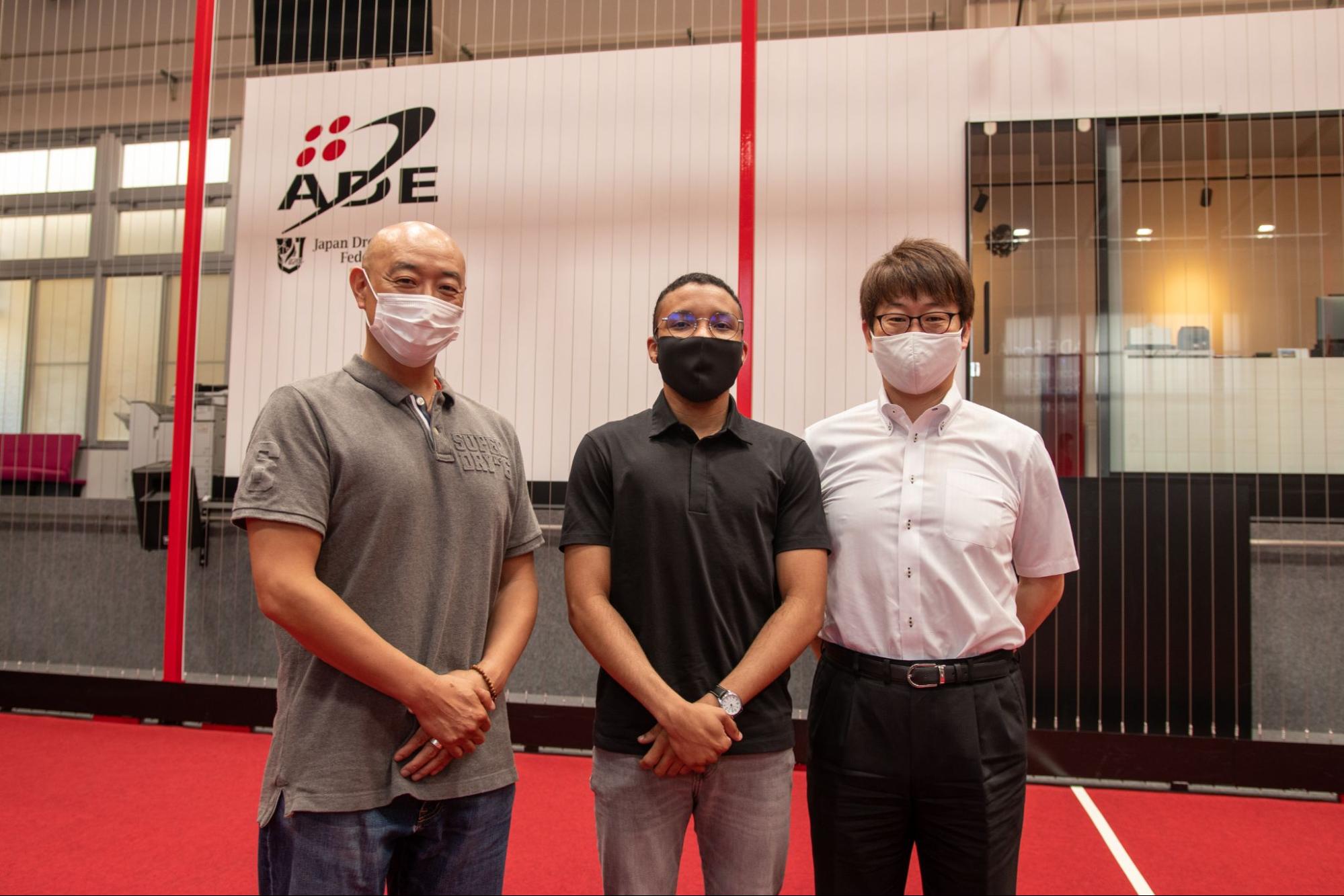 The drone and AI industries are just beginning to be used. We will continue to keep an eye on the developments and create a new world. The movement of "ADE", which is responsible for the realization of a fun and inclusive future for everyone, is likely to be an indicator of a new society.
Editor's Note (Interviewer: Impressions of Umar)
"ADE" is one of the most promising technology venture companies that have a positive impact in Japan. By equipping people with disabilities with IT knowledge, skills, and experience, we enable people with disabilities to enter society with competitiveness.
During the interview, I was fascinated by how technology empowers individuals while enabling fast and efficient learning. I was amazed at the evolution of technology and how it is changing people's lives.
Specifically, we use AI to create happiness for people with disabilities in drone soccer. Drone football is one of the best ways to show that technology can help build a more inclusive society. When I saw drone soccer, I was surprised that it was a practical and fun game.
The most memorable thing was that Mr. Yatsuzuka said, "I want to change Japanese view of  drones." Drones are primarily viewed as entertainment, so he wondered if his powerful tools could have a positive impact on people's lives. With the same idea, I was impressed with the resilience of "ADE" in the corona disaster. Despite limited activities and training, they were able to significantly expand their business.
The director of "ADE" promised to continue to make efforts to realize a world where people with disabilities are integrated into society. We believe in the potential of everyone to build a prosperous society.
◆Interviewer Umar Teixeira (Ritsumeikan Asia Pacific University)
◆Interpretation Hiroshi ShouIkuno (Oita University)
◆Photos/videos HiromiTaiga Mizuno (Ritsumeikan Asia Pacific University)