When he first arrived in Beppu, he almost didn't know anyone. He was looking for both a place to stay and a community. He found that in "Beppu's Kiyoshima Apartment"; a multifunctional apartment inhabited by a rotation and community of artists, it serves as a studio, a gallery, and a home for many artists. This is where he settles and begins his journey to master "Onsen zome". "Onsen zome" is a process of using the mineral-rich water from natural hot springs, as well as other elements such as flowers and grass, to dye fabric and/or cotton. Due to the nature of his work, Kiyoshima provided a flexible location as well as a community, which he so craved while on the road by himself all these years. His next story has started here.
To everyone who is looking for a place to rest their hearts
Do you have the stress of not being able to see your family, not being able to go to college, not being able to go to a game, not being able to go to your favorite band's concert, etc.?
The coronavirus forces not only physical distances but also the distance between the minds, like an amoeba. It asks us a big question about what we should value in our lives. His story, which I'm about to tell, may give us a hint as we have questions in our hearts.
House surrounded by nature, sewing machines, cloth, and thread
Tomohiko Yukuhashi travels around Japan to make clothes under the name "Tabifuku Made In".Tabifuku uses natural methods and materials to create custom fashion pieces. 
Tomohiko is driven and inspired by his passion to continuously find new ways to use his surroundings to create beautiful and unique pieces of art. When you first meet Yukuhashi Tomohiko, your eyes are immediately drawn to the long curly hair framing his face. He has a contagious calmness about him, which forces you to slow down and take everything in. He seems shy at first but as we walk down the path leading to his house, he starts to loosen up and let his guard down.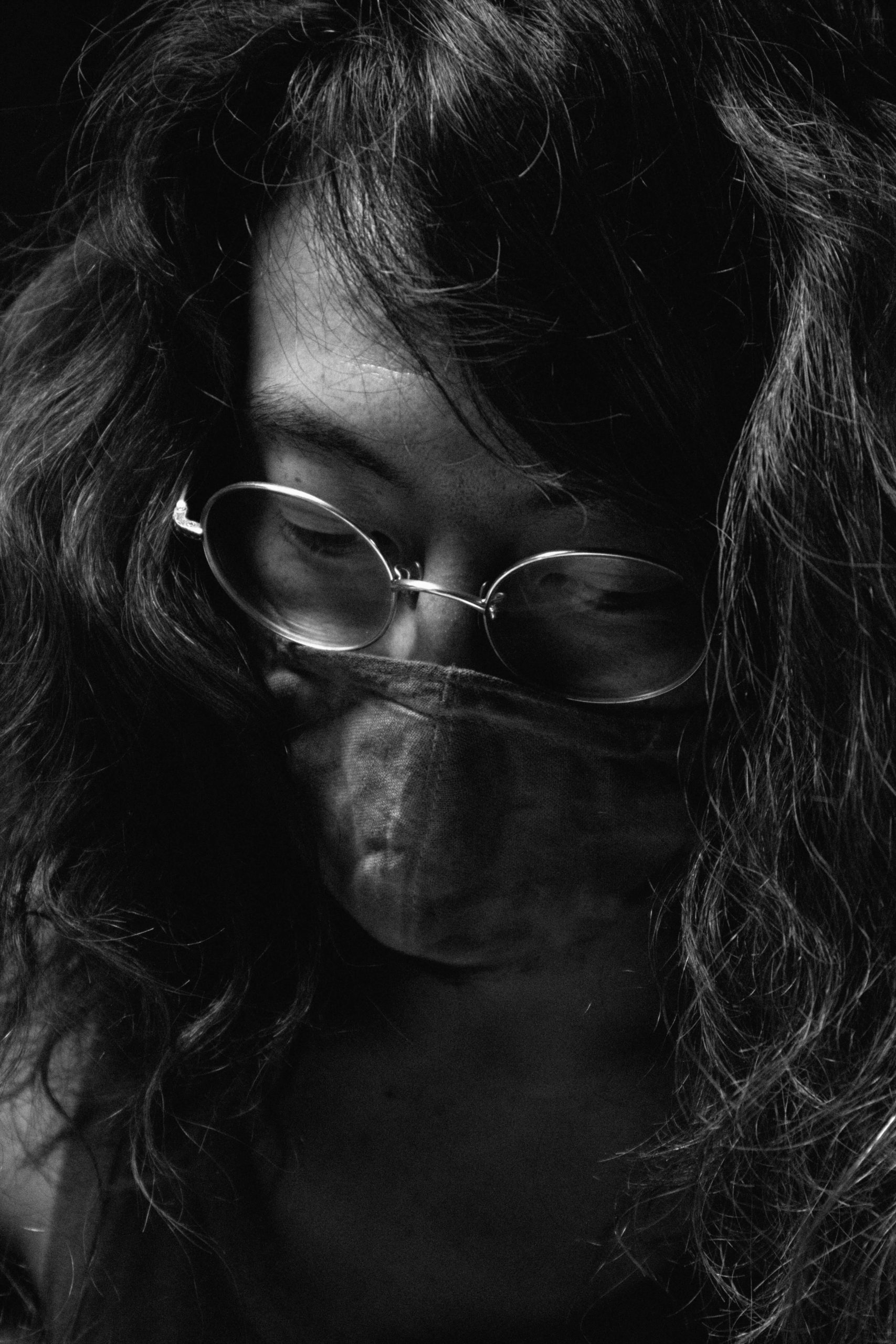 His house is tucked away, around the mountain, surrounded by trees, onsen, waterfalls, and lots of cats. As you walk in, the first thing you see is several sewing machines and sewing stations. But your eyes don't stay on this for long, because just behind those, is a room littered with beautiful pieces of fabric and yarn. All of which, he dyed himself, using the "Onsen zome" technique. The colors are vibrant, yet somehow subtle. I notice how there are different shades of the same color, each one slightly different from the next, a subtle difference, one that you wouldn't be able to tell unless you paid attention. The attention to detail in the pieces he creates is impeccable. 
What the bright orange shoes and socks taught me
Born and raised in Tokyo, he was raised as the first of 5 children, Tomohiko credits his upbringing for influencing his lifestyle.
"Growing up in a home with so many children, it was hard to catch my parent's attention, but there was one occasion that sticks out most in my mind. Sports day at school, it was mandatory to wear a uniform, although we could wear any socks and shoes. On this day, I chose to wear bright orange shoes and socks. 
My mother was taking photos of the kids on this day.  And later on that day, she praised me that it was very easy to spot me because of the bright orange shoes and socks that I chose to wear. I felt very happy. 
As the eldest child, it is easy to feel forgotten. On that day I felt seen, and I think I have been trying to recreate that moment for others with my creations." he says.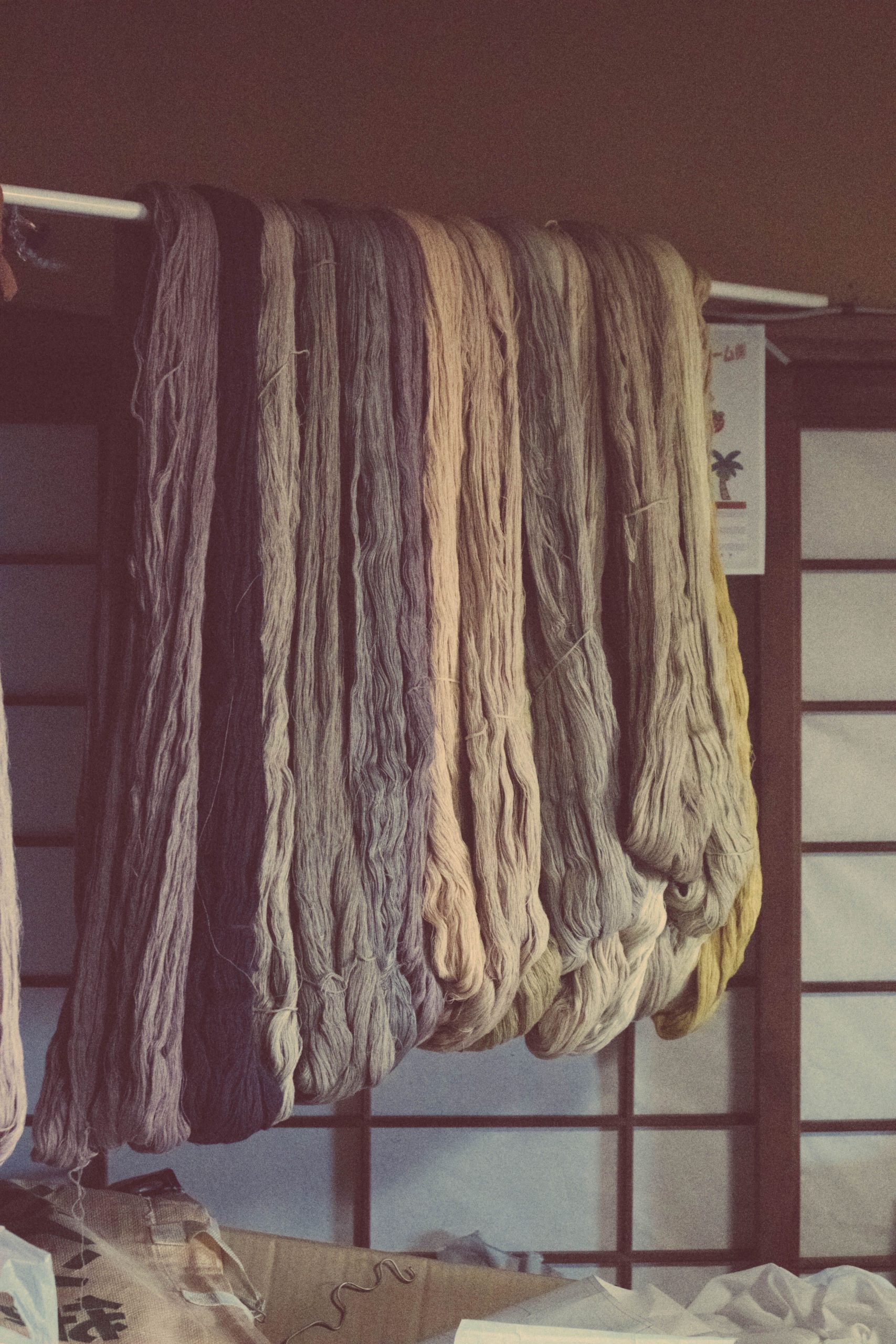 I asked Tomohiko to describe himself, to tell more about why he does what he does. 
He introduced himself as "a clothing tailor who travels"
He uses the natural elements of the cities he visits to create custom fashion pieces. He places an emphasis on using local and natural to achieve unique pieces. 
As a traveling clothing store, Tomohiko seldom stayed in one place for long, he was constantly moving and traveling in his bright orange van, which sometimes even served as his home. He spent years on a journey to discover new ways to use nature, to use resources indigenous to different cities, in order to create unique pieces.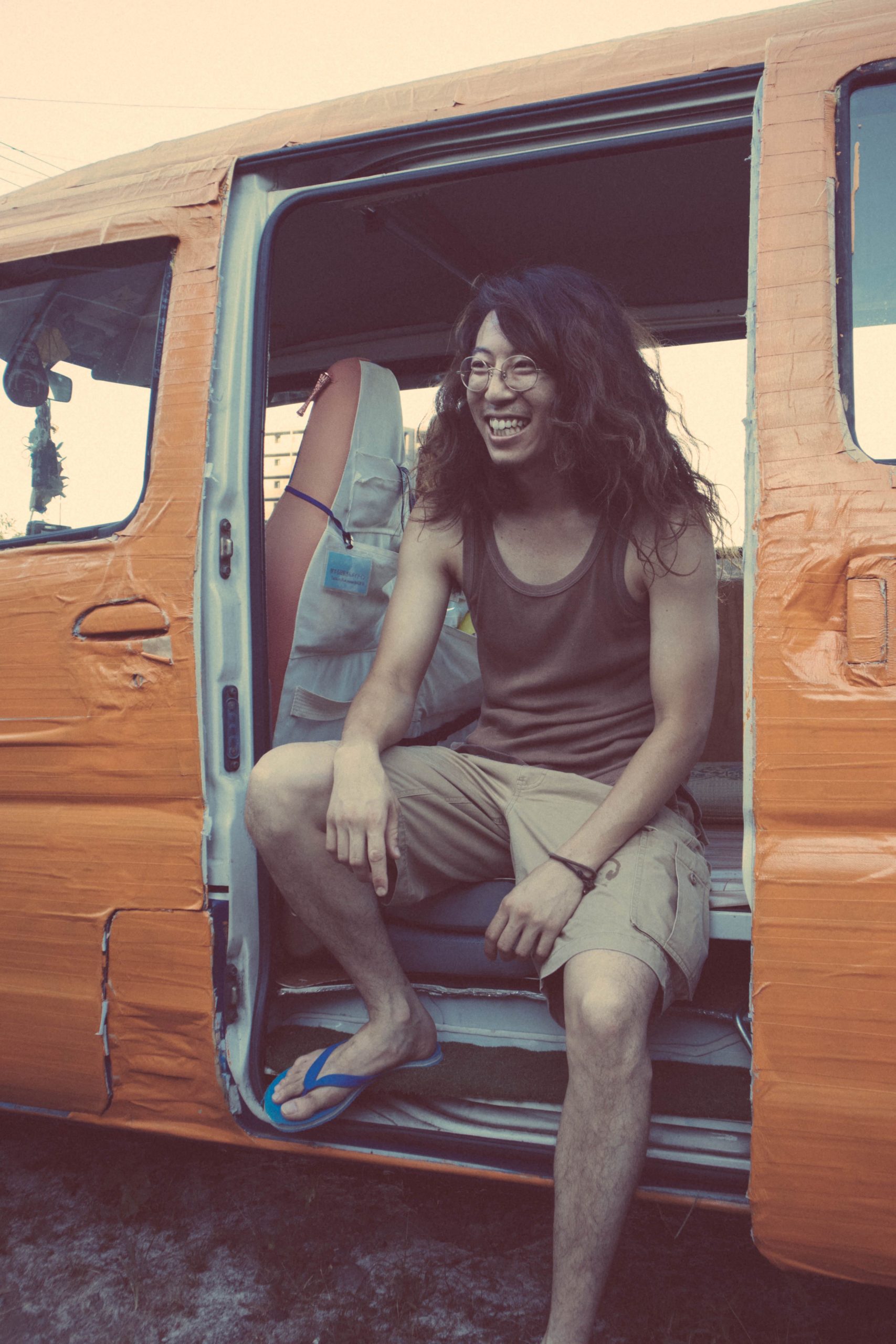 The end and beginning of the journey
After spending years on the road, discovering, and creating, he began to feel as those he was only scraping the surface of the potential of the cities he visited as well as the different methods of creating that he was discovering.
"The concept was to make things while traveling, so I never stayed somewhere long enough to make lasting and meaningful connections. Like a circus, I came to the cities, I brought joy and sometimes entertainment, but before I could settle down, it was time to go." 
He gradually started feeling uncomfortable with this kind of relationship to the places he visited and wondered about the constant movement. This led to him deciding to spend more time in the cities he creates, thus his decision to settle in Beppu. 
Although this is somewhat contradictory to the concept of Tabifuku, he believes that it is the only way for him to stay true to himself and what he needs to continue creating.
And it leads to the opening story. Upon arriving in Beppu, he settles down at an artist's house called Kiyoshima Apartment and begins a journey to learn hot spring dyeing.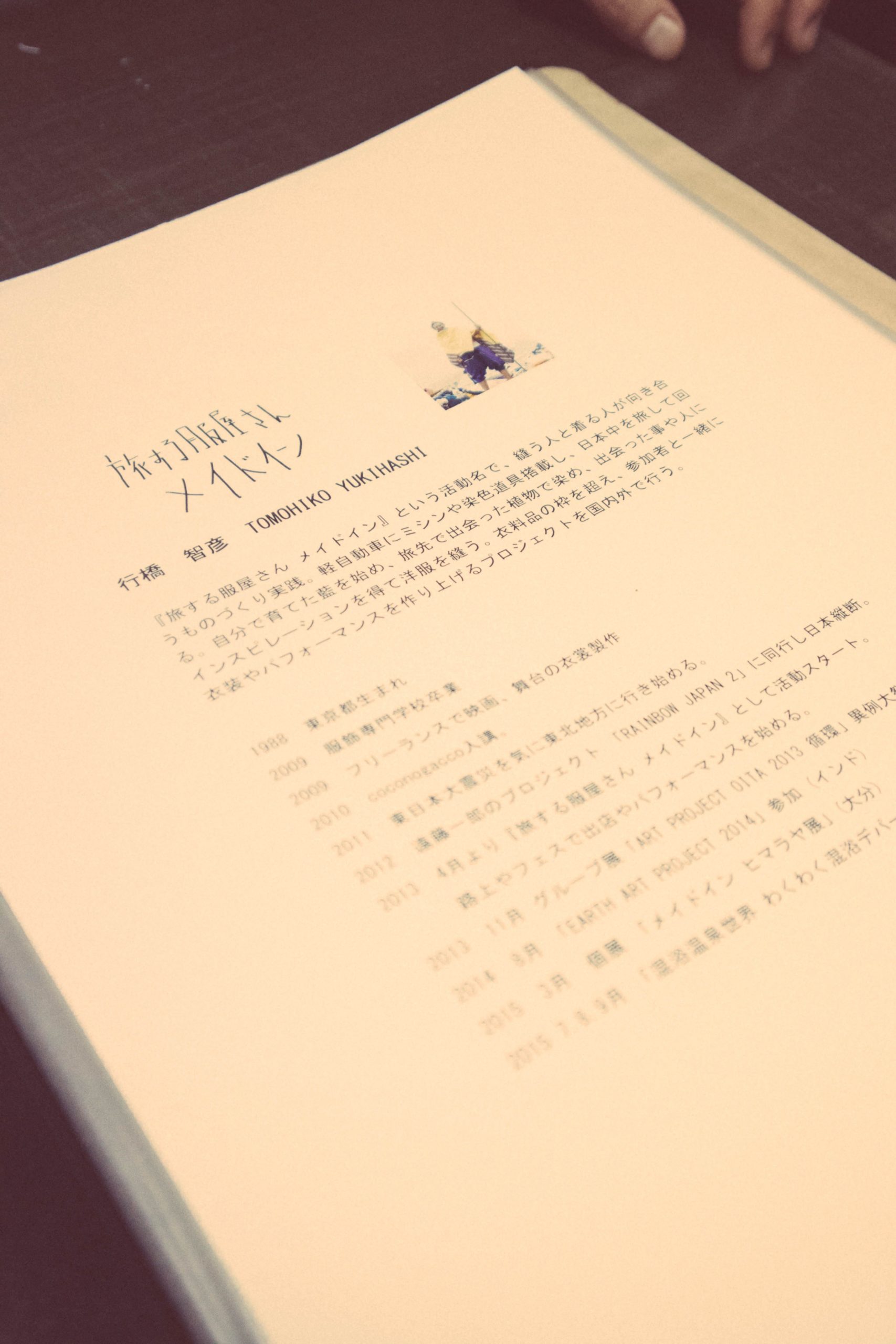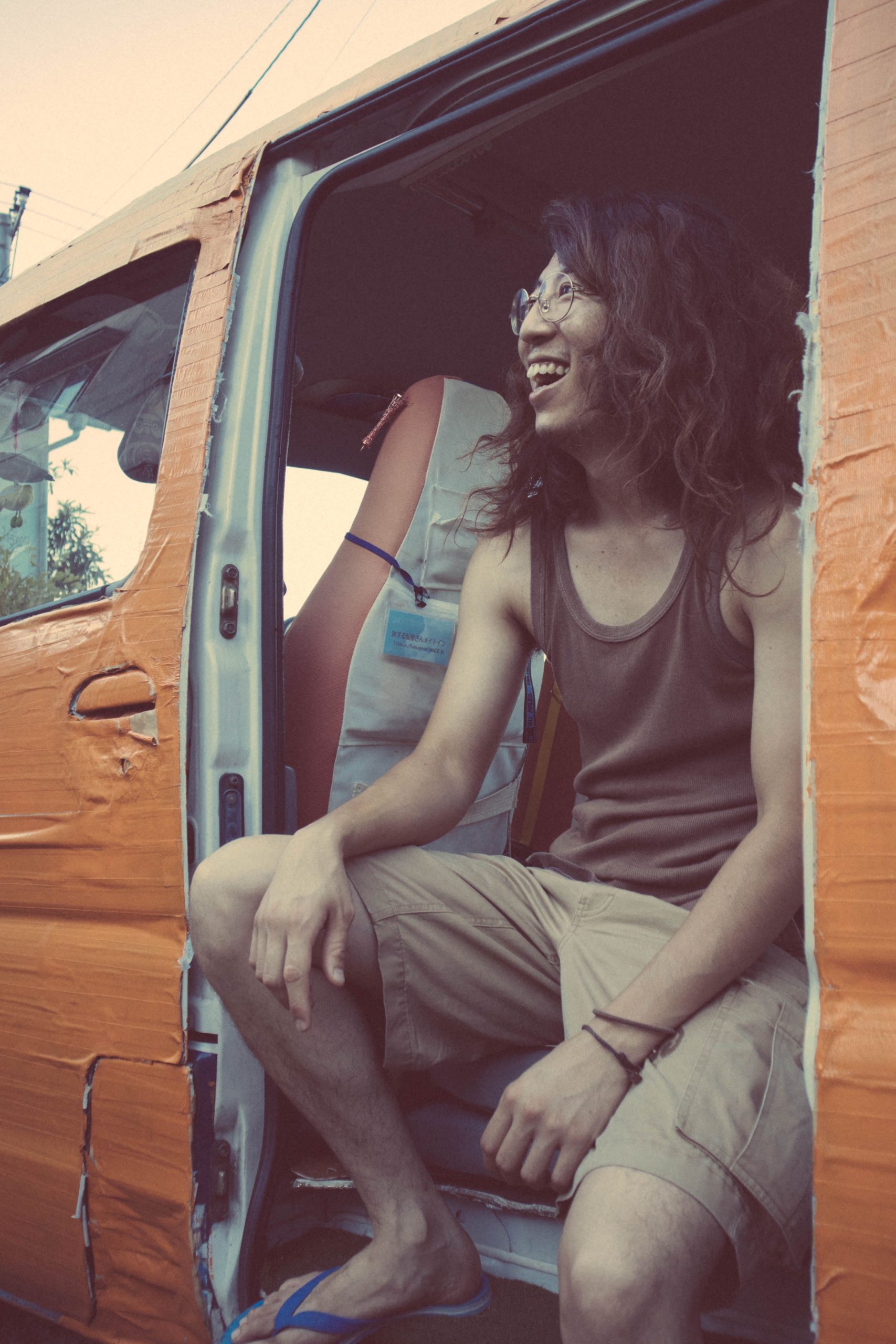 The roses and thorns of pioneering
As with any industry, Tomohiko faces many challenges when creating, because he works with nature and strives to create something new, using the resources of the environment he finds himself, the challenges he faces are ever-changing and dependent on what he is making and what he is using to make it. 
We talked about the challenges he has faced when creating "Onsen zome"; 
"Because Onsen zome is something that has never been done before, there isn't a place or person that I can go to for help. Everything I do use the Onsen zome method is a matter of trial and error. The environment is constantly changing, the grass I use for dyeing today won't produce the same color a week from now, the Onsen water that I used last week might have a higher mineral content than the water I use the next week." 
This results in different colors and textures. Factors such as this make it hard to always get it right or recreate anything. But although this can at times be a source of his frustration, it is also what he enjoys the most about "Onsen zome" and what makes what he does so unique.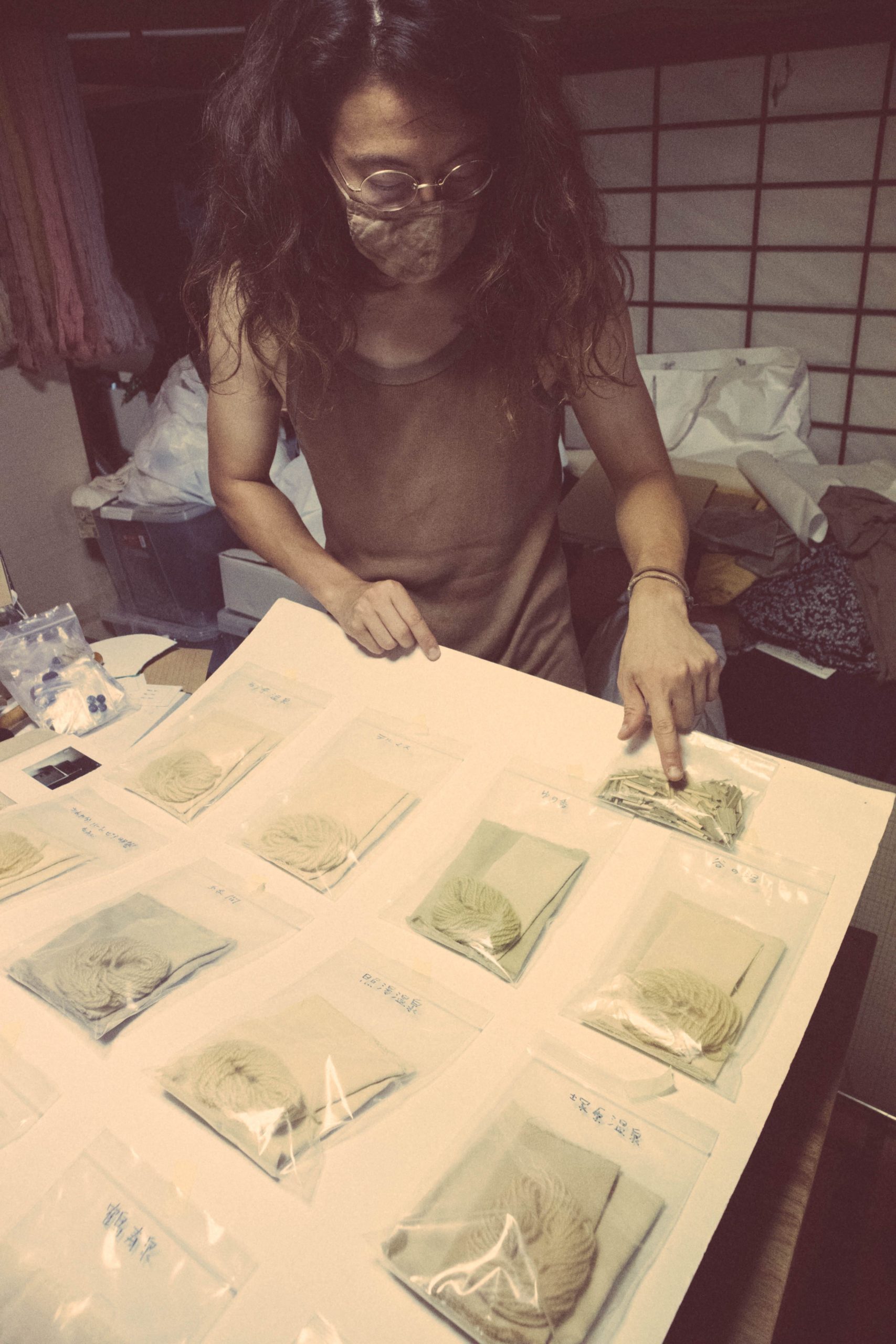 His hidden passion for the work
We asked Tomohiko about the most memorable response that people have had to his work was, for him, it is the moment right after his customer has received their custom order but also when his pieces inspire conversations around the pieces, this along with the joy he sees in the eyes of the people who receive his pieces. His goal isn't to leave a piece of himself in the pieces but rather for people to find a piece of themselves in the pieces he makes for them.
His quest never ends, no matter how many years it takes
In Japan, every prefecture has something it is well-known for, something that is a part of the prefectures culture. Professionally, Tomohiko's ultimate goal is to make "Onsen zome" famous as one of the traditional cultures in Beppu. He has begun to dedicate his career to achieve, no matter how long it takes, this is a dream that he is excited to spend the rest of his life making happen.
Editor's Note
What stood out most to me from my conversation with Yukihashi, was that the true beauty of what Yukihashi does is that he is able to constantly comes up with new ways to create. With "Onsen zome", everything he creates, he learns something new. And that to me, seems to be like a beautiful way to go through life.