What do you think of when you hear the word "hot spring"?
Many of us think of relaxing in warm water or traveling with friends and family.
Beppu is said to have the largest amount of hot springs in Japan and is a tourist city famous for its hot springs. But there is now a trend towards using hot springs not only as a tourist resource, but also for scientific research using data and other information, and for use in a variety of industries. One of the leaders in this field is SARABiO, a hot spring microbiology laboratory in Beppu.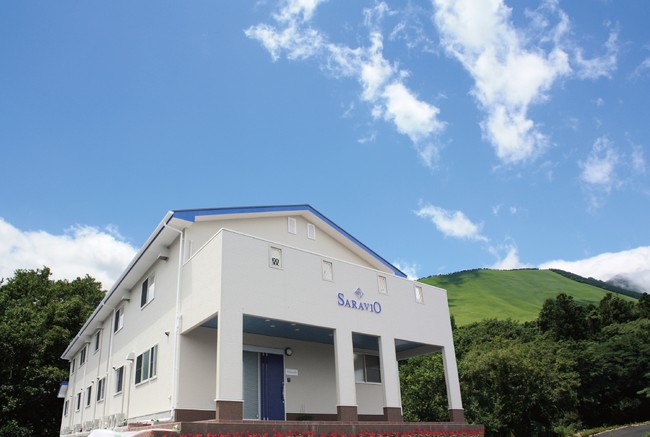 SARABiO started with the research of cosmetics using hot spring microorganisms. SARABiO conducts three types of research from a unique perspective: research to identify the causes of customers' problems, research to confirm and evaluate the effectiveness of ingredients that resolve the causes, and research to develop ingredients. Based on the results of this research, we focus on "creating products that are needed rather than selling" and have developed a number of products that address scalp and skin problems and other concerns. By taking on the challenge of various projects, the institute is uncovering the undiscovered potential of Beppu hot springs.
We interviewed Mr. Hamada, the chairman and founder of SARABiO, and Mr. Miyata, the director of the Hot Spring Microbiology Laboratory. We were fascinated by the passionate spirit of SARABiO, which values the desire to help people and pioneer the future of hot spring.
The origin of the research was in history!
?
Mizobe: Why did Chairman Hamada decide to start a business using hot springs?
Chairman Hamada: I live in Beppu and often take a dip in the hot spring. One day, while I was taking a normal bath in the hot spring, I suddenly thought to myself: "The hot spring seems to have anti-fatigue and health benefits... but is this something that the warmth of the hot spring water brings? Or is it the external effects of the water pressure?
At the same time that we were starting SARABiO in earnest, a manga called "Thermae Romae" became a big hit. It was based on the Roman bathing culture, and it is said that soldiers in the ancient Roman Empire used to apply mud from the hot springs to their sword wounds and bruises from battle, as they believed it was good for healing, although there was no scientific evidence to support this.
Mizobe: Wow! So mud is good for healing wounds! There is a mud bath in Beppu too, so maybe that helps too.
Chairman Hamada: That's right. In Japan, during the Sengoku period, feudal lords such as Takeda Shingen, Uesugi Kenshin, and Date Masamune had hidden baths. This was also to heal their wounds and recover from fatigue. The story of the Roman Empire, the feudal lords, and the question I had suddenly came together, and I discussed it with the members who later became the first researchers of SARABiO, but I didn't get a good answer. I thought, "It seems like a simple question, but I can't find an answer..." So I went through various papers, but I couldn't find the answer I wanted in all of them.
As we delved deeper and deeper into the possible causes of why hot springs are good for relieving fatigue and improving health, we came up with a hypothesis. We came up with a hypothesis: "Isn't there some kind of microbial action going on in the hot springs?" This was the hypothesis. Based on this hypothesis, we started our research in Beppu.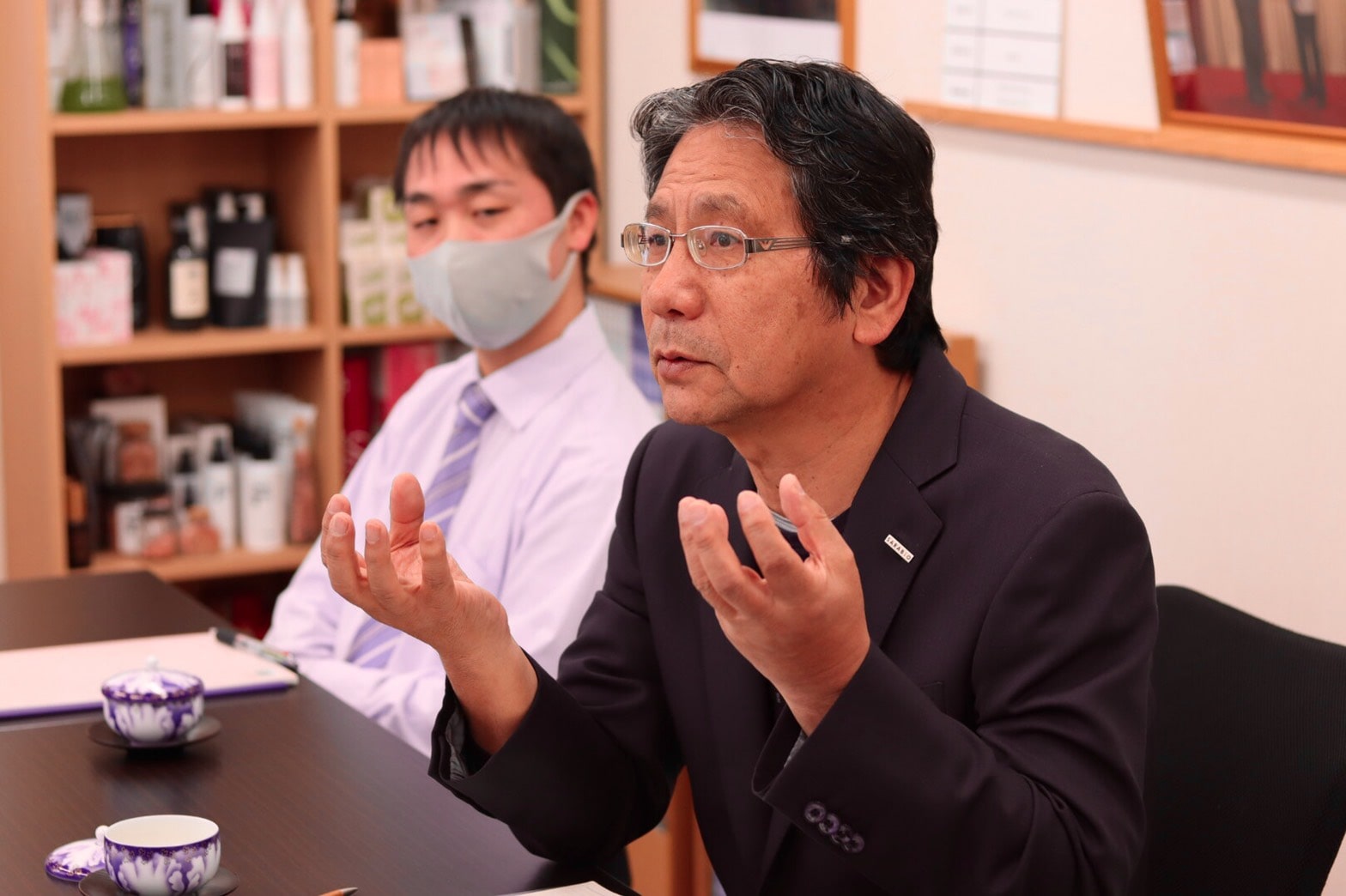 "Beppu is a diamond in the rough for research on hot springs," says Shigeru Hamada (right), Chairman of SARABiO, and Miyata (left), Director of the SARABiO Hot Springs Microbiology Laboratory.
The discovery of the romantic"RG92"
Mizobe: How have the research staff been doing?
Chairman Hamada: "RG92" is a new species of microalgae that has the potential to help many people and excels in anti-aging, hair, and scalp problems and reducing inflammation.
I spent many days collecting water, mud, and algae from various hot springs, looking through a microscope and studying them until I came to the conclusion that there might be potential in the hot spring microbe "algae". Looking back now, it was really hard work. It took a year to cultivate and increase the number of microorganisms to make them commercially viable. It also took a year to carry out the genetic analysis of the microorganisms we discovered, to see if they were new species... It has been an arduous journey over several years, which has been eye-opening for the research staff. But hard work always pays off, doesn't it? After the persistent efforts of our research staff, we succeeded in obtaining a patent for "RG92". It was a great pleasure.
Miyata: RG92 was initially used as an extract for cosmetics, but during the development of RG92, the government gave us a grant for a strategic development project. Then we asked ourselves "with the aim of supporting people's health, could we contribute to blood pressure control, metabolic effects, and the like?". After several years of research into its application to the food sector, it was adopted as a functional food ingredient!
There is a saying that goes "three years on a stone", but the patience of the researchers is amazing. "RG92" was born from an effort beyond imagination. I wanted many people, regardless of generation, to know about it.
The benefits of hot spring microorganisms for agriculture and fisheries
Mizobe: You are developing a variety of businesses, what are your aims at the moment?
Chairman Hamada: "RG92" is expected to have an effect not only on humans but also on other organisms. About 5 years ago, we started to offer our guests the "Jigokumushi Omotenashi" (Hell steaming hospitality) during the winter season, where fresh blue crabs from the Kunisaki Peninsula are steamed in the hot spring water on the premises. The best way to cook crustaceans such as blue crab is to steam them in "hell". Steaming in hot spring steam locks in the flavors and makes for a superb dish. With this as a hint, we decided to test the potential of hot spring microorganisms on non-human species and to apply them to marine products. We are currently working on the development of "aquaculture" for crustaceans such as crabs and turban shells. However, this is not the only business we are currently involved in.
Mizobe: Yes! Are you still working on something else?
Chairman Hamada: We are opening up our Hot Springs Microbiology Laboratory to the local community! It's called the "Mori-han Villa"! Blessed with sea, river, and mountains, SARABiO is located in what used to be the enclave territory of the Mori clan. We will open a theme park for adults, making use of our past projects and current challenges. You can experience the culture and history of hot springs and visit the laboratory where the ingredients for cosmetics are made. We will also include a beauty treatment experience under the theme of "On-hada - skin pride as a souvenir", which will help to boost your immune system and provide nutritious gourmet food. You can experience the culture and history of hot springs and visit the laboratory where the ingredients for cosmetics are made. We will also include a beauty treatment experience under the theme of "On-hada-skin pride as a souvenir", which will help to boost your immune system and provide nutritious gourmet food. There are many facilities for children to play, but not many places for adults to relax and enjoy the possibilities of hot springs. We want to create new tourist attractions in Beppu that will make people think "I want to come back to Beppu again"!
The source of the warmth in our research is the importance of story and image.
"I want to give back to society by doing research that is close to people with scalp and skin problems. This is my life's mission to think about how we can approach and contribute to our customers," says Mr. Miyata, who has been working at SARABiO for about eight years. He is a warm and passionate person who, like Chairman Hamada, does his utmost to "help those in need".
Mizobe: What do you value in your research and what are the most rewarding moments?
Miyata: When we carry out research, we try to think of a story that will not fail. "Failure is the foundation of success," they say. However, failure alone is not enough for a company to grow. For example, when using a certain ingredient, research is carried out to determine its properties to some extent. How can we create new forms? How can we take on new challenges from the ground up? We always have a "no-fail, win-win story" to ensure success. However, as a researcher, it is also important to have a "story to challenge".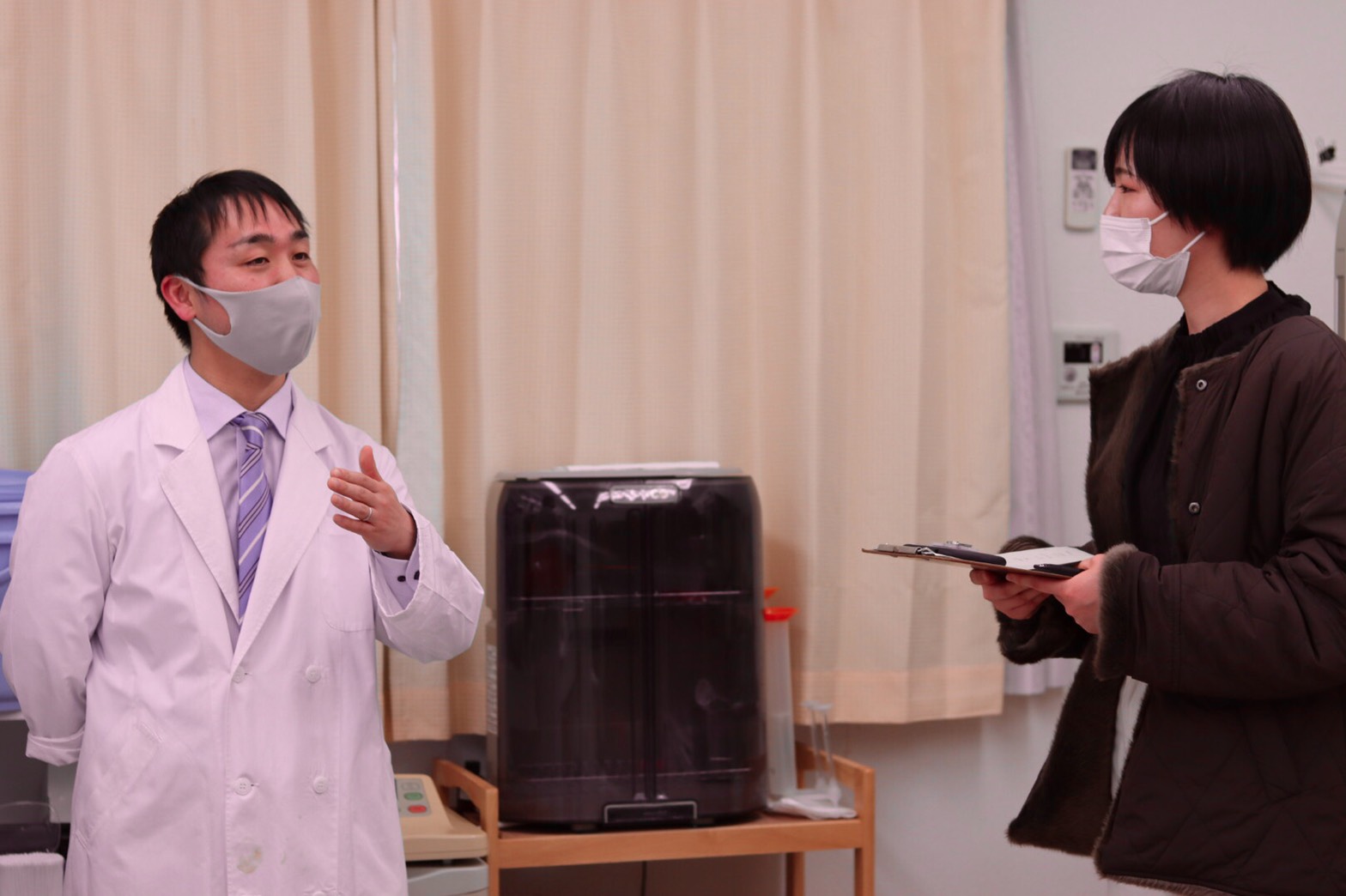 Mr. Miyata talks about the importance of using local resources to give back to people. Here at the SARABiO Hot Springs Microbiology Laboratory, he is working at the forefront of the industry. His personality and way of speaking are very gentle and soft.
Miyata: In order to carry out an experiment, it is important to carry out research and hypotheses beforehand. I am very happy when I get the result that the hypothesis is correct. When the results are actually put out into the world in the form of something useful, it is a great feeling. This is my way of giving back to Beppu, where my research is based. This is what I find most rewarding. The resources of hot springs and the microorganisms hidden in Beppu hot springs may change the future. I want to take pride in what we are working on and continue to make good things.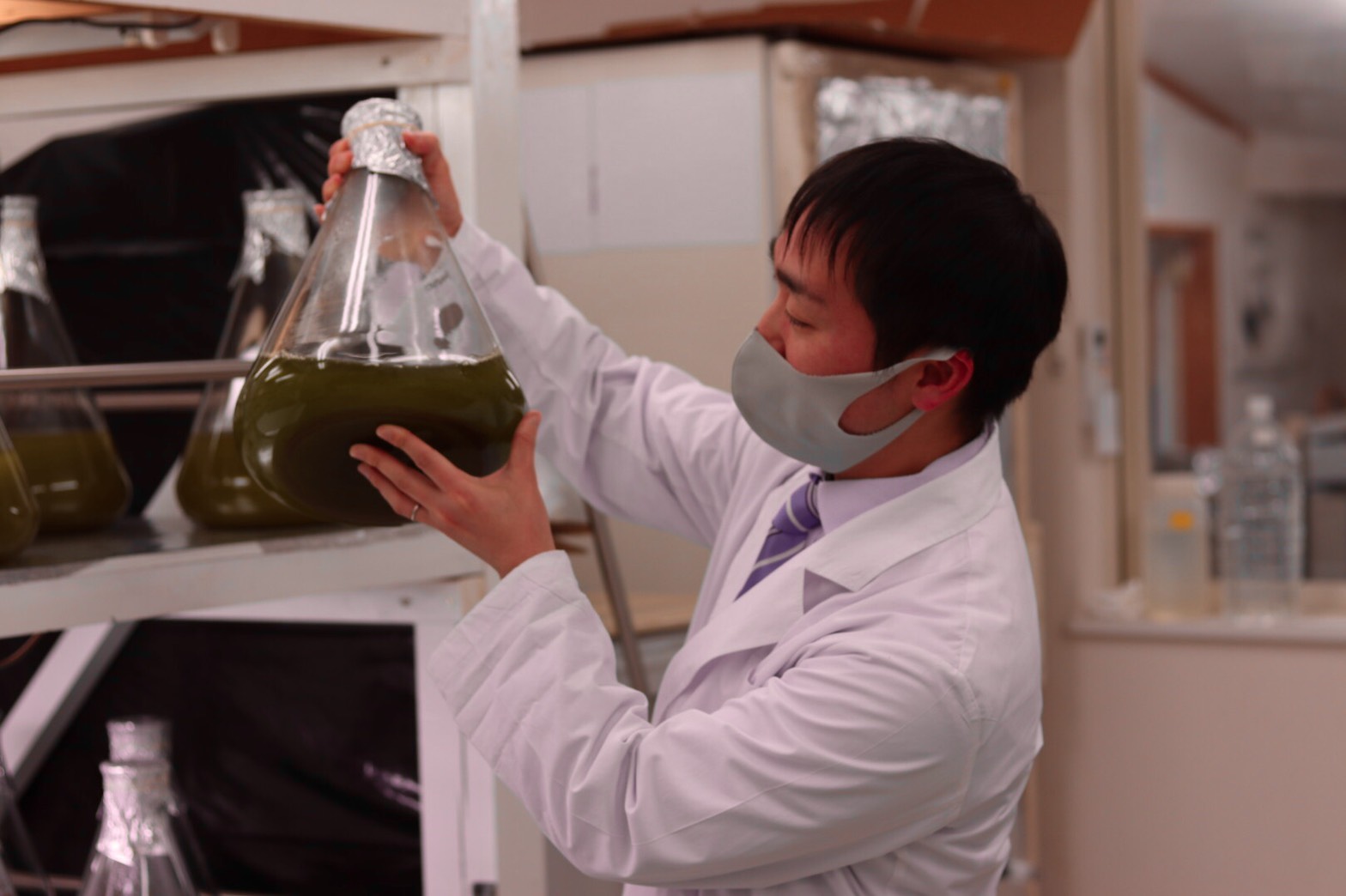 He showed a flask containing "RG92".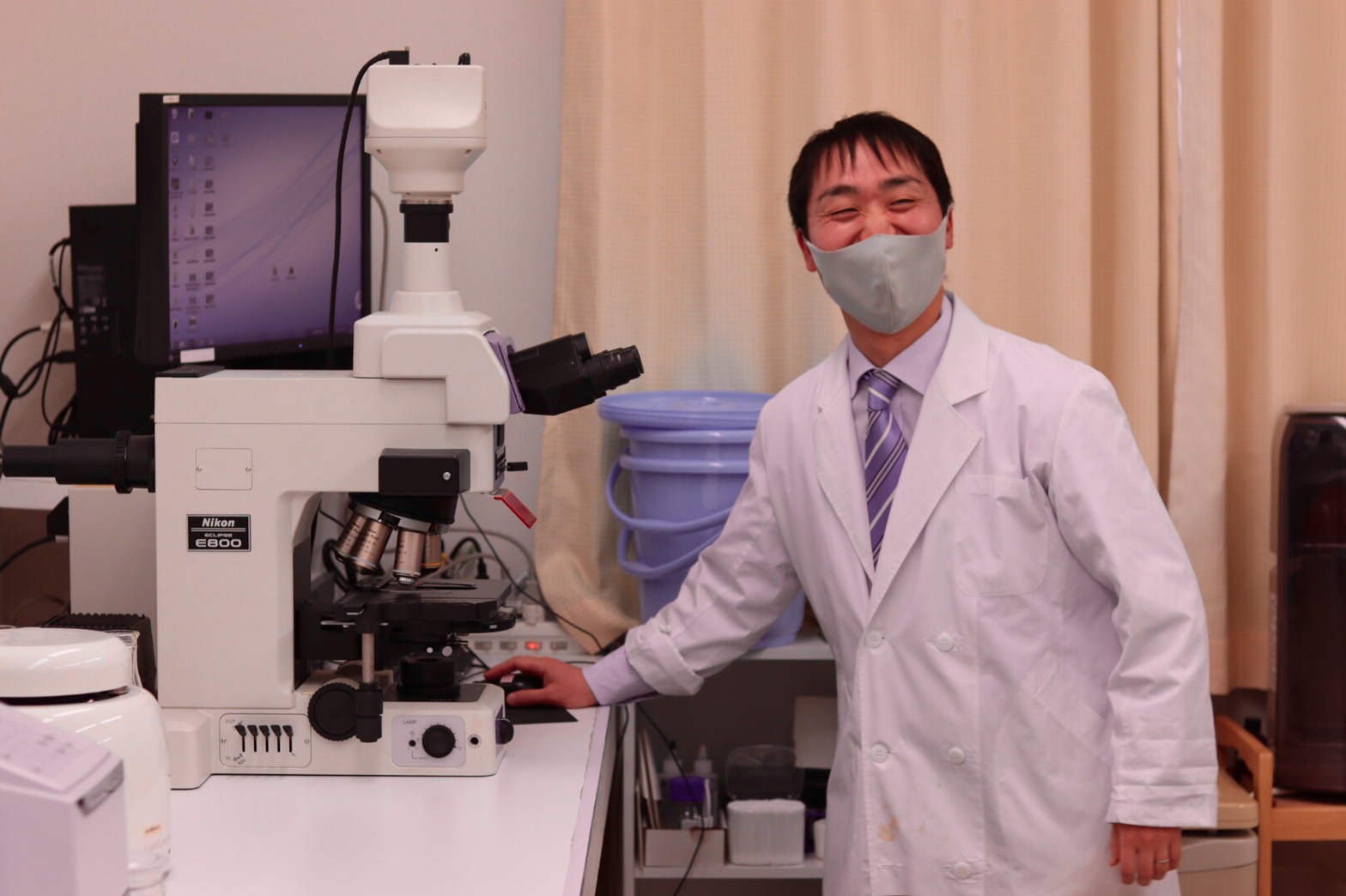 Looking at the world through a microscope and using experimental data to improve people's living conditions.

Beppu is often associated with "hot springs", "hell" and "tourist spots", but it was very novel to see a company conducting research from the perspective of science and biotechnology. I believe that SARABiO's potential will grow and evolve because of Beppu. I am strongly convinced of this.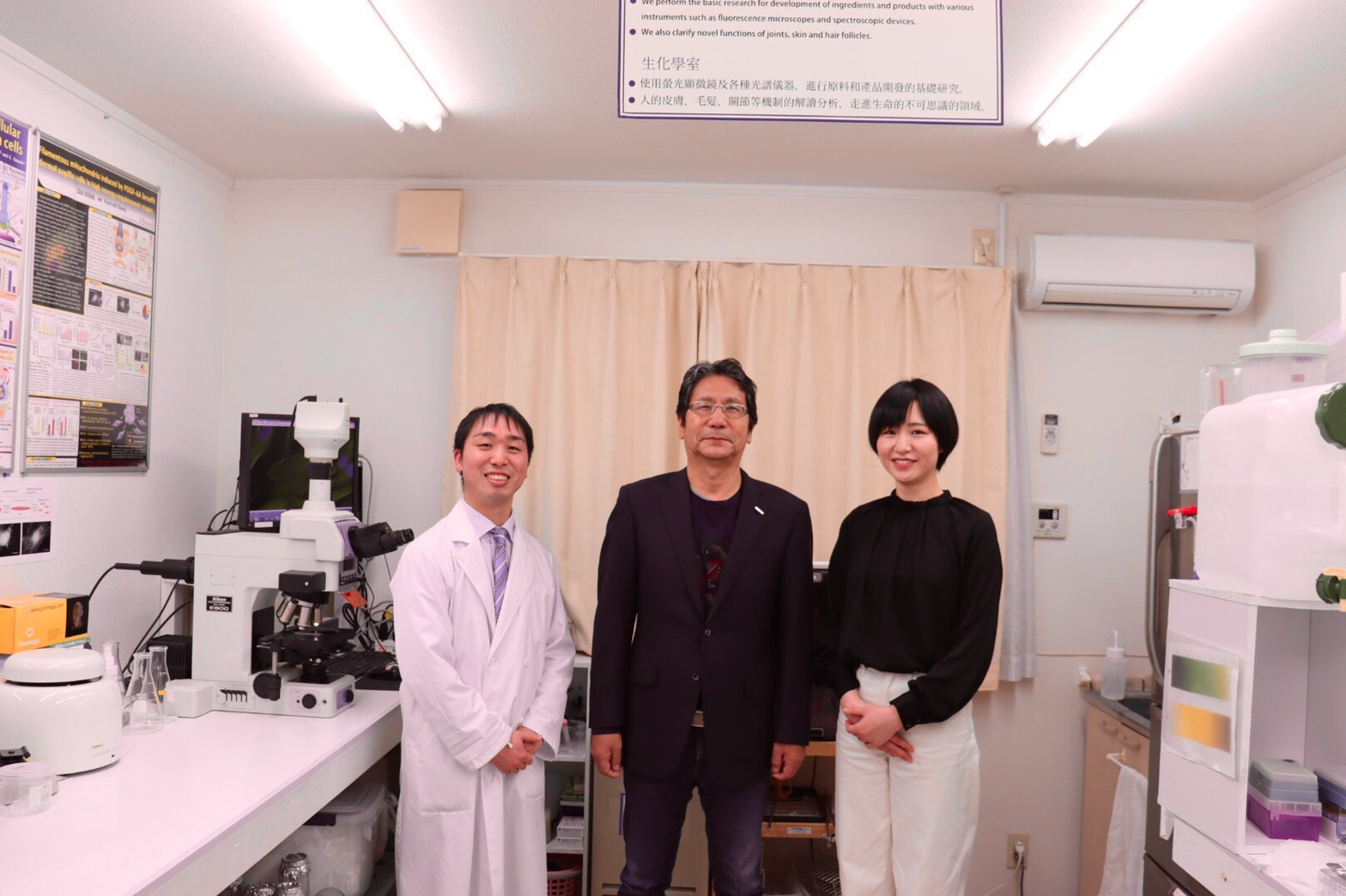 Editor's note
This time, I was able to touch the driving force of SARABiO and I was given passionate power. As I am still looking for a job, this interview made me think about the kind of adult I want to be. I didn't like Japanese, so I wouldn't have imagined being a writer in this way a year ago. At first, I was worried, but now I'm glad I tried it. "Thank you for the opportunity you have been given and continue to take on challenges." I cherish this feeling and want to grow so that I can meet myself that I have not yet seen.