© 2020 canaria, dentsu, noiz, Space Port Japan Association. Spaceport City Conceptual Diagram Launched by SPJ
After an exciting announcement last year from Oita Airport that it is set to become a space port, the airport is eyeing its first ever satellite launch as early as 2022. Space has always inspired mankind throughout our history and a sense of excitement and anticipation is growing in the local communities.  
Putting all the dreams and fantasies aside, many must be wondering the real effects of what the "spaceport" actually brings to our lives.
Given these doubts in mind, a lecture and a workshop were held to unpack the exciting future and possibilities through space related business.
An Overview of space business and its potentials
"It doesn't make sense to me. I can't even imagine it!"
"I feel lost. It's too big to talk about!"
"I'm interested and I want to get involved but I don't know where to get started!"
For those with these questions above, a lecture titled "From Oita to Space; An update on Spaceports around the world and the Spaceport City Concept" was held.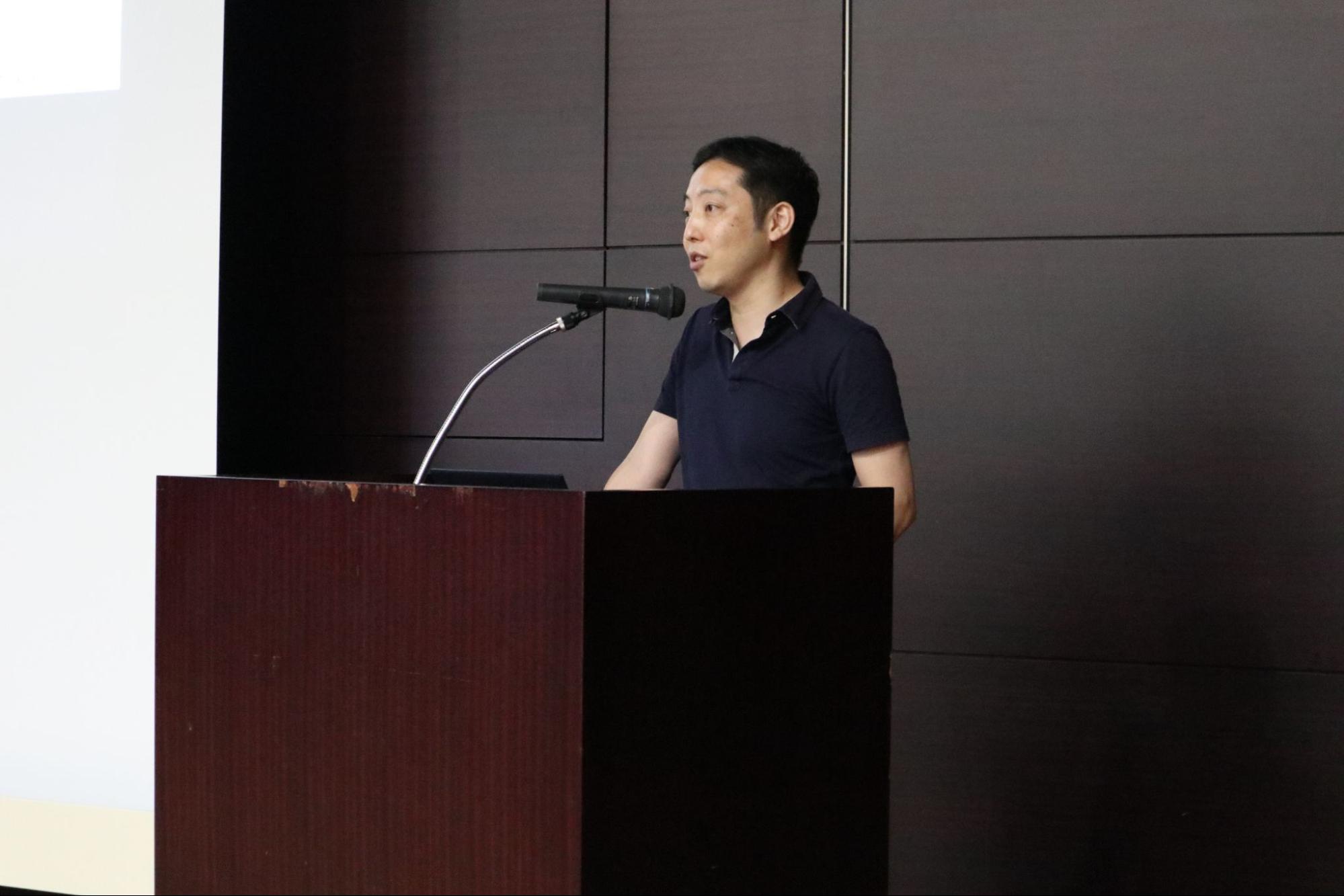 Speaker: Mr. Hidetake AOKI
Co Founder and board member - Space Port Japan (SPJ), Space Evangelist
AOKI was part of the engineering team for JAXA's H2B Transfer rocket "Konotori" and has been actively involved in various space businesses and served in multiple government and JAXA positions as an advisor. 
The 44 trillion yen Space Business market is in the midst of growth
The market size of the space business is currently about 44 trillion yen, and is expected to grow to 147 trillion yen between 2030 and 2040.
Space business trends can be divided into 4 categories: "space big data," "space internet," "space travel," and "planet exploration." The eyes of the world are upon these 4 domains in the next decade.
In particular, "space big data" is data that can be obtained by looking at the earth from space. It is said to be the most needed field in the future because it can be widely used in agriculture, fisheries, medical care, distribution, and disaster prevention.
On July 10, 2021, Virgin Galactic succeeded in its very first manned spaceship flight. "Space travel" and "planetary exploration" are no longer a dream!
Public to Private sector, a major shift in space industry
"Space development needs the involvement of large corporations," says Aoki passionately.
SPJ is an organization established with the desire to "create a spaceport in Japan" and is promoting business creation and corporate collaboration.
Besides from Oita Prefecture and Kunisaki City, private companies from across Japan including Taiki Town, Hokkaido, Kushimoto Town, Wakayama Prefecture, and Shimojishima island in Okinawa Prefecture are among the participants in support of the project. 
Spaceports around the world
A spaceport is a port for launching rockets into space.
When you think of space, you may imagine rockets being launched vertically. However, in Oita, the plan is to lift off rockets by detaching from a flying aircraft because it is difficult to launch them straight up due to environmental constraints.
Similarly to Oita Airport, spaceports are being considered around the world, including in the United States, Brazil, Ecuador, Portugal, Italy, the UK. On July 6, 2021, plans to build a spaceport in the South Korean island of Cheju was announced.
There is only one spaceport in the world that has been built solely for the purpose of launching rockets. This facility in the United States, with an investment of approximately 30 billion yen, is located in the middle of a desert. Access is very limited and it is difficult for ordinary people to reach. Aoki suggests that there should be a spaceport that fits the needs of the local community and Japan can pursue one that fits its own. 
Oita Airport was selected as a spaceport thanks to its "reasonable margin and local scheme of acceptance"
In order to be a candidate site for a Spaceport, there are three necessary conditions: ① a runway and equipment of sufficient length, ② flight to space is possible, and ③ the acceptance from the local community.
An ideal site to meet condition ② is a moderately popular regional airport with a reasonable margin. As a result of discussions between ANA and Virgin Orbit, Oita Airport was the most suitable.
Aoki analyzes that "In Oita, the project receives wide support from the local community. Historically, Oita has opened its doors and minds to many foreigners, and I think this is because of the very open and tolerant mindset of the Oita people".
In some countries, spaceport projects were cancelled due to the wide backlash from the local residents. The "Spaceport City" concept would not be possible without the understanding and cooperation of locals.
"Space Travel" is here! And it's not just for the billionaires
2020-2021 is said to be a turning point for "commercial space flights"
More than 600 people around the world have already bought their 27 million yen ticket to space. They will still have to wait for their turn to come, which gets decided by a lottery but there are two Japanese among the first 100. These two Japanese are ordinary people who bought their tickets 16 years ago and have been waiting for 16 years to go to space. Isn't it exciting that someone just like you and me already has a ticket to space? Space travel is much closer to us than you imagine!
Fifty years ago, spending the holidays in Hawaii cost 4 million yen for an average Japanese person. The number of travelers rapidly increased at that time despite the price. Similarly, Space travel is predicted to be offered at a much more  affordable price at around several million yen in 15 to 20 years time. In a not so distant future you might be scratching your head trying to decide between a new car or going on a space trip!
Spaceport: Made With EVERYONE
SPJ announced the "Spaceport City" concept in June 2020.
※Click here for more https://www.spaceport-japan.org/concept
Designing a spaceport continues way beyond the construction of the facilities. It is essential to receive understanding from the surrounding residents and then continue with the development of the surrounding area at the same time. It is only possible with the support and participation of the locals.
Mr. Aoki concluded by saying, "I would like to continue to advance the future of Spaceport City together with companies from all over Japan, based on the 'acceptance mindset' that Oita has cultivated."
It was truly an hour full of inspiration and new discoveries on the current state and prospects of the space business. Many of the participants seemed impressed.
Many of the participants seemed to have come up with exciting ideas as they realized that the space business, which existed far away before, was actually very close!
"What can I do?" Evolution of the Spaceport City concept and how to get involved.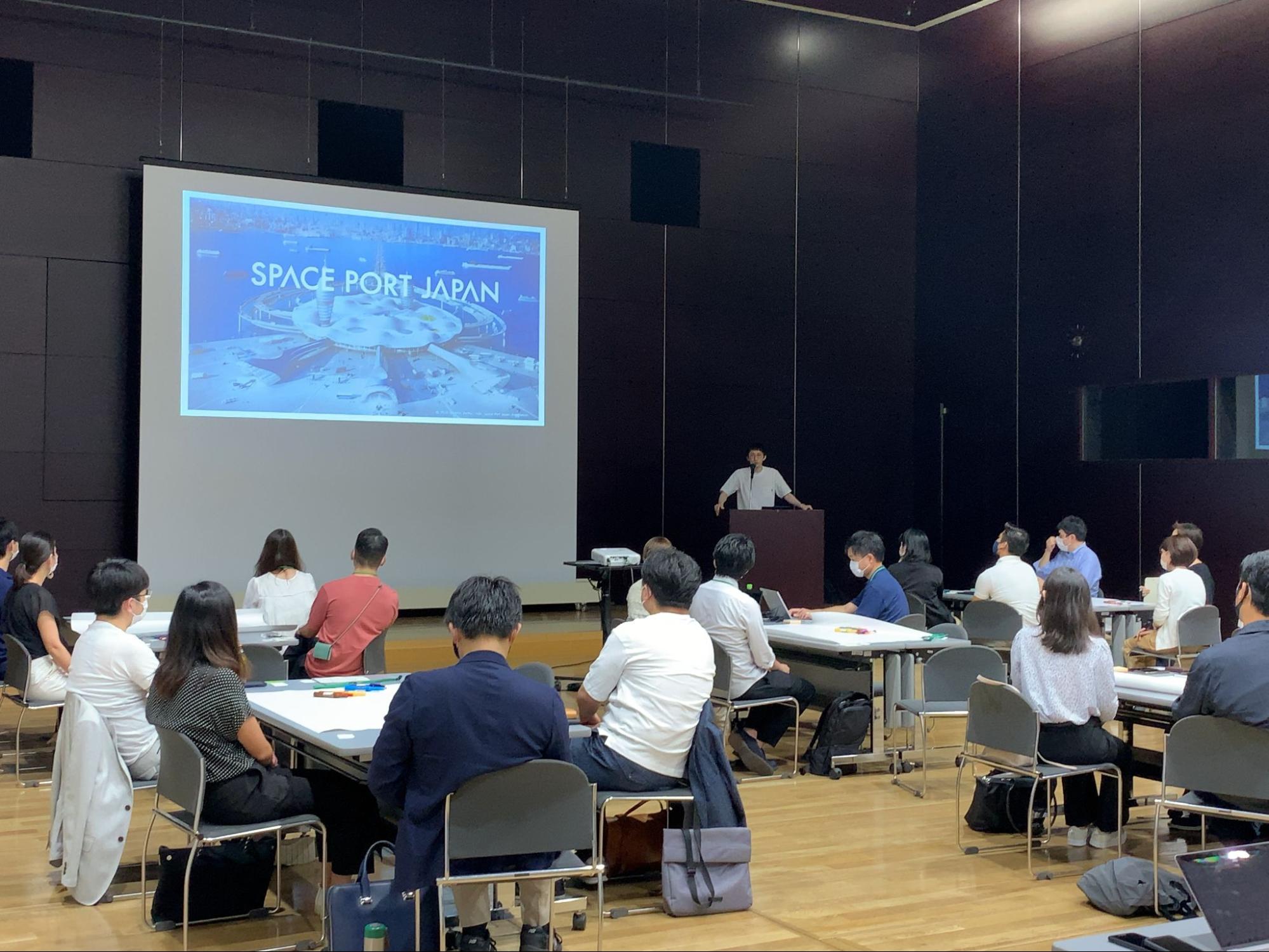 Following the lecture by Mr. Hidetake Aoki (SPJ co-founder & director / space evangelist) on the previous day, a workshop was held today by Mr. Toshihiro Katayama, SPJ co-founder & director.
Please see this article for Mr. Katayama's profile and how he got involved with space.
https://gensen-beppu.com/2021/03/11/spaceportjapan_oitabeppu/
Mr. Katayama repeats, "'Spaceport City' is a story on the ground, not in space." Things on the ground cannot be decided just by experts of space. Cooperation from the people living in the area is vital. This is exactly what we need to work on as someone who works in this land.
The purpose of this workshop is the following. One is the evolution of the "Oita Spaceport City Concept"; updating the spaceport map.
The other is "setting goals for participants (individuals / society)". Thinking about what I can do concretely from tomorrow.
Specialized teams from companies in Tokyo, companies and individuals in Oita, and the Oita Prefectural government participated as well.
Understanding the characteristics of Oita and Beppu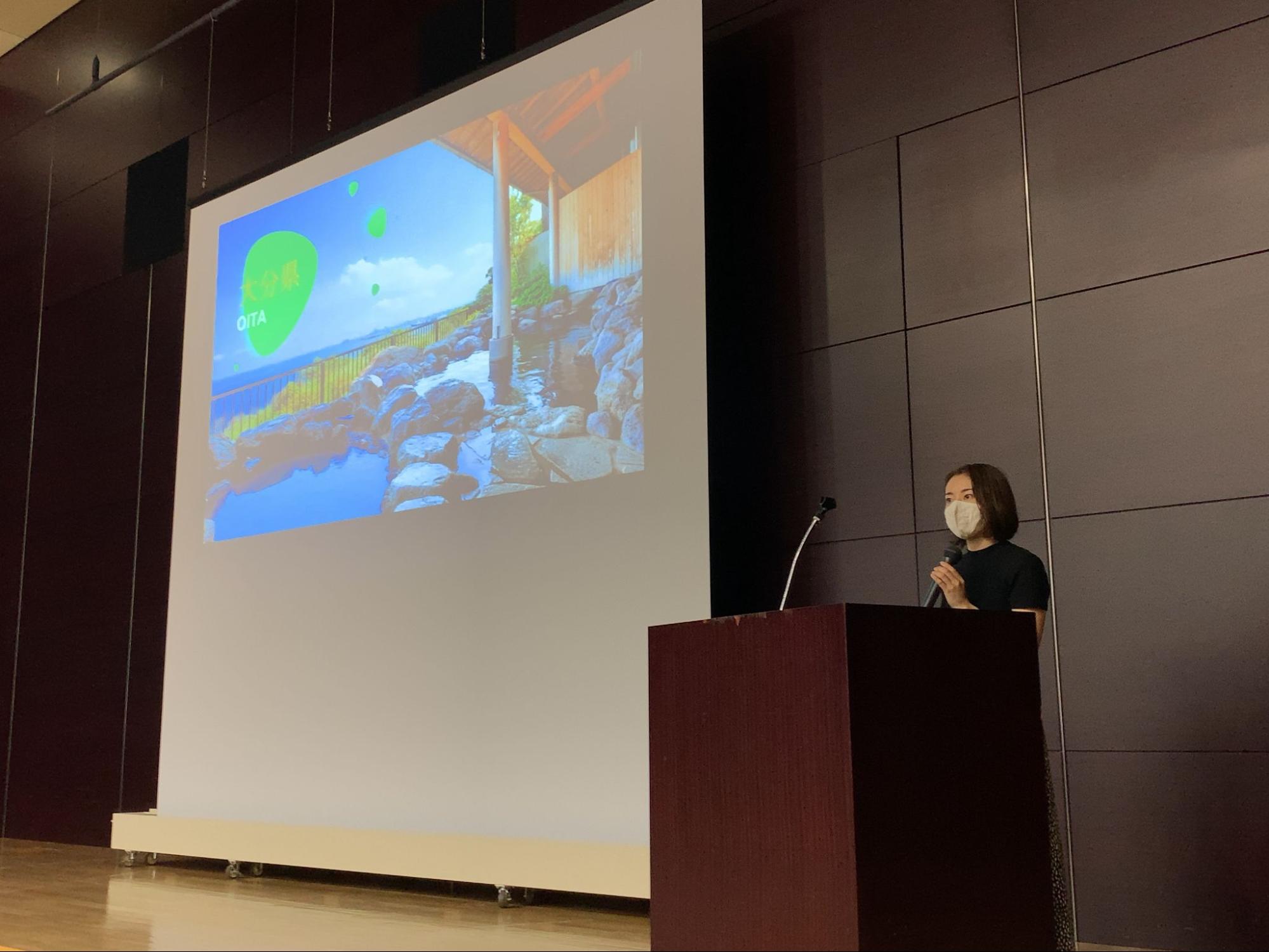 A presentation from the Oita prefecture kicked off the event.
Ikeda from Beppu City Industrial Cooperation / Collaboration Platform B-biz LINK followed by giving an overview.
The total value of production in Oita Prefecture is 4.6 trillion yen, and the industries are mainly agriculture, forestry and fisheries, manufacturing, and service industries. Challenges to new industries such as "space industry," "avatar," "drone," and "5G" have begun.
Beppu City can be characterized by "rich hot spring resources," "strong tourism industry," and the "three universities."
In Beppu, the tertiary industry accounts for 90%. The number of tourists from Fukuoka in Japan and from Asia is increasing. In addition, the entry of external capital corporations such as "Hoshino Resorts" and "Hotel Amaneku" is on the rise as well.
The city is also home to three unique universities such as Ritsumeikan Asia Pacific University (APU), Beppu University/Beppu University Junior College, and Beppu Mizobe Gakuen Junior College, and attracts a diverse population. The city hosts around 8,000 university students from across the country and abroad.
A workshop on "Ideas about space and the universe"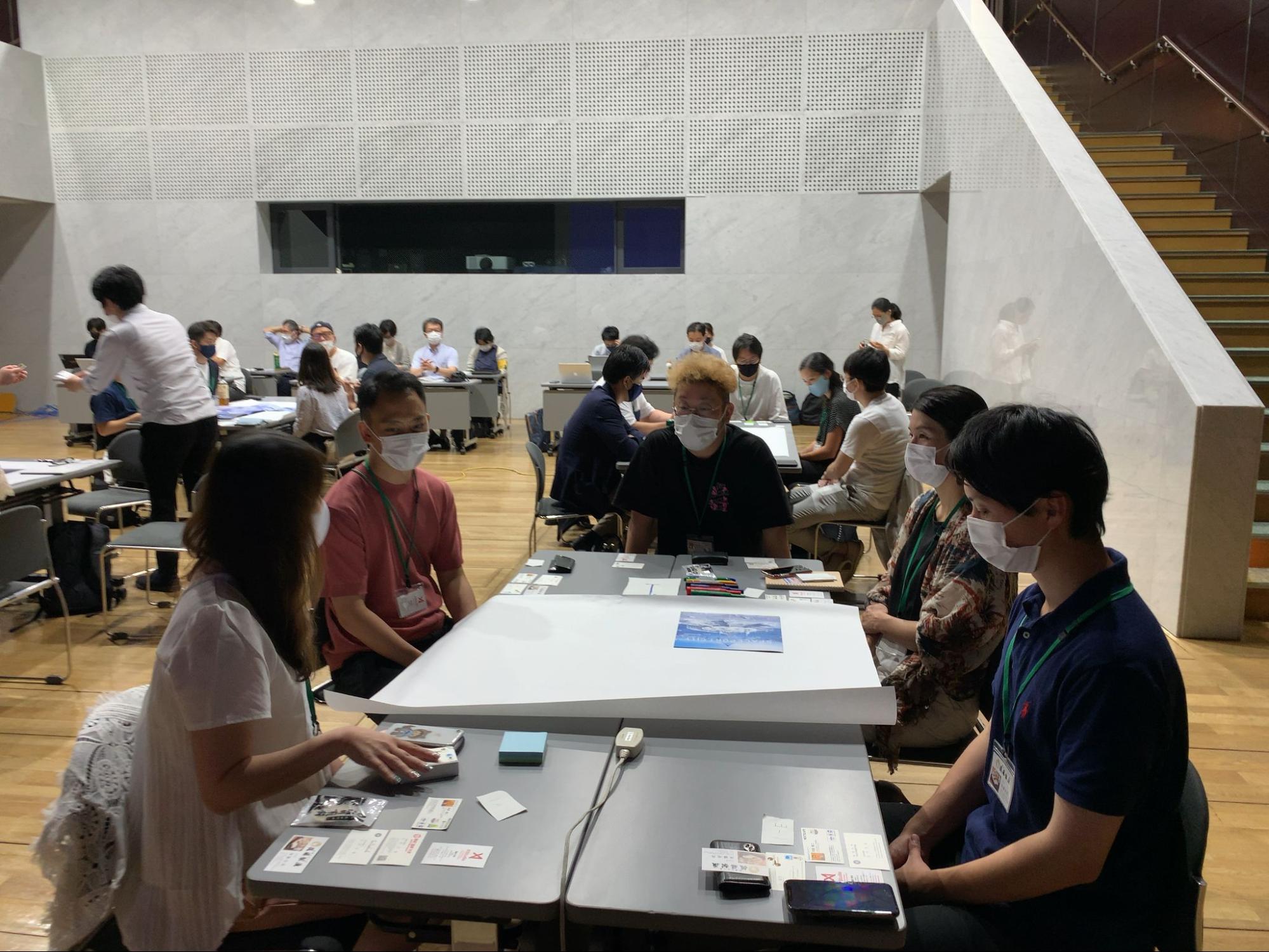 Then, we were divided into groups and the workshop began. All the groups were divided so that each group would consist of people from different companies and organizations. Before the discussion, each group had time for self introduction and icebreaking. 
Each participant exchanged their motivation to attend the event. Some people shared their concerns at the moment such as "I don't know much about the universe ...". However, laughter was heard overtime and the atmosphere seemed to be relieved and comfortable in the end.
Once the atmosphere was relaxed, the discussion started on what each participant wanted to achieve with the "Oita Spaceport Concept".
The three key points of the discussion are… "① Forget about your company's position / feasibility for now" "② Think from the customer's (B2B and B2C) standpoint" "③ Put in the thoughts you want to achieve."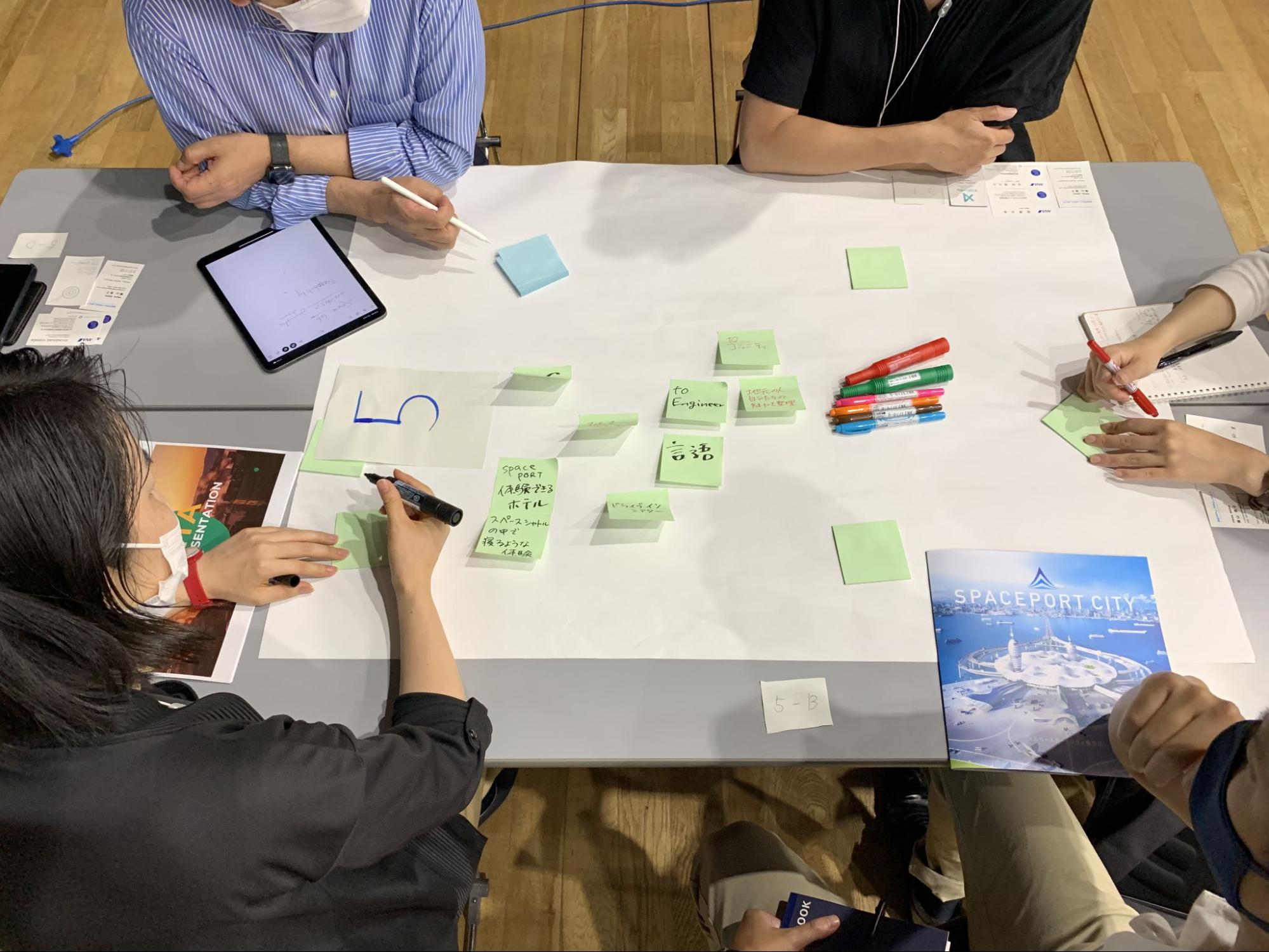 Some groups immediately started to pick up a pen to jot down some ideas, while others started by exchanging ideas that came to their mind. Laughter could be heard, and a lively exchange of ideas was underway.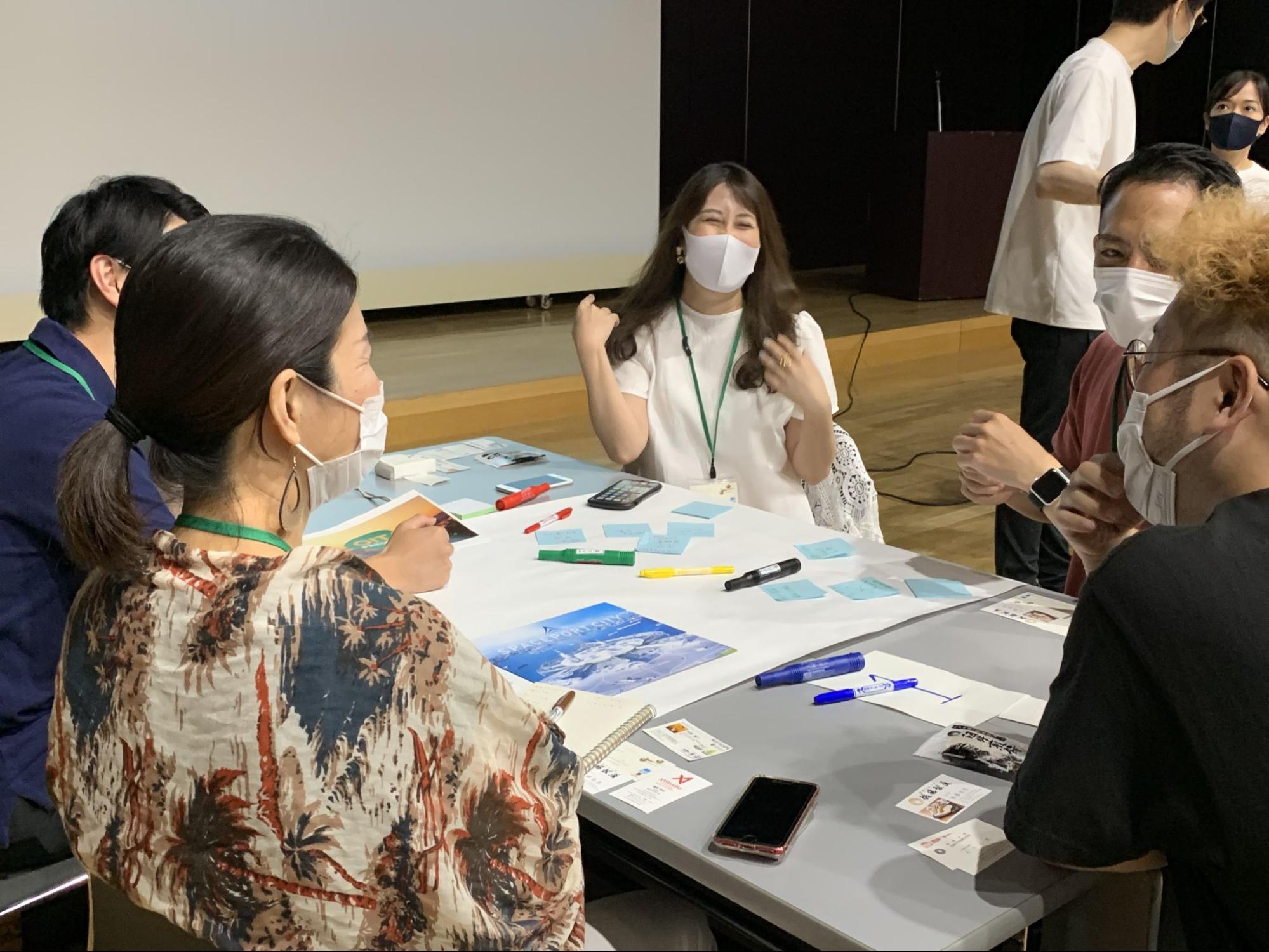 Participants from other prefectures asked questions to Oita residents, and vice versa, asked what was missing. It was a great opportunity to interact with people who don't usually have the chance to interact with each other, and fresh opinions and perspectives were found.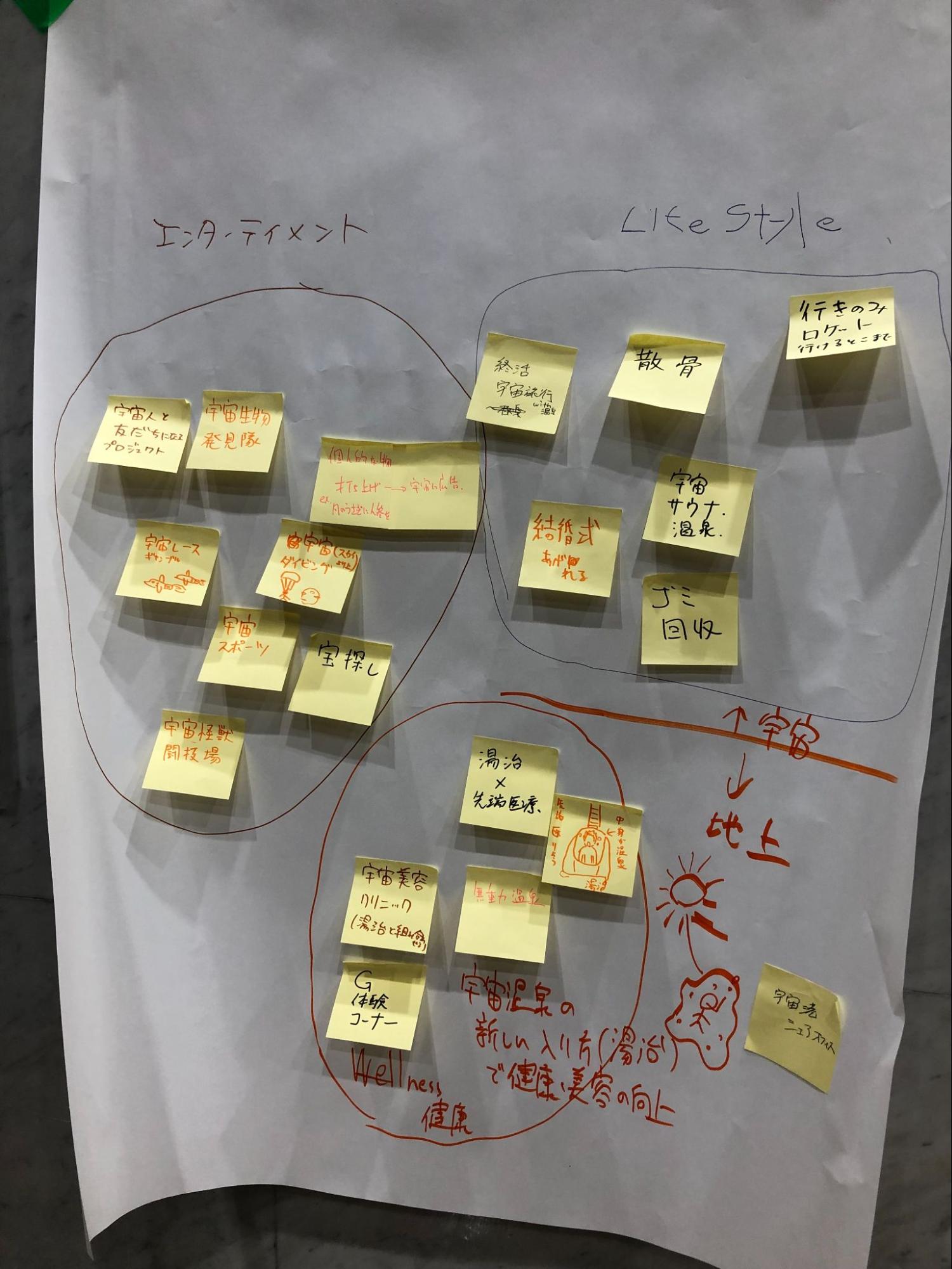 Each group's ideas were put up on the wall, and the participants took a look. Each group had a different idea, or unexpectedly had similar opinions, and it was already exciting to just have a glance at them!
Various ideas spring up
In the second half of the session, the groups were reassigned and each group had members that come from companies that are close to each other in terms of industry. The discussion focused on the roles and feasibility of each company in the "Oita Spaceport Concept".
Some of the key points in the discussion in the second half included ① Business ideas based on the discussions from the first half, ② Search for ideas that "solve problems of your own company" and "points of contact for business planning", ③ Consider what is possible in the long run and what can be done right away.
In a more calm and quiet atmosphere, some people discussed further while others started formulating their sentences.
Finally, each group gave a presentation and received comments from Mr. Katayama and Mr. Aoki of SPJ.
Unfortunately, I can't reveal the details here, but there were a lot of interesting ideas and concepts presented one after another which were all related to their respective business. 
Some of the things that seemed weird were already in the process of being realized, and some were actually good points of view. Mr. Katayama and Mr. Aoyama's comments were full of eye-opening facts and the audience were blown away!
The workshop helped the participants to understand that ideas set in space have infinite possibilities and even those things that only seem like a dream can surprisingly be very true to the core. They also learned that making the right connections can be very simple if you have got the passion and willingness.
The "space business" is open and accessible to everyone and has the potential to be developed into a business of its own. The "Spaceport City" concept is one that can be brightened up through participation from various angles.
There are dreams in space, but also business opportunities! The expectations, dreams, and ideas of the participants will continue to grow and seems like it will become even more exciting!
◆Article translation: EGUSA Reishi (Ritsumeikan Asia Pacific University)
◆Article writing and editing: Mako Mudanu