the HELL Record & Sour is a well-loved bar by students, business people, and artists around Beppu alike, located in Kitahama, downtown Beppu. It is much more than a bar, but also a wonderful event space where creators hold their exhibitions with regular record DJ events. Kenzo Fukagawa, the owner of the HELL and long-time Beppu resident, decided to start the space nearly two years ago as an alternative to the regular clubs that students tend to go to but also for other residents of the city to enjoy a 'sour'.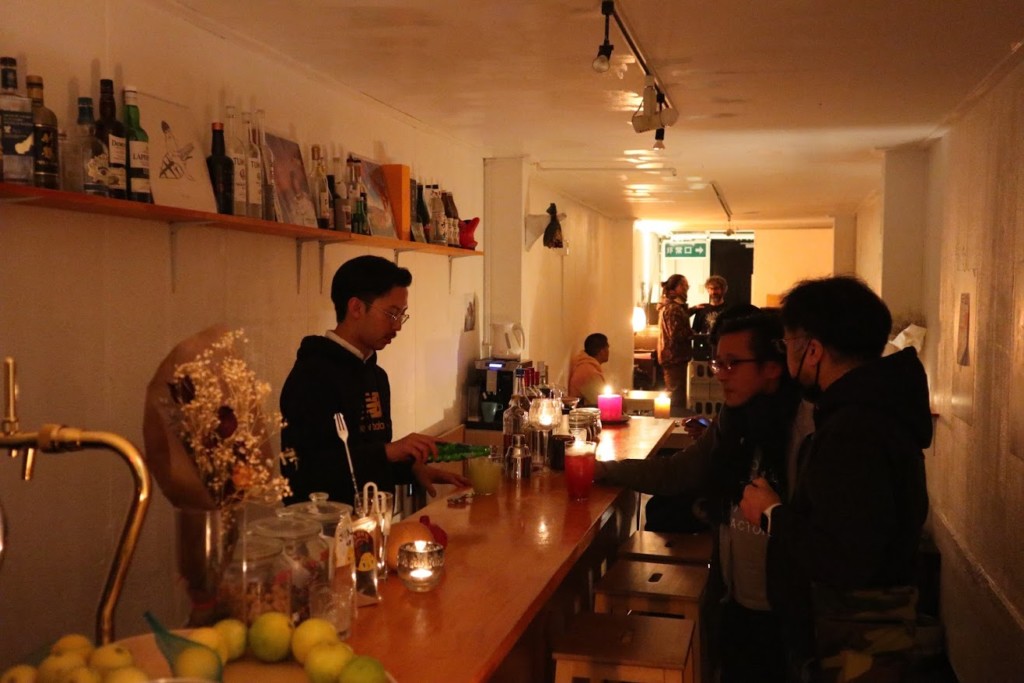 The ambiance is welcoming and amiable. The candlelights add to the cozy atmosphere.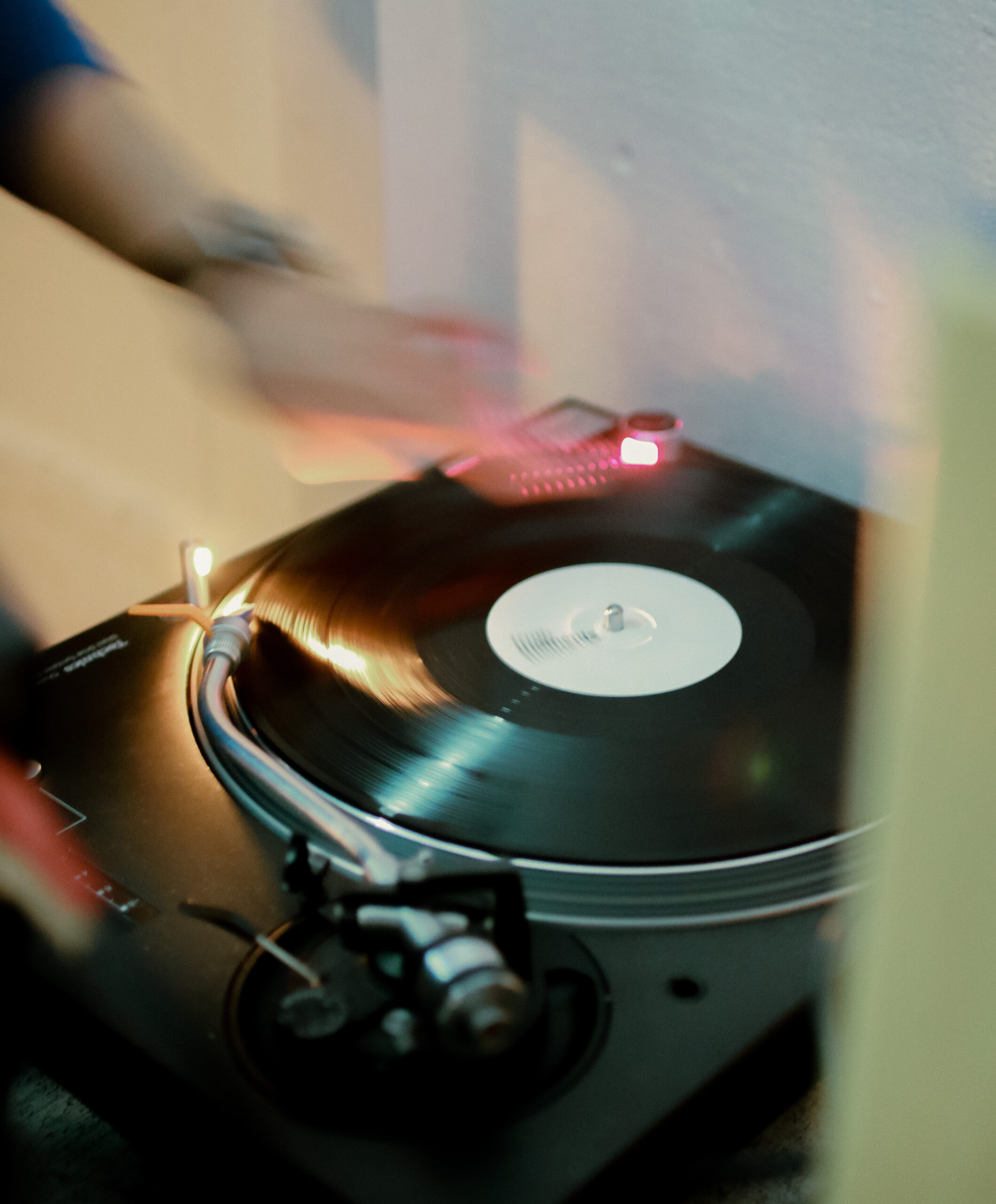 Nostalgic music playing from vinyl turntables is one of the defining features of the HELL.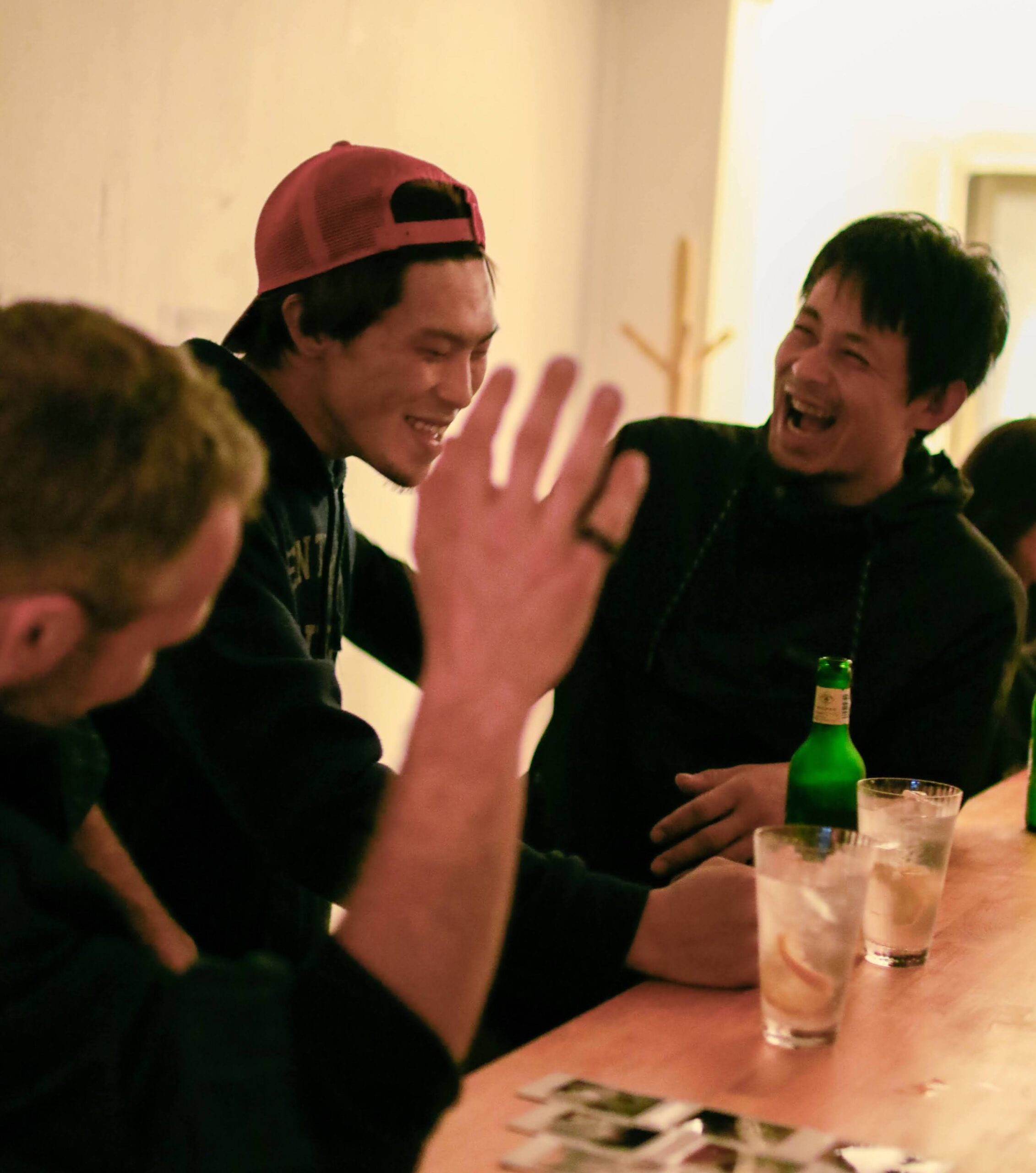 People of different age groups can enjoy the space which is very accessible.

Although he is originally from Saga Prefecture, Kenzo moved around in Japan quite a bit. Growing up and meeting different people and seeing what they had to offer left quite the impression on him.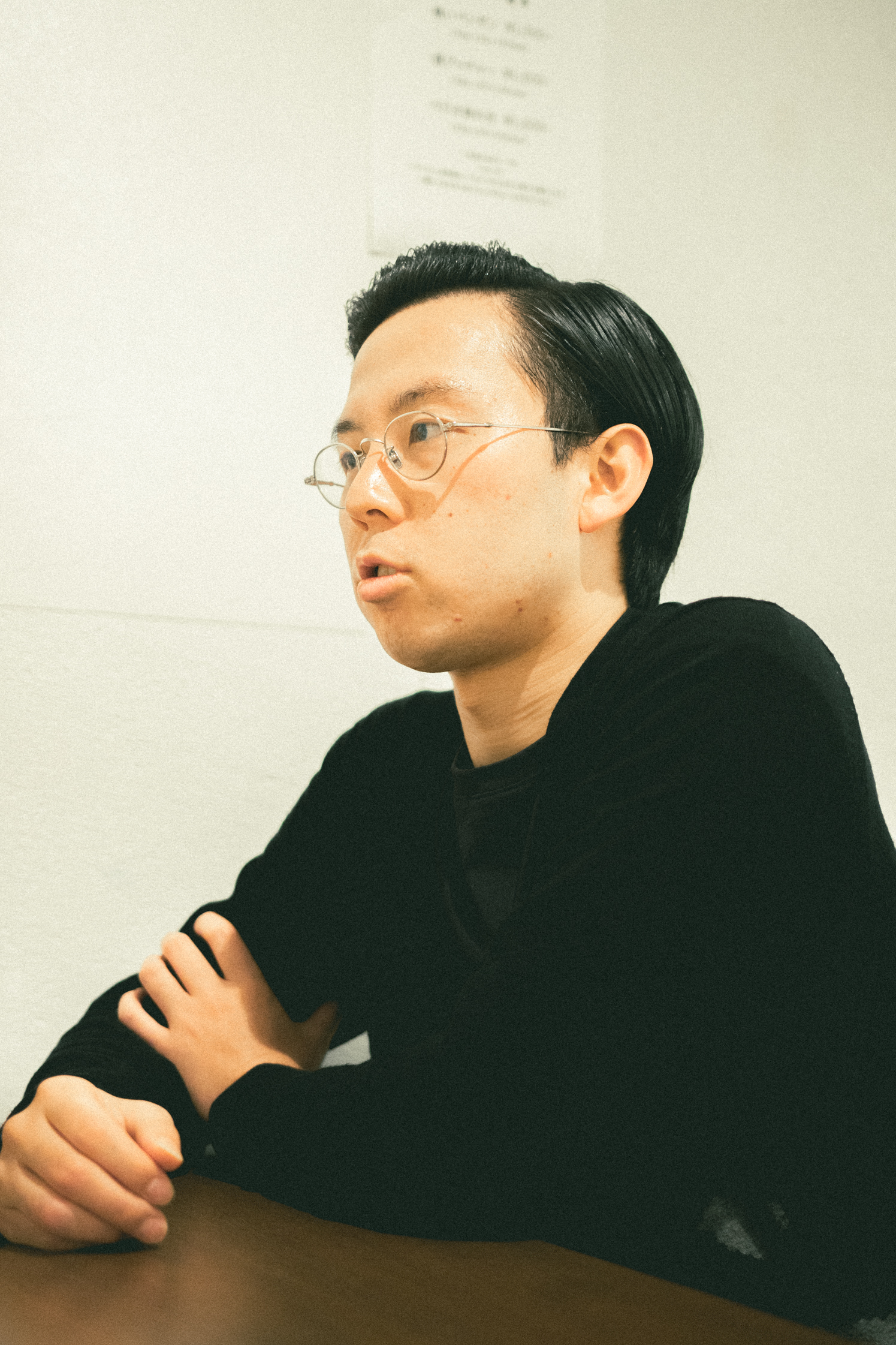 KENZO FUKAGAWA, the owner of the HELL

He decided to take a break from university to work in order to find out what work is for him. He fondly recalls his time in Malta, where he went on a study abroad program and met a lot of new people, and made some of his best memories. Traveling around Europe enabled him to learn about the culture which also impacted the atmosphere that is created in the HELL, which is nothing like a traditional Japanese restaurant. 
After graduating from APU in 2014, Kenzo went on to work in digital marketing in Tokyo-based companies while also being a part of the HR department. Taking that time off university to get some work experience was enlightening for him, which helped him find the motivation he needed to open the HELL. "For around 10 months, I got the opportunity to work and manage a bar in Beppu, which helped me understand how this industry worked and what it is like to be an entrepreneur. I was also able to work on my interpersonal skills, which is so crucial if you are a bartender; meeting new people nearly every single day."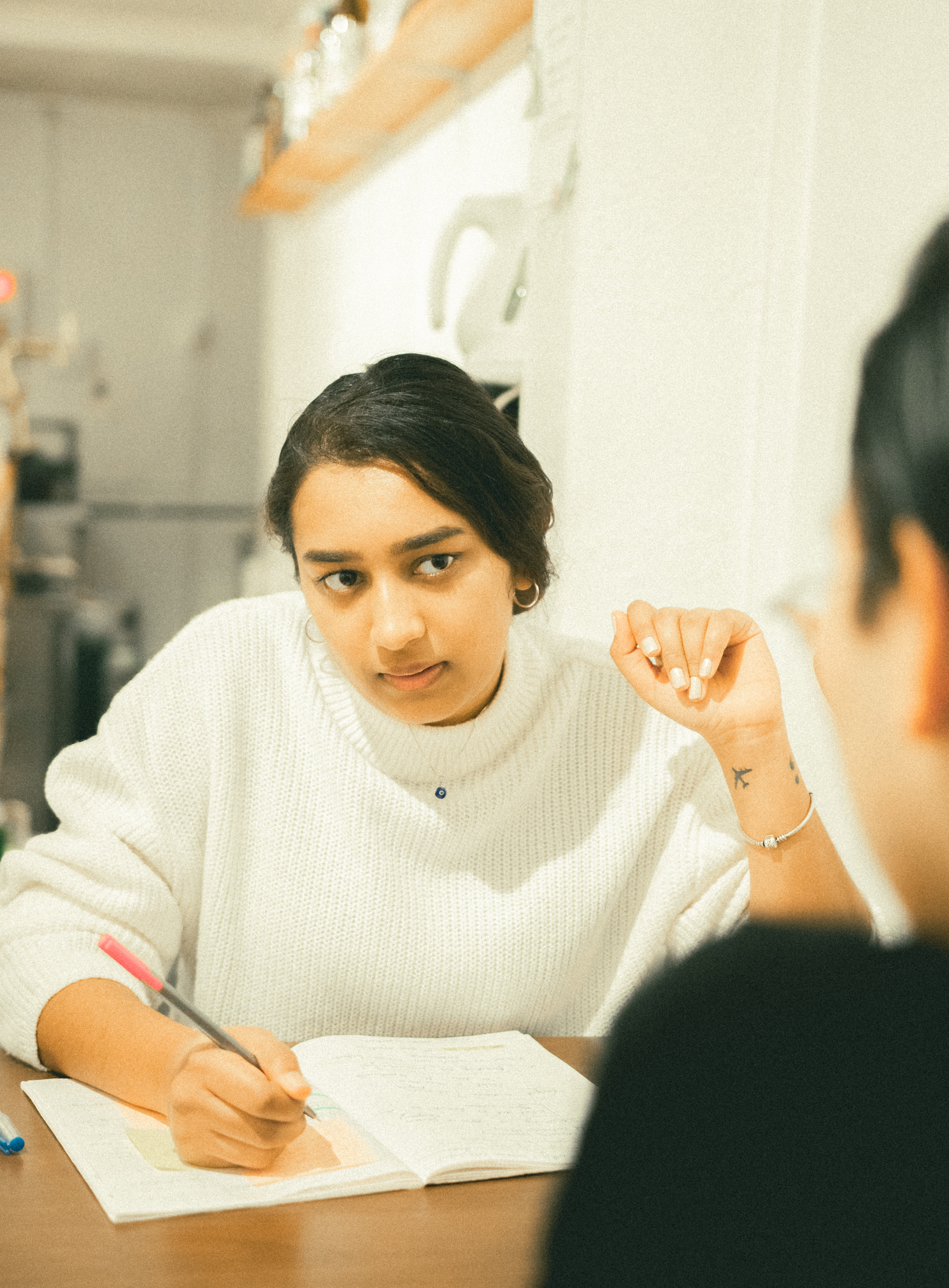 Listening to Kenzo's story was inspirational, to say the least.
When asked why he chose to return to Beppu, he says "Beppu is a microcosm of a diverse society. The people that you can meet here enable you to widen your horizons". I cannot help but agree with him on this one; this city does cast its own special spell on its residents. 
A collaborative place that is designed to challenge creative minds
At the HELL, we will always welcome those who need a platform to showcase their ideas and projects. Students are fueled with motivation and have wonderful concepts but often not the means, especially the finances to execute those. That's where I see myself coming in- supporting with the output." 
Comments from collaborators
--- Supper Team:Our team members often go out to drink and participate in events at the HELL. Mr. Kenzo always supports students who are trying to do something new and want to try some challenges by providing them a place where they can play an active role. For example, after the HELL's business hours and events, I pop-up several times at the HELL's place. We used only to sell online except for pop-ups. But it was a precious time to see our customers' shows. It's delicious on their faces and smiles through the pop-ups at the HELL.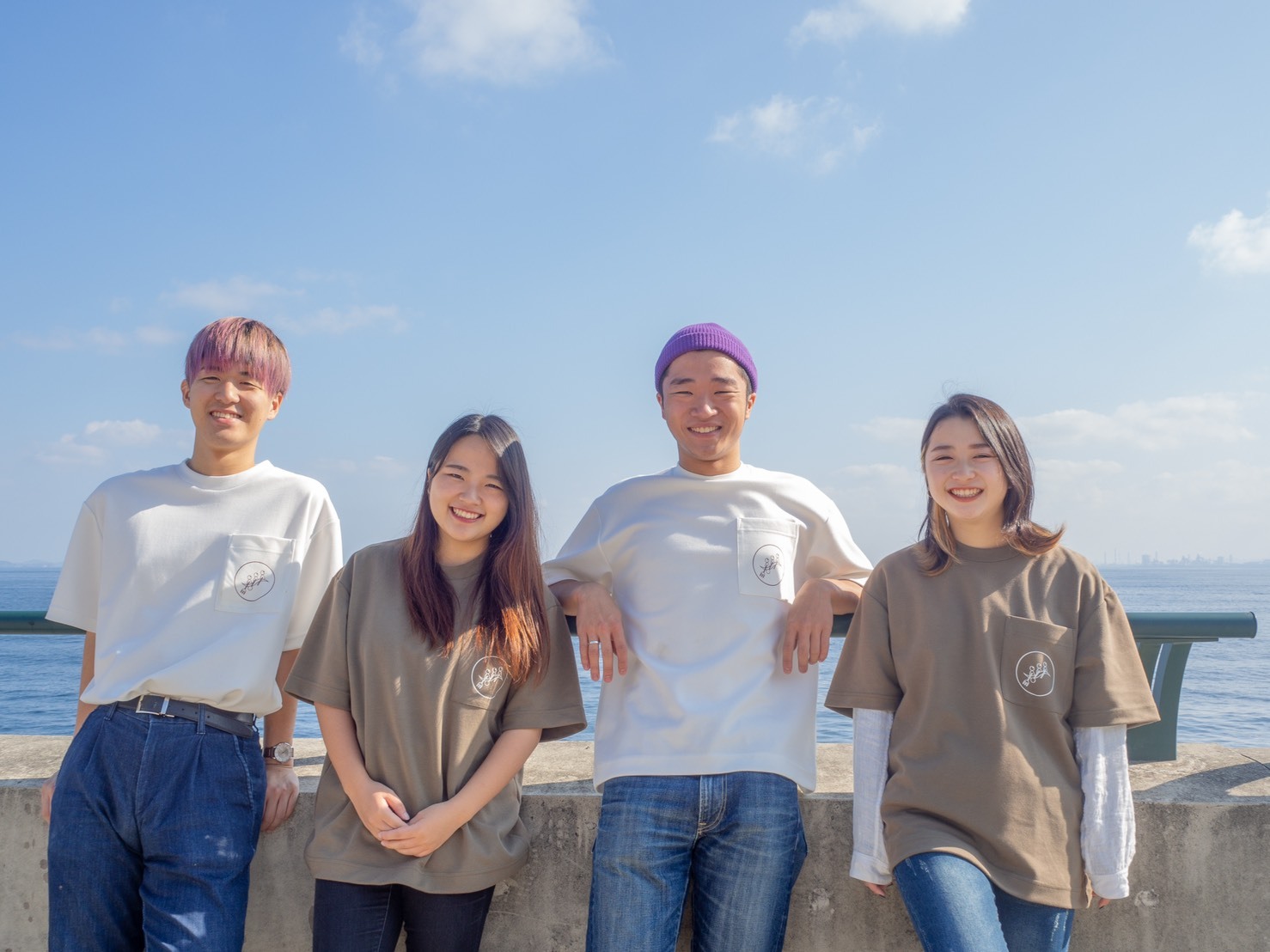 Supper Team member
--- Yuya Murakami (Illustrator & APU student): I usually go to the HELL to drink and participate in activities with my friends. Every time, Mr. Kenzo will listen to my worries and my future, which makes me feel that we are not only the shop owner and the customers, but he is also the senior who understands my life. Invited by Mr. Kenzon, I had an opportunity to hold a solo exhibition in July. I have always wanted to share my work with the guests in this space one day. Therefore, I was delighted when I had the chance, and having my daily production on exhibition inspired me to put more effort into creative work. During the solo exhibition period, my friends, and people who learned from SNS and through the HELL came to join it. I felt the importance of new contacts and exchanges that can only be generated by showing in real places. Mr. Kenzo and the HELL's existence is an excellent opportunity for the young generation like me who live in rural areas and want to challenge something and good role models for me.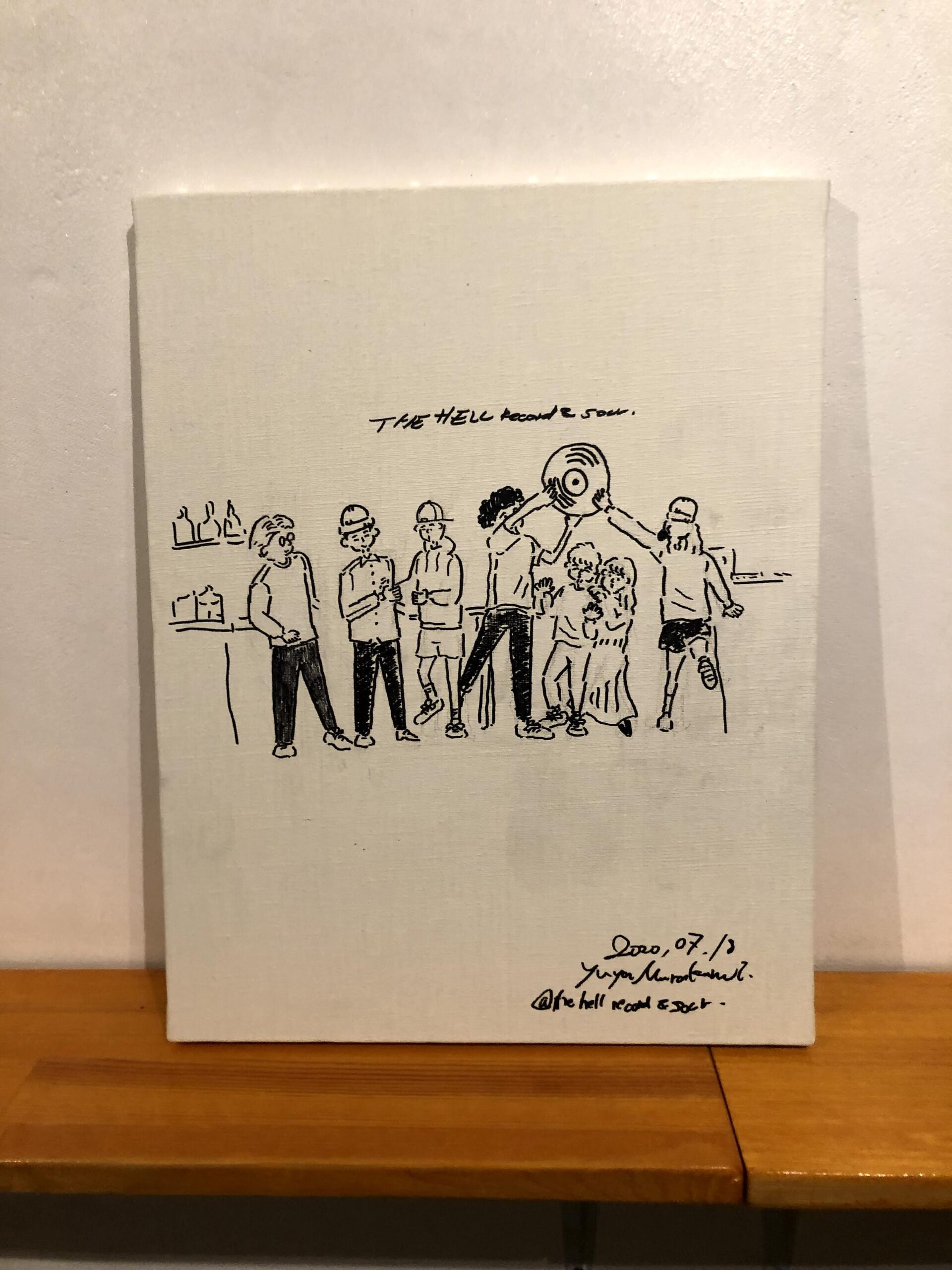 An illustration that Yuya created for the HELL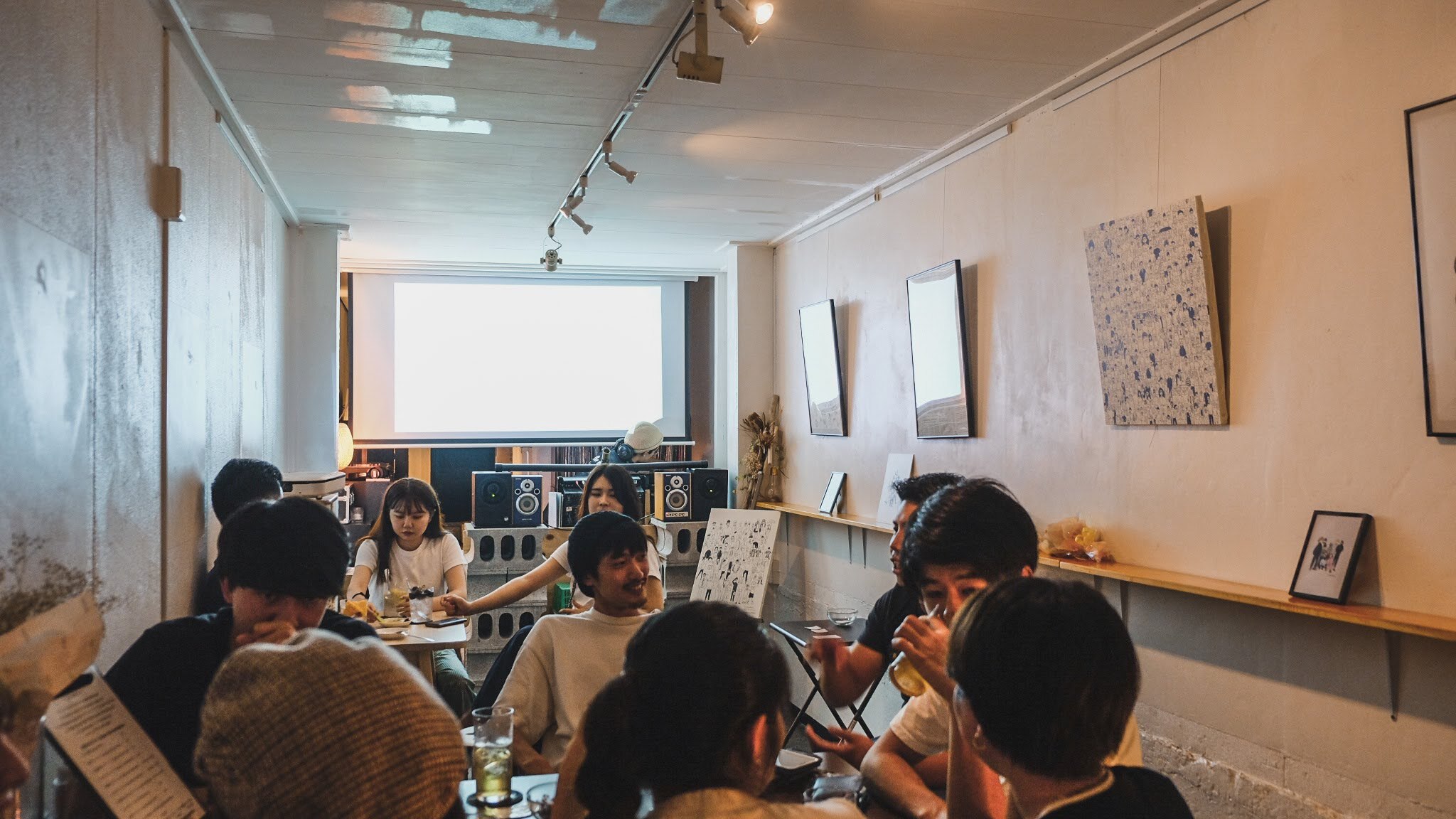 One of the exhibitions of Yuya's art at the HELL earlier in 2020.
"A bartender is also an artist."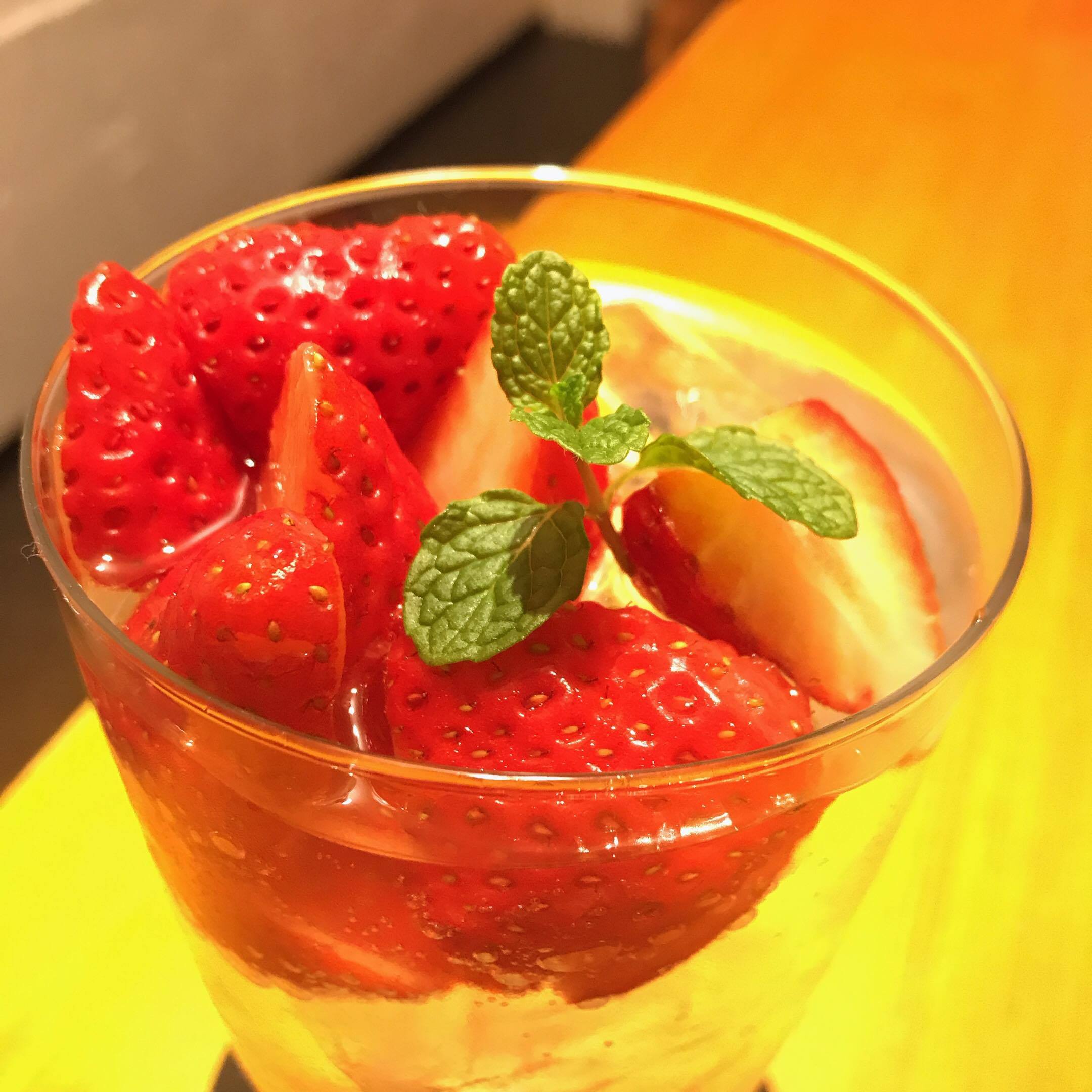 Most of the drinks at the HELL have fresh fruits and some seasonal must-try cocktails.
Kenzo san says, "anyone who can generate an output is an artist, in my eyes." The definition that an artist is someone who is limited to the traditional notion of painting or sketching is no longer relevant because "output" should not be limited to just creating a product. Artists move to create experiences through their services, and that is why Kenzo san asserts, "A bartender is also an artist."
Continue to explore new possibilities
Despite the coronavirus putting everyone's plans on hold, Kenzo cannot help but be hopeful for the future. "Expanding is next on the list. Living in Beppu for so long has made me curious about the local tourism here, and catering to that would be ideal", he shared on future plans. Incorporating local artists has worked really well at The HELL so far, and in the future, Kenzo is also looking to work with traditional artists and storytellers of Beppu's history. "There is so much we don't know, as residents, about this city," he explained and that he would like to be a part of reviving the untold history through events and supporting performances. I must add that the HELL and its potential sister ventures seem to have a radiant future ahead.
Kenzo's message for business people during these times is to "ask yourself what you really want. You may be very passionate about your business but ask what your business can do for the community."

Giving back to Beppu
He also underlined the social responsibility that he felt and owed to the city of Beppu; it had given him so much, after all. This commitment to contribute to making the city a better place is reflected in #StaywithBeppu, a charity project earlier in 2020 that raised over¥500,000 which Kenzo san was a part of. 
The coronavirus has truly taught us all that we may never know what exactly the future holds. But this uncertainty just means that if we don't take the chance to create that output that Kenzo san is talking about now, we may never. And that is why he extends an open invitation to creators of change and artists that are interested in challenging themselves to collaborate with him and the HELL. If you would like to work on a project together, be it an art exhibition or a potential pop up, feel free to contact the HELL on their Instagram or drop by for a socially distanced fruit sour (though, I personally recommend the spicy Umeshu!) and some nostalgic music. Kenzo also takes feedback from customers and changes the menu accordingly which is nearly unheard of in the bar culture in Japan.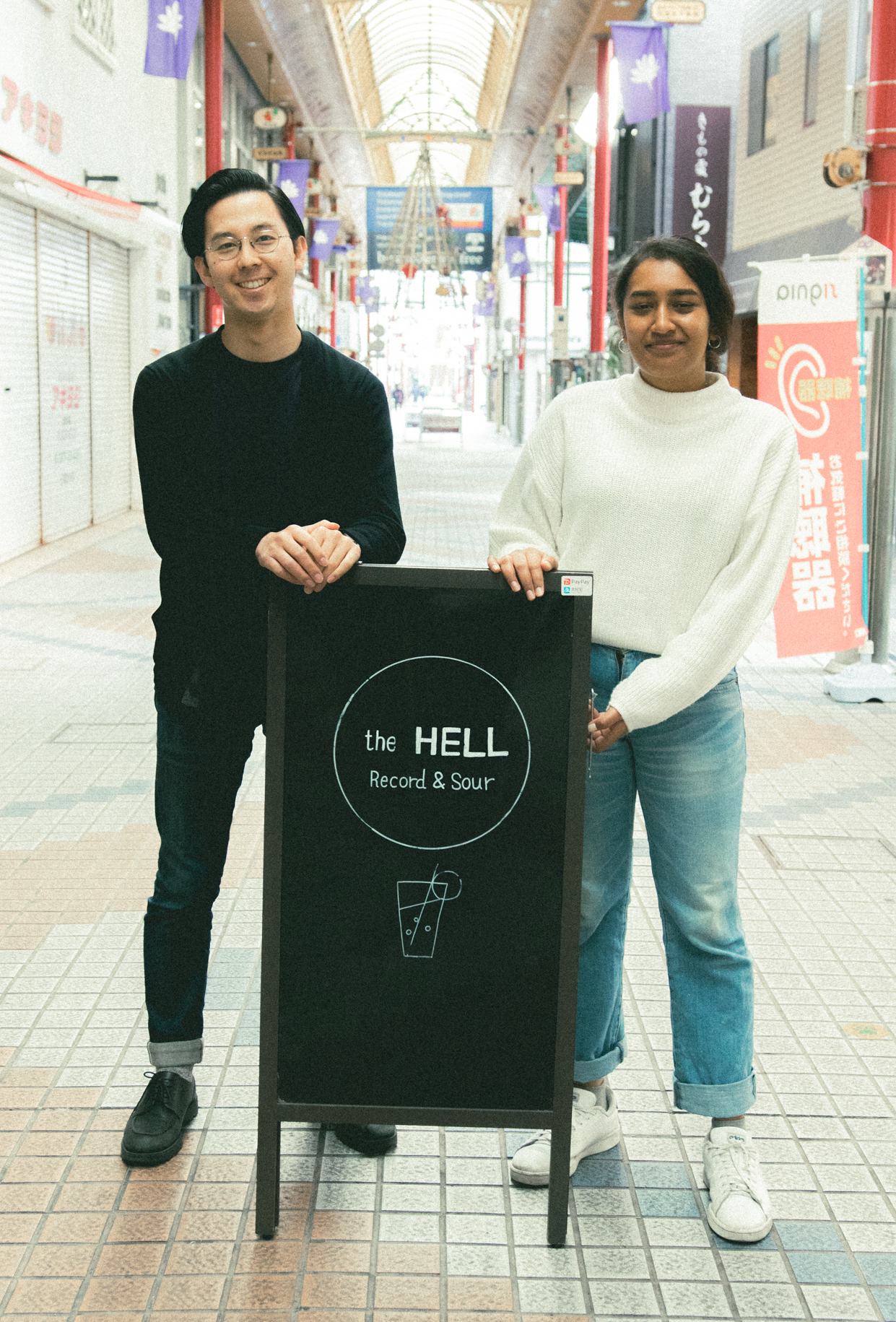 Here I am with the owner in Yayoi-street. It was a hopeful interview with straight light coming in like the path of this Yayoi-street.
Editor's note
My conversation with Kenzo was inspirational, to say the least. It was encouraging, as a student myself, to see what someone can create when they choose to be a driver of change. I also felt a sense of responsibility towards our community and was left with the thought of how I could give back to the people and to the Beppu community. 
As part of the student community in Beppu, I would like to extend my gratitude to Kenzo for providing not only space but also opportunities for the younger demographic to accomplish our dreams through this effort. Lastly, I'd like to encourage our readers to, as always, support local businesses!