What kind of taste do you imagine when you hear "Japanese food"? 
"Rice, miso soup, omelet, grilled fish, grated radish ... hot pot in winter, if you are Oita citizens, you might think of Dango soup! Also, ramen is a wonderful Japanese food such as pork bone ramen, miso ramen, soy sauce ramen, noodles, soba noodles There is also .... And sushi! "
I think there are many items that use soy sauce and miso on many plates. Especially,  "Fermented foods" such as soy sauce and miso are not replaceable to Japanese food.
In recent years, people are often faced with a shortage of food in disaster-stricken areas such as earthquakes and heavy rains, therefore fermented foods that can be stored for a long time became popular. Also, women who can make fermented foods such as homemade bran pickles and miso are also popular.
Fermented food heaps up the food industry enthusiastically. There are some stores selling only products using fermented foods such as natto, kimchi, yogurt, amazake, and cheese. Also, some stores are also available online as well. 
Did you know that Beppu University has a "fermented food department" where you can mainly study hot fermented foods? This time, we interviewed Professor Hidehiko Fujihara, the Dean of the Department, and Professor Koki Shioya, who raises future brewers. Currently, I am a third-year student in this department, and there are stories from teachers that I cannot glimpse in class, so it was a very interesting interview.
Become the "core" of the fermented food industry
Oita Prefecture, which is blessed with mountains, the sea, and nature, is unlikely to have a Faculty of Agriculture. "I want to go to Tokyo University of Agriculture to specialize in fermentation ... but I can't go because the competition is high ... But I still want to go to the Faculty of Agriculture!" For students in the prefecture who have such a desire, Beppu University, Food, and Nutrition Science department established the Department of Food Biotechnology in 2006.
After that, the name was changed to "Fermented Food Department" in 2009 as a place where you can study microbial-centered studies and study fermented foods focused on microorganisms.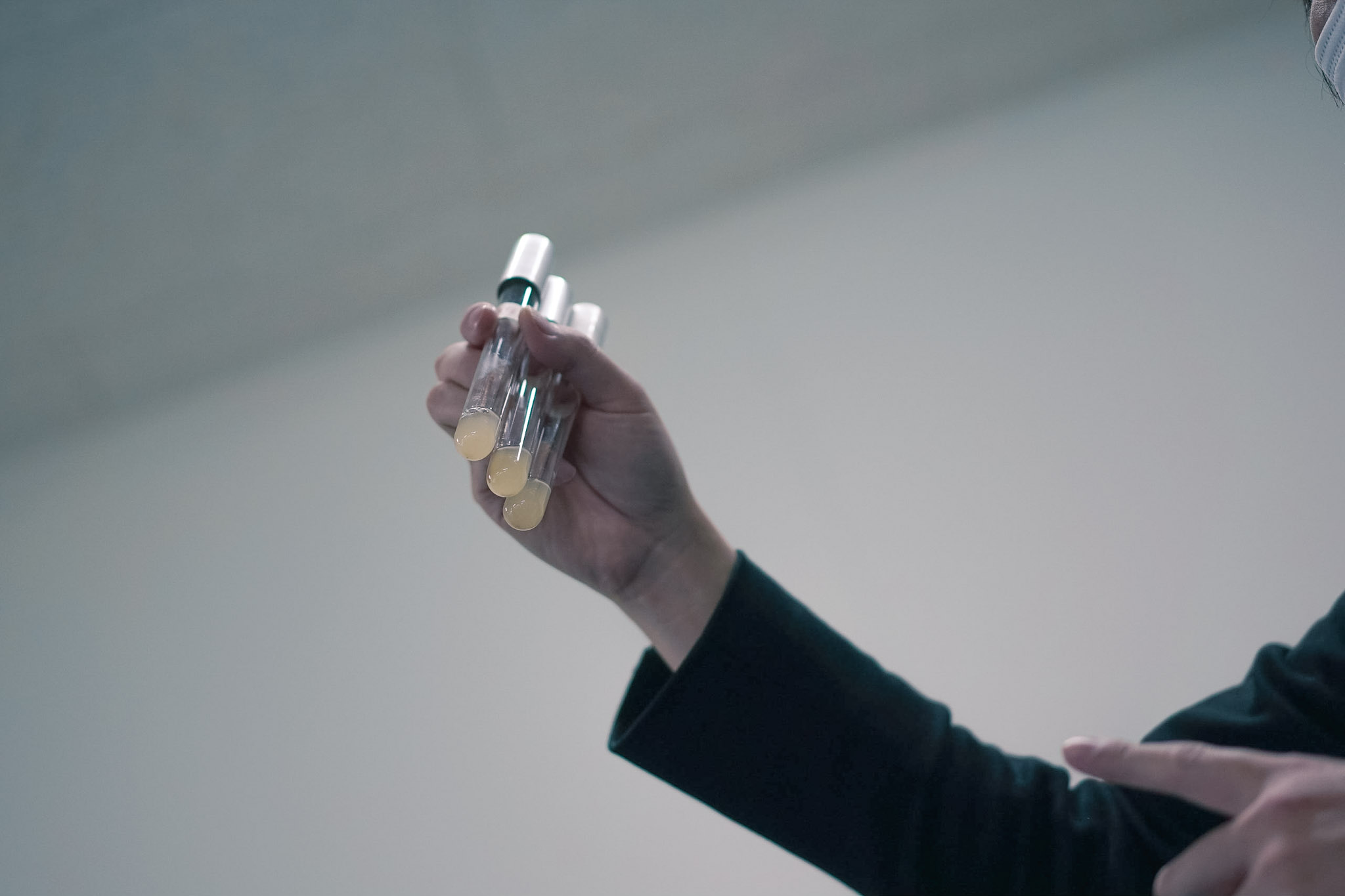 E. coli being cultured in a test tube. When you remove the cap, it smells like Oden radish ...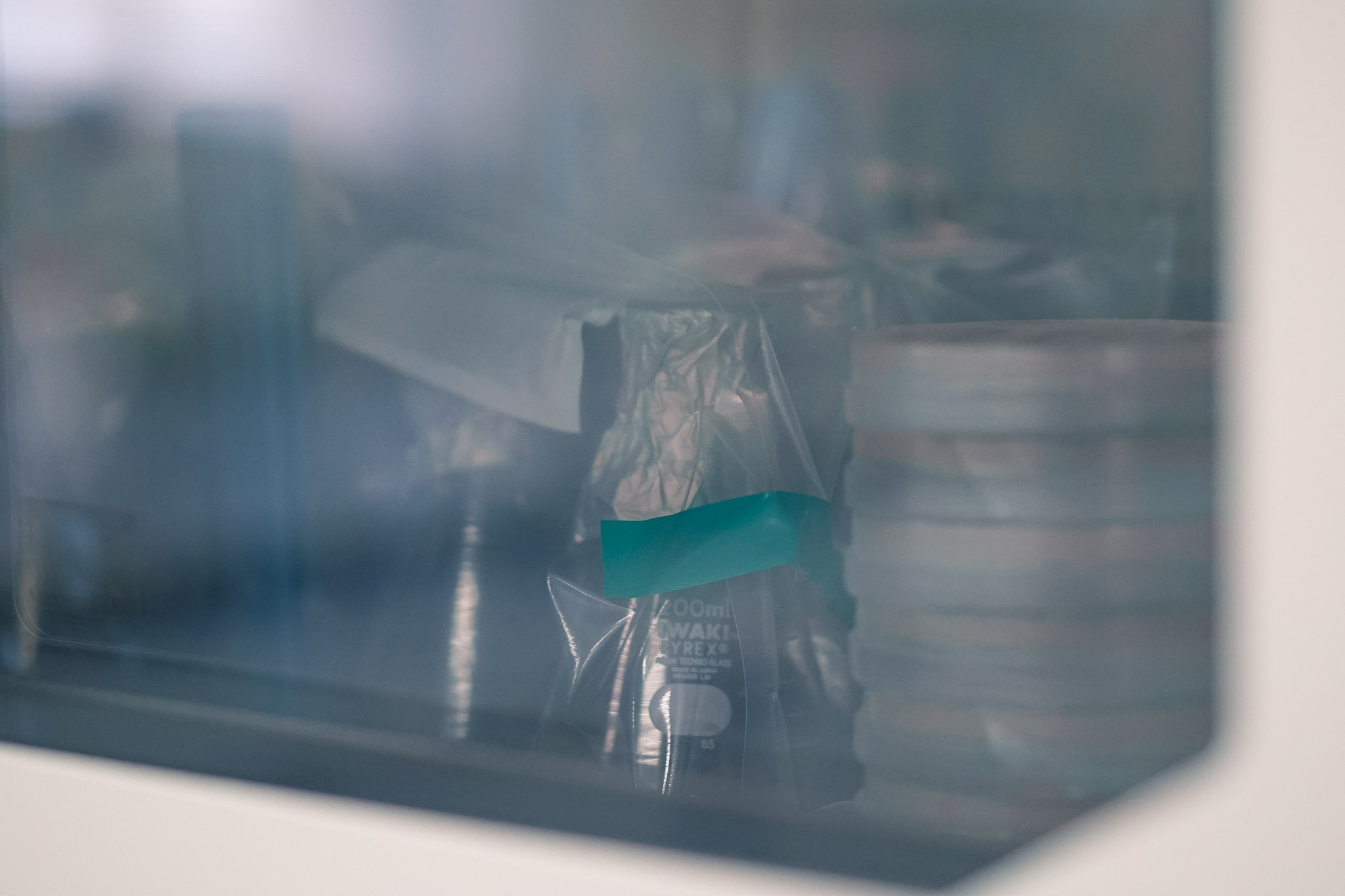 An incubator that keeps the temperature constant. It is a place where microorganisms grow and let the researcher work in their research.
Professor Fujihara: Oita Prefecture has a long history of a brewing industry for miso and soy sauce, a sake brewery for shochu and sake, in the prefecture there is a great soil for producing fermented foods. So, the fermentation industry in the prefecture is to keep rising. Therefore, the Department of Fermented Foods of our university wants to become the core of the fermentation industry in the prefecture and to liven up it, and we are inputting the learning of fermentation in Japan and the world to the students.
It was decided to hold the Tokyo Olympics in 2013, and with that as an opportunity, "Japanese food" and "fermented foods" are attracting attention from overseas. At this time, how can we make delicious fermented foods such as sake and soy sauce in Japan? Can people outside recognize it?  I always keep in mind and interact with the students. Many students in this department have big dreams and hope to convey the potential of fermented foods to the world. I hope that many hopeful students will be brought up and spread it to the world, this could lead to regional revitalization inside and outside the prefecture.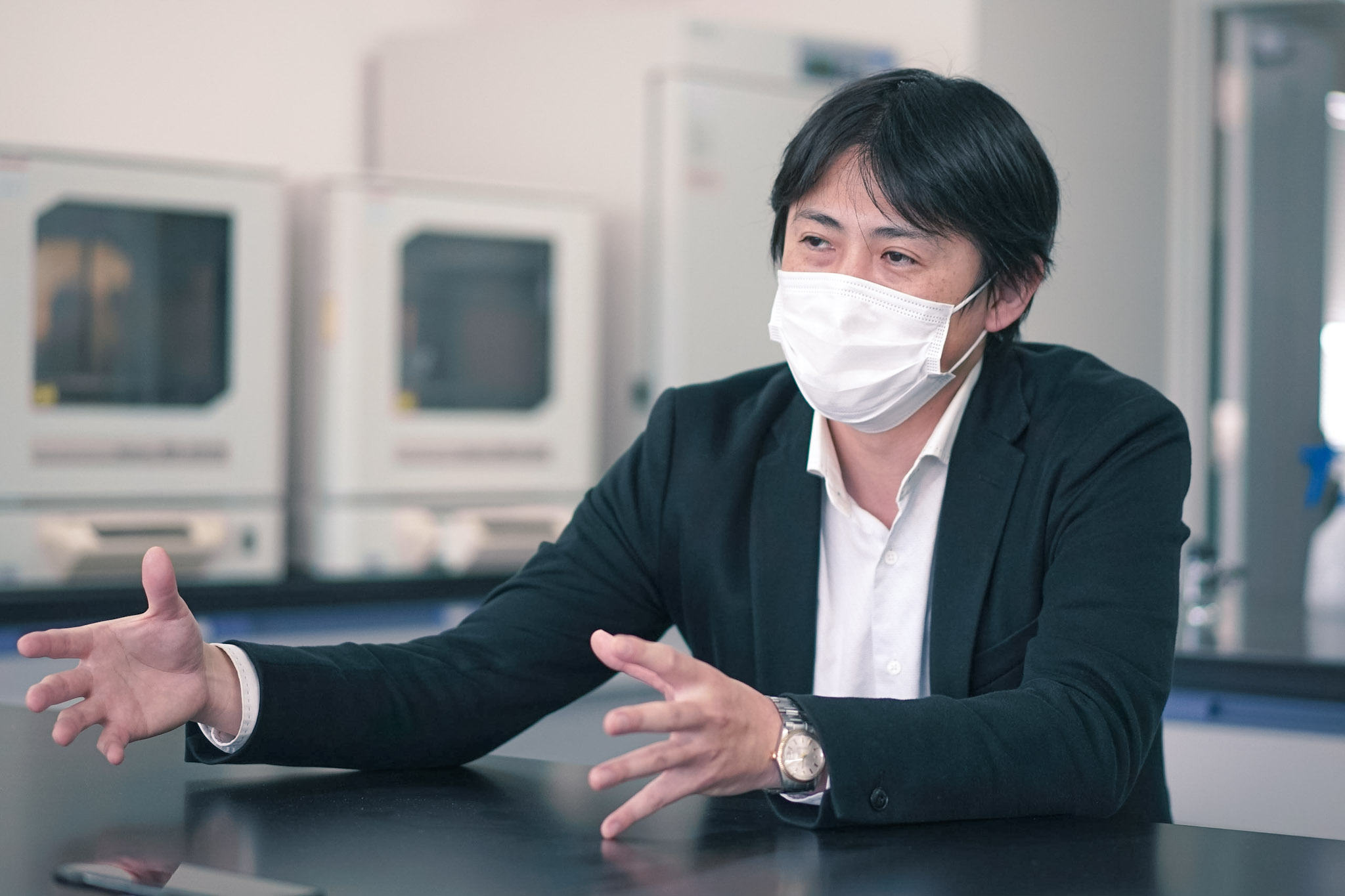 Professor Fujihara's words are full of enthusiasm
The department wants to create products in collaboration with various food manufacturers. Then, the companies could seek new business opportunities, and many joint kinds of research between students and companies are being conducted throughout the department. A large amount of money is required for a company to make a capital investment on its own, but the Department of Fermented Foods has an analytical ability and equipment for the research, so it would be more convenient. 
The Fermented Foods Department is currently developing a collaborative product "Soymilk Yogurt" using organic soybeans with a company in Fukuoka, and they are aiming to commercialize the product later on. It is said that the soymilk yogurt inoculum is produced by blending lactic acid bacteria that are essential for yogurt.
Professor Fujihaha: I hope that the appeal of fermentation will be conveyed to many people and that it will be utilized in research and education. Fermented foods are also applied to space foods, so I hope that one day the space foods from Beppu University will take off from Oita Airport, which will be the spaceport. By all means, I would like to continue collaborating with many companies to create many products.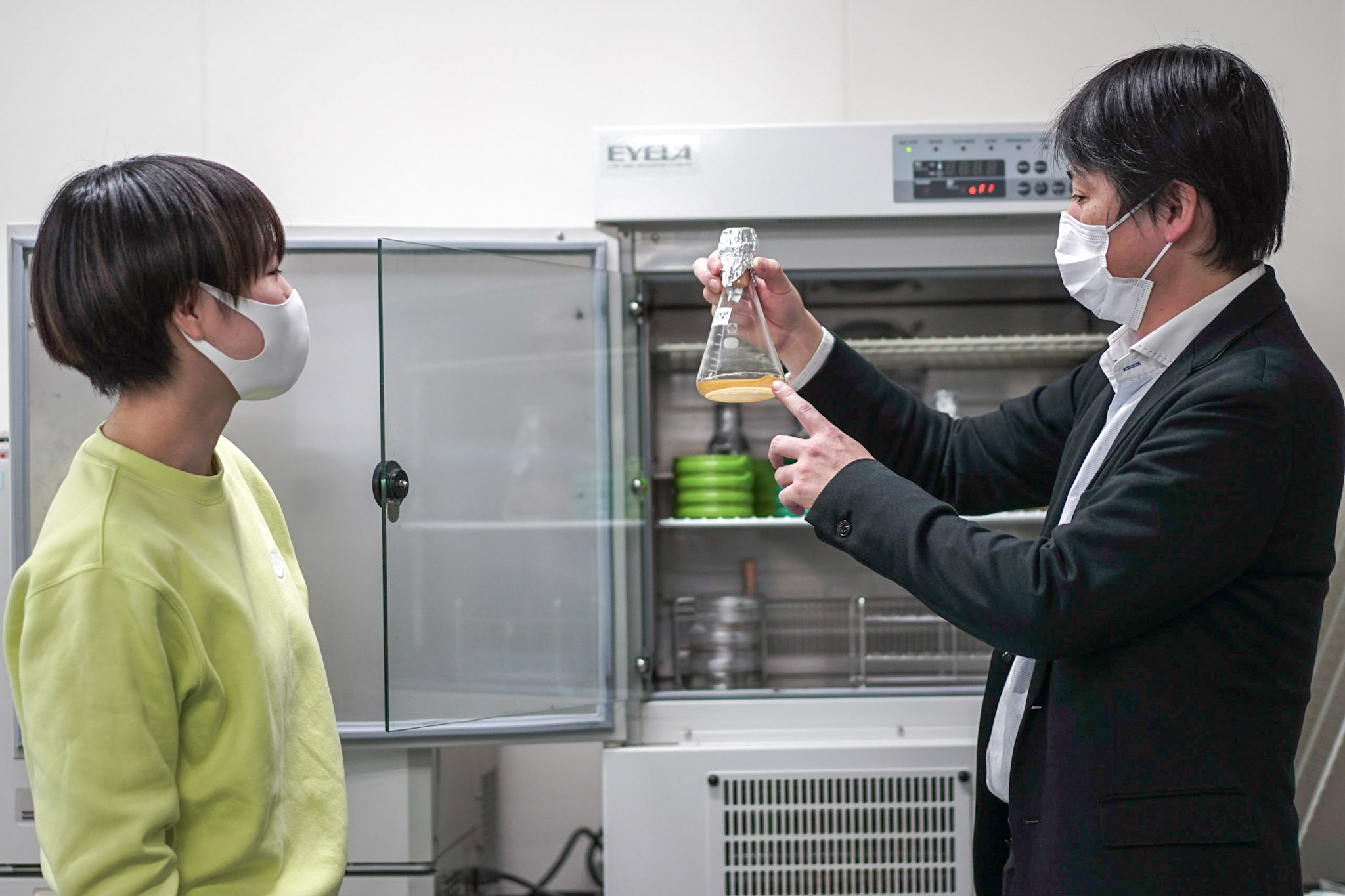 Professor Fujihara explaining the yeast that sinks under the Erlenmeyer flask

"Kurabito Seminar" that supports the future of Japanese food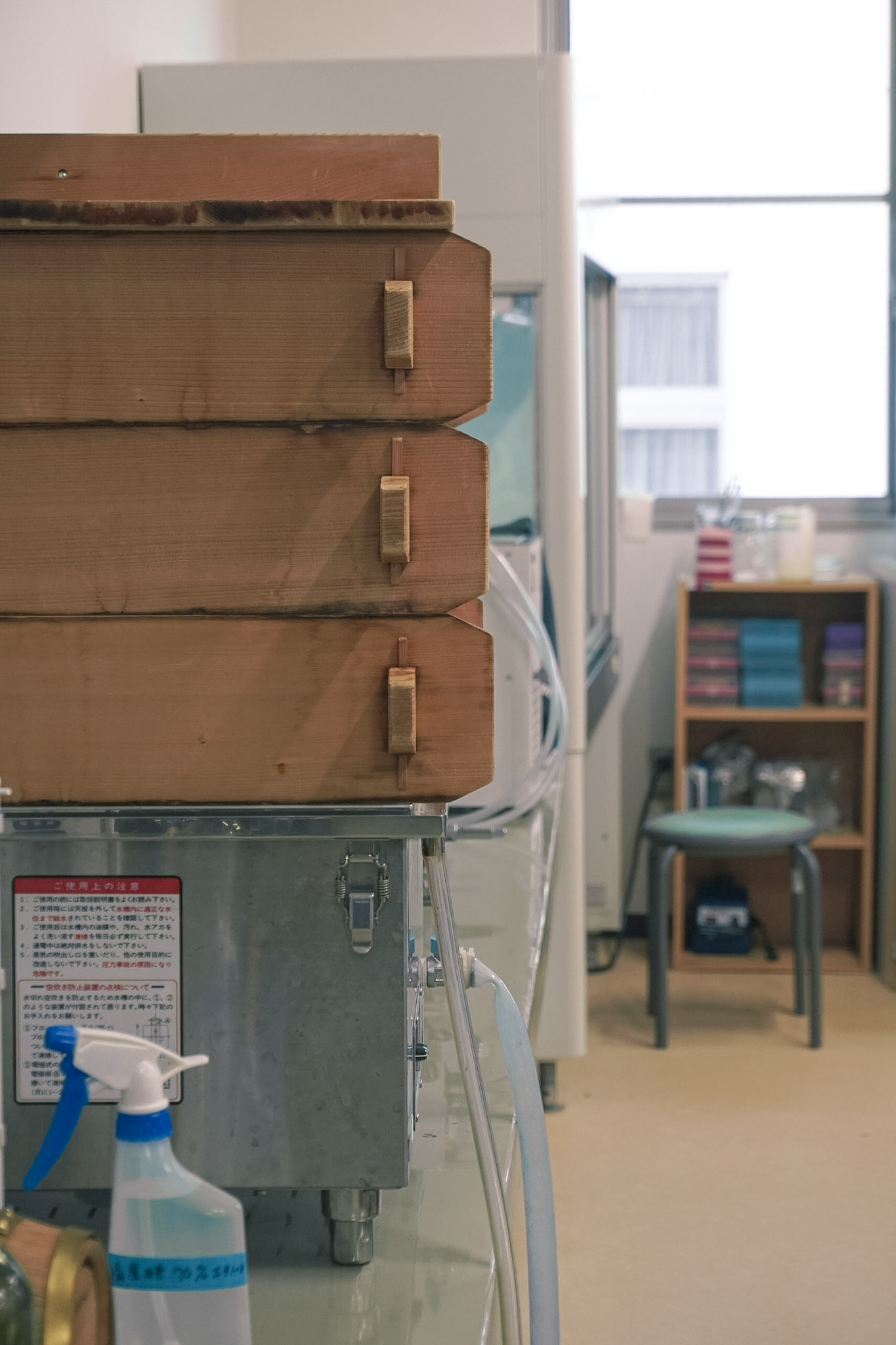 A large steamer is necessary for making Malted rice. The aroma of cooked white rice and the steam are cloudy. .. Be careful not to get burned! !! !!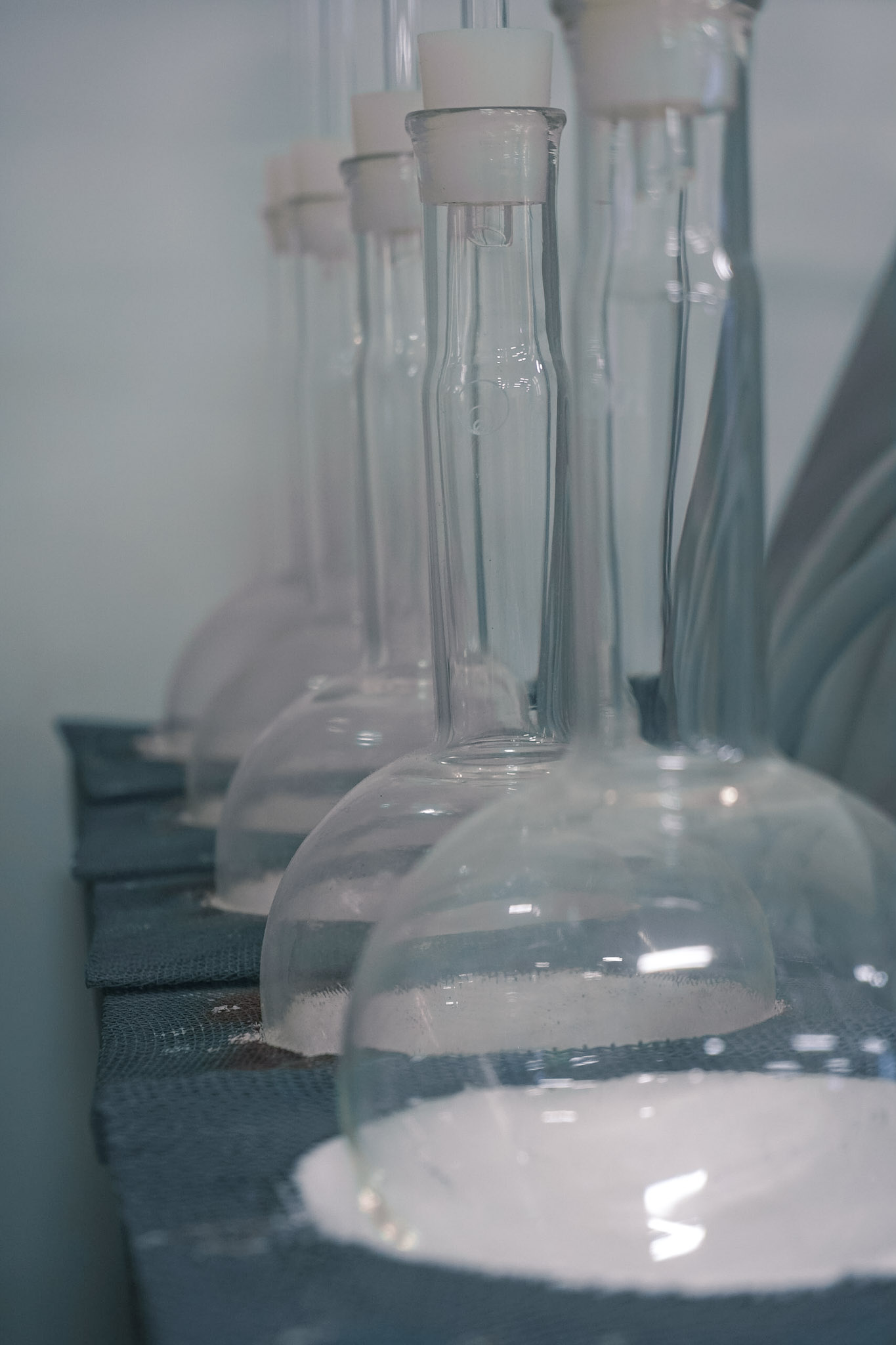 A series of volumetric flasks. A "distillation device" that collects alcohol when brewing sake. It has a slightly retro style.
Communication that connects invisible microorganisms
"Shioya Kurabito Seminar" is the only place in Beppu University where you can make liquor with a liquor manufacturing license.
People who are unfamiliar with the fact that sake can be produced in the university are quite surprised.
In 2018, "Beppu Onsen Amazake" was born as part of the collaboration project "BEAMS EYE on BEPPU" between Beppu City and BEAMS. It is made from hot spring water from Beppu.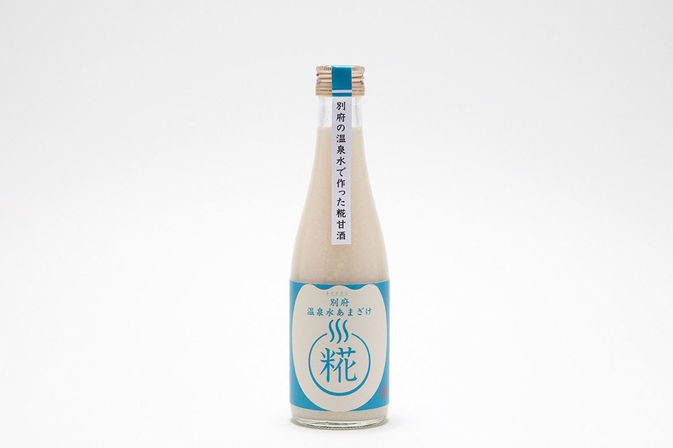 This is "Beppu Onsen Amazake". Uses hot spring water from Sakurayu, Beppu City. 300ml for 540 yen (tax included) can be purchased online or at Rakuten Ichiba. It's sugar-free, has a gentle sweetness, and is easy to drink! I am a fan of this product
Professor Shioya: This project started with the desire to "create something unique to Beppu and improve the communication skills of the department." I think product development was a great challenge for students, but it became very meaningful as part of their social experience and education. I myself developed the product together with the students, but it was a lot of fun because I was able to exchange opinions with the government and companies.
Why are you strengthening collaboration with companies?
A few decades ago, university faculty workers had to do only the lessons and research, but nowadays, "industry-academia-government collaboration" that creates new things in collaboration with companies and governments is revitalizing universities and Japan. It is becoming more important as it contributes greatly to the development of society.
Professor Shioya: I think that if we collaborate with companies, we will be able to return the knowledge of the university to the local community, and the local community will be enriched and developed. Miso soup and soy sauce have different tastes in each region, right? Kyushu's soy sauce is sweet, but Kanto's soy sauce is basically dark soy sauce with a strong taste. Miso also has completely different tastes and manufacturing methods depending on where it is made, such as red miso, white miso, wheat miso, and rice miso, etc. I think it is a merit that companies cooperate with each other. I think that major brewer companies are also working hard to bring out products that are widely loved by the customers, but fermented foods such as miso and soy sauce have different water and preferred tastes depending on the region, so it is difficult for big companies to realize. 
I think it's a point. In that aspect, if local small and medium-sized manufacturers jointly develop with universities, a business model of "even if they are small, they can earn the profit steadily" will be established.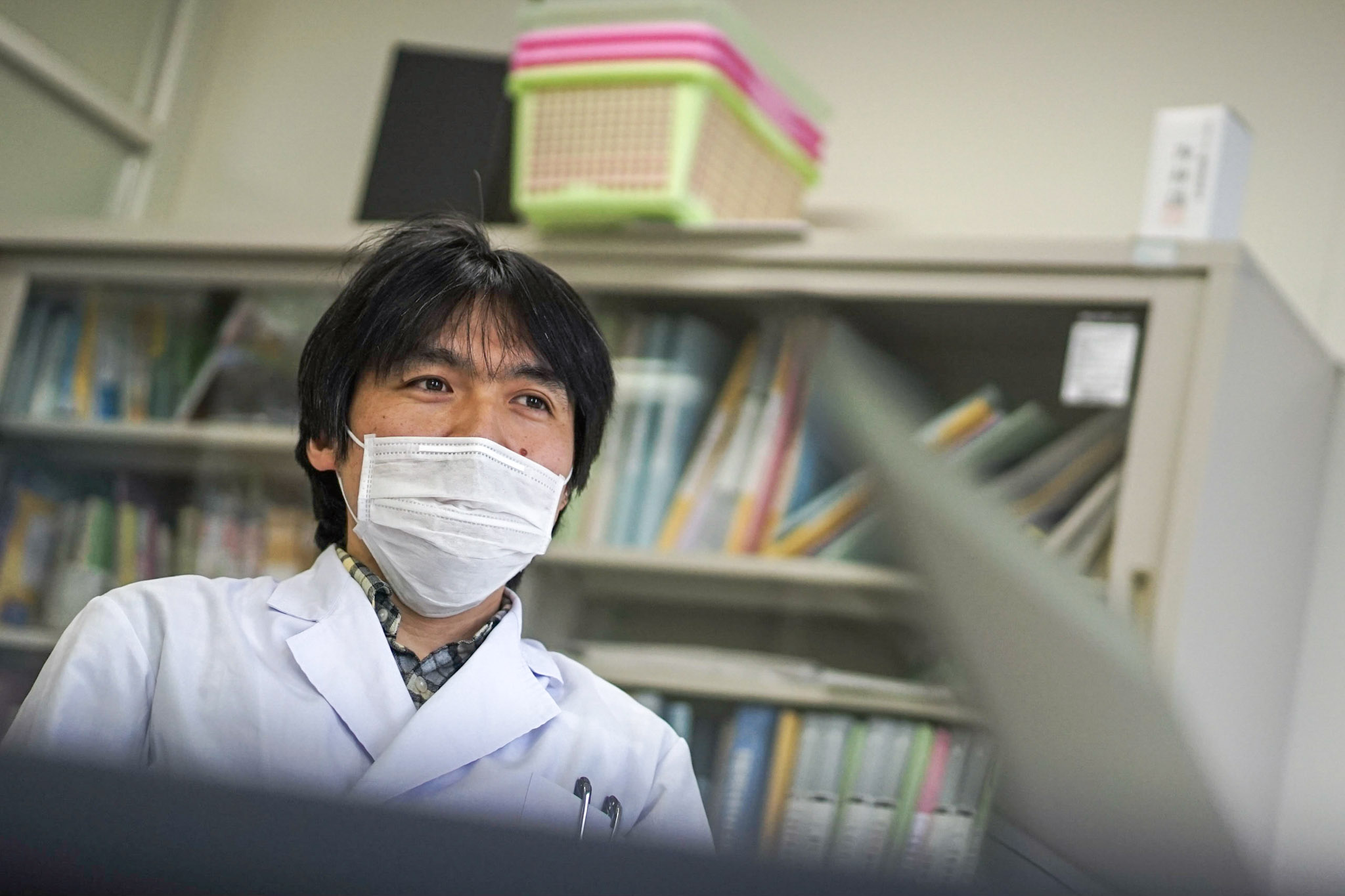 Professor Shioya's eyes are looking at the students while also looking at the fermented food future beyond.
I feel that this industry-academia collaboration has increased the opportunities for us, students, to communicate. Job hunting can be done easily on the Internet or apps, and it is now very common to have conversations on the Internet. I am very grateful to have the opportunity to talk with my superiors and those who are doing business.
"I will be the chief brewer!" A dream that I have been chasing since he was 10 years old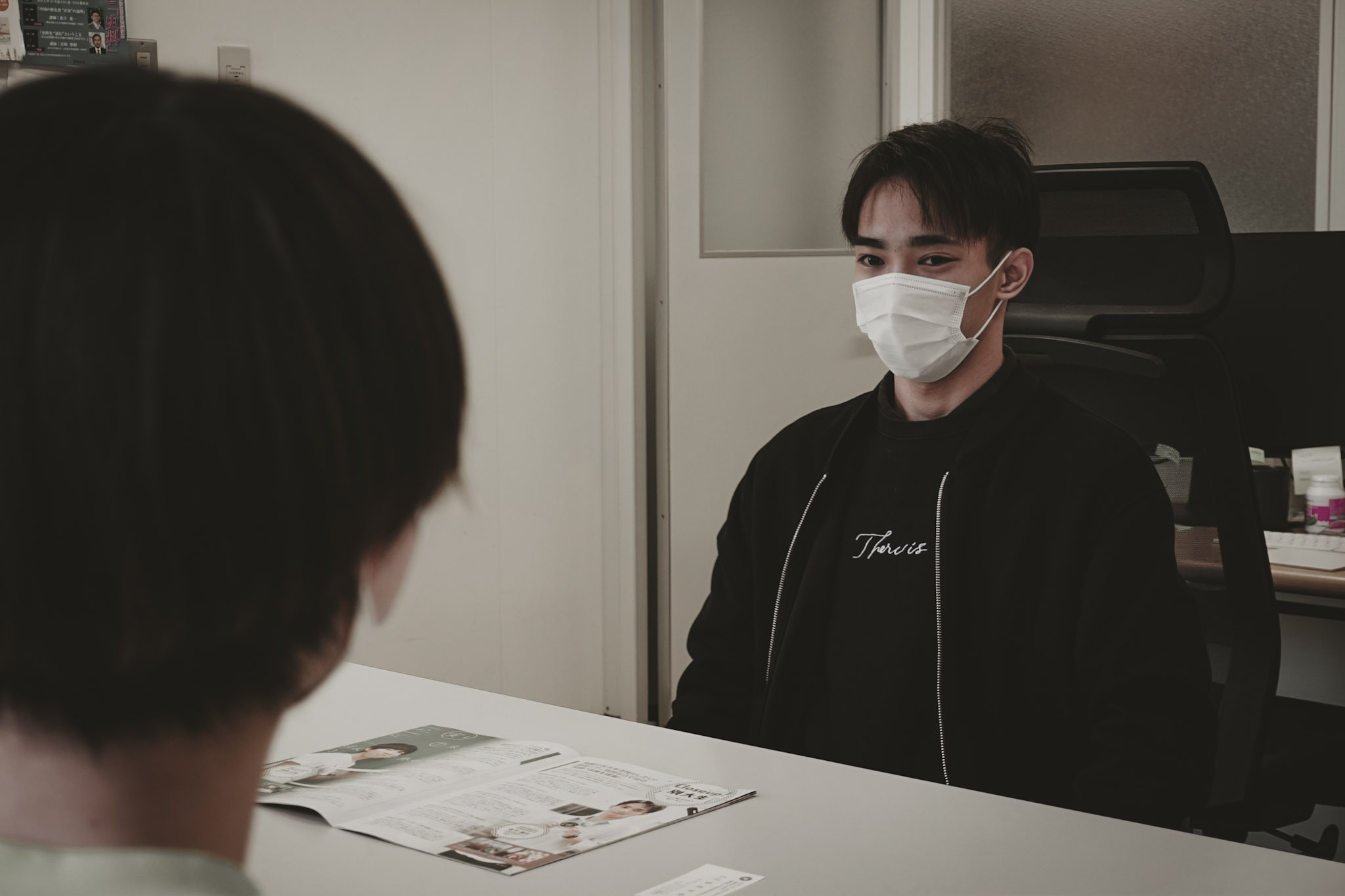 Mr. Michishita deals with the worries of his juniors. His hobby is pursuing it thoroughly! A gentle senior full of romance!
"Because of my stubborn personality, I have been pursuing my dreams for 12 years. Even after 20 to 30 years, I will continue to do it until it comes true," said Yuta Michishita, a fourth-year student in the Department of Fermented Foods. In March 2019, he took the stage as a finalist in the business plan contest "ONE BEPPU DREAM AWARD 2019" sponsored by Beppu City and announced a business plan for the commercialization of yogurt. Since then, he seems to have more opportunities to talk with companies and government officials. Since April 2021, he has been a member of a major sake brewery in Kagoshima prefecture and is steadily approaching his dream of becoming a chief brewer.
Mr. Michishita: "I was born in Kagoshima. There is a famous sake brewer family in Kagoshima. One of them was my grandfather. " Because of my grandfather's influence, I've been exposed to shochu since I was little. My grandfather died when I was 10 years old. This is the reason why I decided to become a chief brewer. My grandfather was silent and didn't speak much, but many disciples came to the funeral. When I saw that scene, I realized for the first time that my grandfather was such an amazing person. At that time, I decided, "I want to be chief brewer I like my grandfather."
A new dream throughout the four years
Many of my close seniors have jobs related to alcohol.  Therefore, I would like to develop sake with a few alumni.  As I talk about my dreams, some alumni grow up and make rice, so I'm talking about making sake from that rice.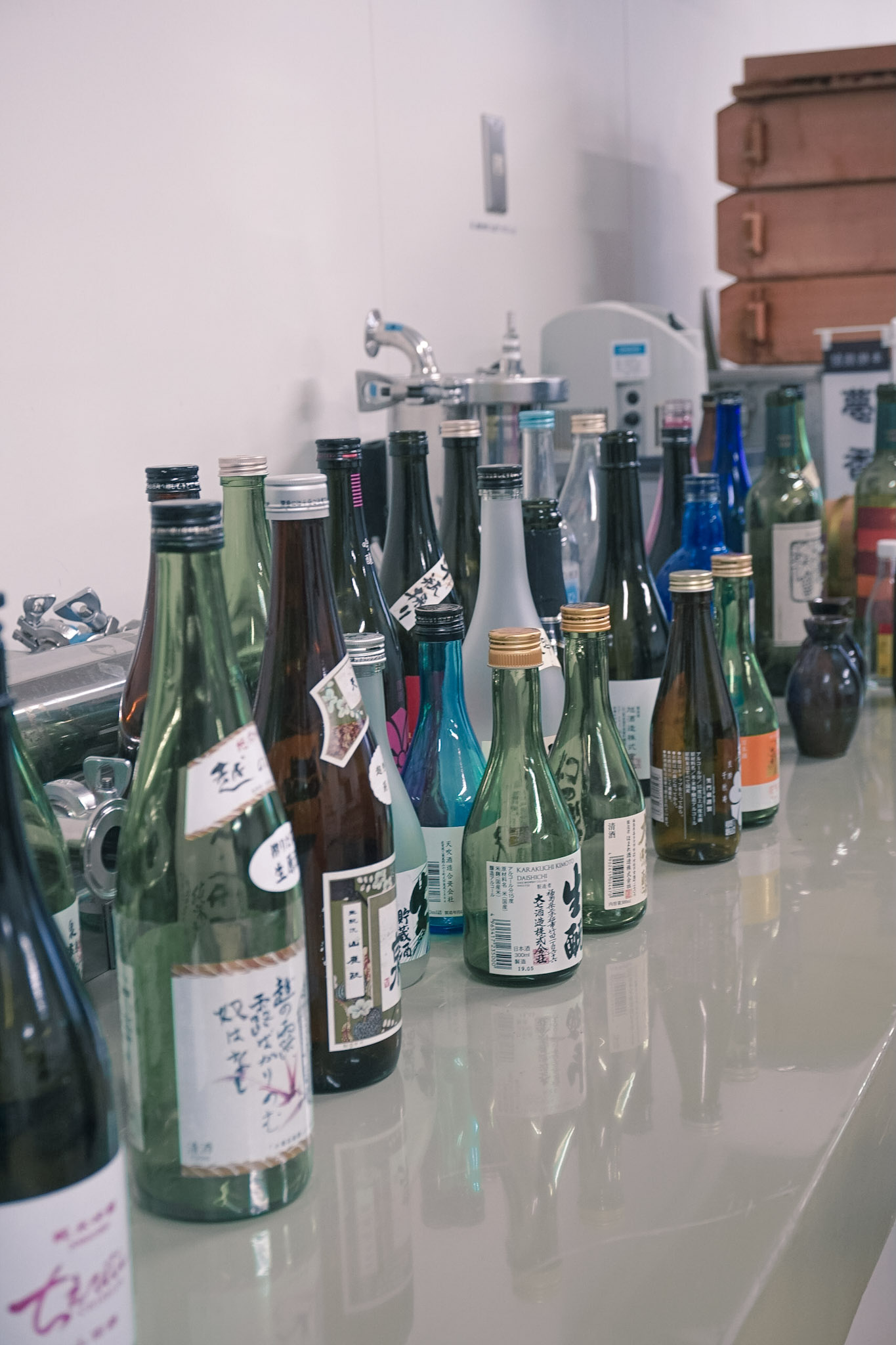 "Kurabito seminar" students' sake lined up in a row
Mr. Michishita talked about two dreams this time.  The eyes full of enthusiasm motivated me a lot.
The source of shochu in the world
Since the arrival of the Japanese food boom, sake has become a boom overseas as a result of the expansion of Japanese restaurants overseas. Not only that, whiskey and wine are also called "Japanese whiskey" and "Japanese wine" and they are highly evaluated overseas. However, shochu is difficult to recognize, and its reputation overseas has not been recognized. From this situation, Professor Shioya has said something. 
Professor Shioya: I would like to take a questionnaire for international students in Beppu City and make shochu that is easy to drink even for overseas people and to make it become a world-class beverage. Previously, one of the graduates was a Korean student whose parents run a makgeolli brewing company. In this way, I would be happy if brewers from South Korea, China, and many other countries could come to the Fermented Foods Department, expand the interactions, and finally jointly develop and research with overseas brewing companies.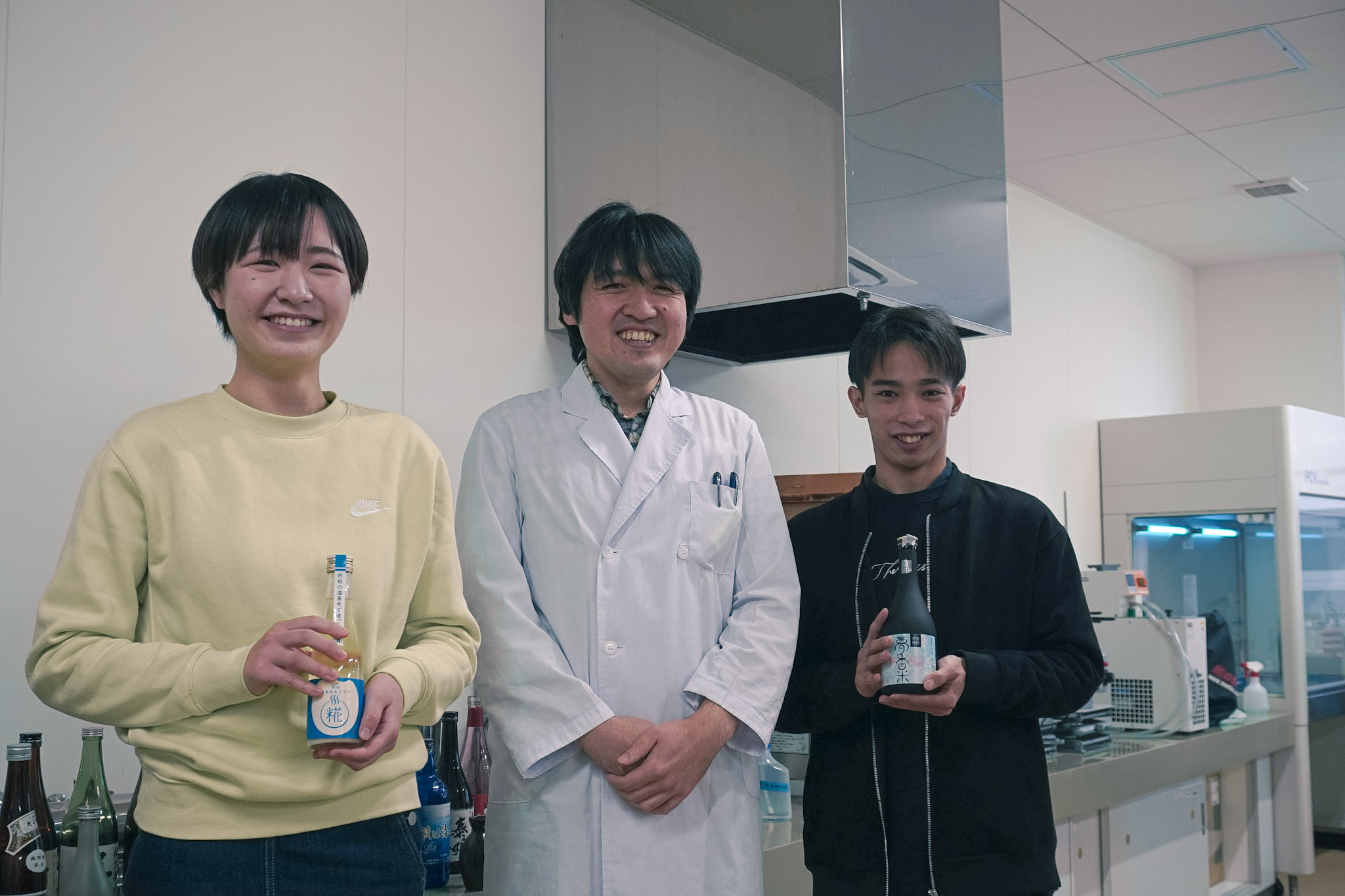 I am very happy to take a photo with all of them! (From left, author, Professor Shioya, Michishita-san)
Editor's Note:
It may be obvious, but "try it if you are interested" and "have no regrets not to do it" have been attracted to the mysterious fermentation science since high school when I was aiming for a cook. It's something I've always decided to do. The teachers' next goals and Michishita's dreams. When I was interviewing them, I realized that feeling again.
Do you sometimes wonder, "How was this created ..." for the normal thing? ?? This is what I think when learning about fermented foods and microorganisms.
The imagination, possibilities, dreams that unfold from the unknown world are endless. 
I don't think it's impossible for everyone to have a miracle from one sudden question. Actively work on everything. In an era when communication skills are declining in the Internet society, I think that young people need to realize it again.