People might have a strong image of BEPPU as equal to HOT SPRINGS. There are a lot of companies or businesses which have outstanding "technique" besides hot springs and be able to open up the industry technical capabilities in niche markets such as bamboo works, a paper container processing technique in Beppu city. This time, I interviewed the company that leads the sticker and label printing business field.
Eiko printing Co. is a company specializing in stickers and label printing and located in Furuichi Cho, Beppu city. They have clients in not only Oita but also in all over Japan and they manufacture several stickers and labels such as food, cosmetics, precision equipment, and medical supplies.
The biggest selling point of Eiko printing is the technique. There are 9 engineers for 21 machine maintenance. It sounds like overcapacity, but multi-skilled engineers cooperate and operate with harmony. In the final check after printing, they use a 40-megapixel camera for checking the quality. Their work carries out very carefully. 
Their highly specialized technology is well known among the same industry companies and sometimes they handle some projects that other companies cannot handle. In other words,  outstanding technology is alive here in Beppu.
 What kind of person leads this company?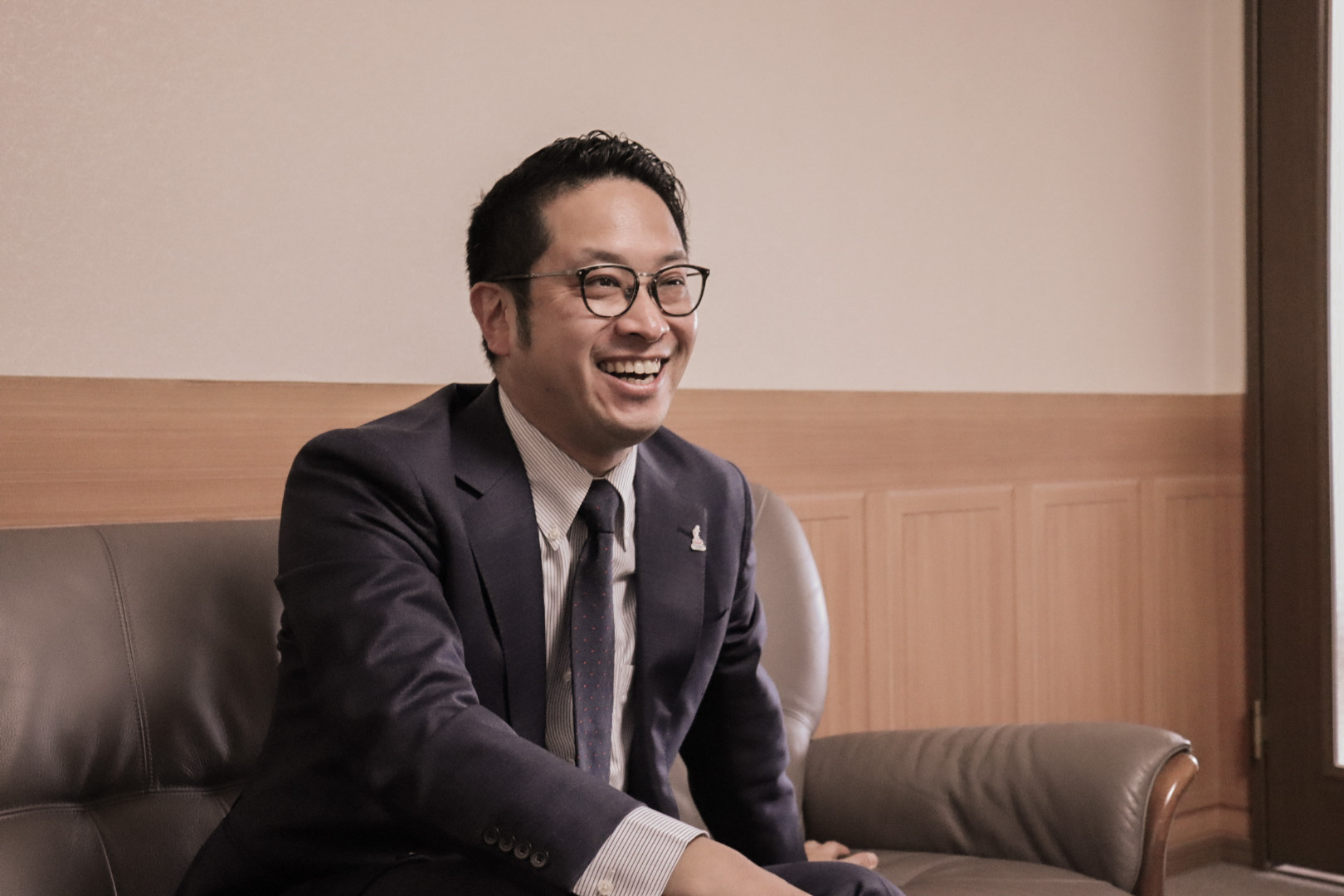 Mr. Abe, Executive Managing Director of Eiko printing company
Proactive student days
Executive Managing Director of Eiko printing company, Mr. Abe has grown up in Beppu city.
When he spent his university life in Fukuoka, he was throwing away his textbooks without reading them at all but his textbooks were really expensive. He was wondering about that and he came up with some ideas.
"Let's be a mediator of selling used textbooks. It will be good for the environment and contribute to building a relationship between senior and junior students."
One day, I did a presentation on the idea to the president of a logistic company who had come to the seminar. He told me that he will make all the systems and leaflets, so I could do as much as I want. And then, this idea became a project in a few months. 
 However, when he was handing out leaflets in the school,  PR activities on campus were banned because it couldn't get an understanding of school officials. He exclaimed that if those activities for students aren't allowed in the school, that doesn't make sense. So, he started to hand out leaflets in front of the school gate because he thought no one can complain if it is outside the premises of the school.
At that time, he thought strongly that he will put his ideas into action, even if someone tries to stop him. His vigor and resourcefulness were built in his university life.
 
Learned in the center of economics, Tokyo, and challenging in Beppu
 After graduating from university, Mr. Abe joined Mainichi Communications Co. (Mainavi) and worked in a sales position at the Tokyo head office for 5 years. 
 He had been making sales activities with various companies from small factories to major companies. Once, the project he worked on was published in the Nihon Keizai newspaper the next day. He strongly felt that he is at the center of the economy. 
After that, he had to come back to Beppu to take over his father's company. (His father is the president of the company) Actually, he is clumsy with his hands and he couldn't get used to mechanical work. He was worried about the reputation of other people around him. However, one day, one idea came up to Mr. Abe's head. 
It will be interesting if I make a community on  Facebook with people who work in the same industry all over Japan, which can share and help our technology with each other. He succeeded in gathering about 50 people into the group and he could acquire various knowledge. 
It seems that he was able to contribute to solving the problems by telling the theory based on the acquired knowledge to the staff who are facing problems. Mr. Abe learned that even if his hands are clumsy, he can contribute by telling the systematic knowledge and techniques based on the principles. And he made the documents for the company training by himself.  The conventional education system which was taught by craftsmen's sensation was changed to a system that can be learned logically by visualizing technology.
Currently, it plays a role in disseminating the highly specialized technology that Eiko printing has for some time to fit modern needs. 
A workplace that supports an employee's life
 I visited the factory after hearing about Mr. Abe's career.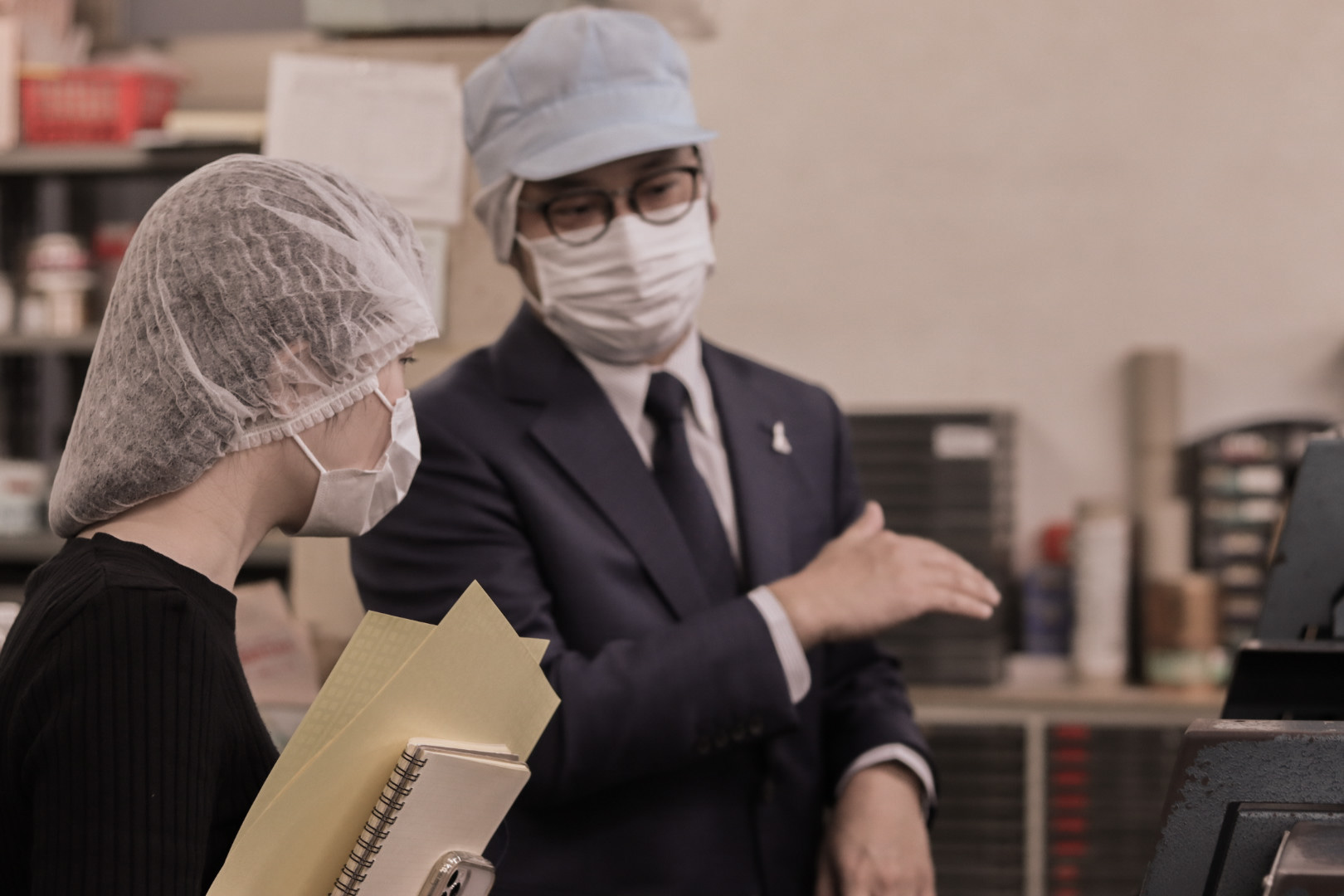 Mr. Abe, talking about the features of machines and parts one by one. 
A piece of paper stuck on the wall of the factory caught my eye.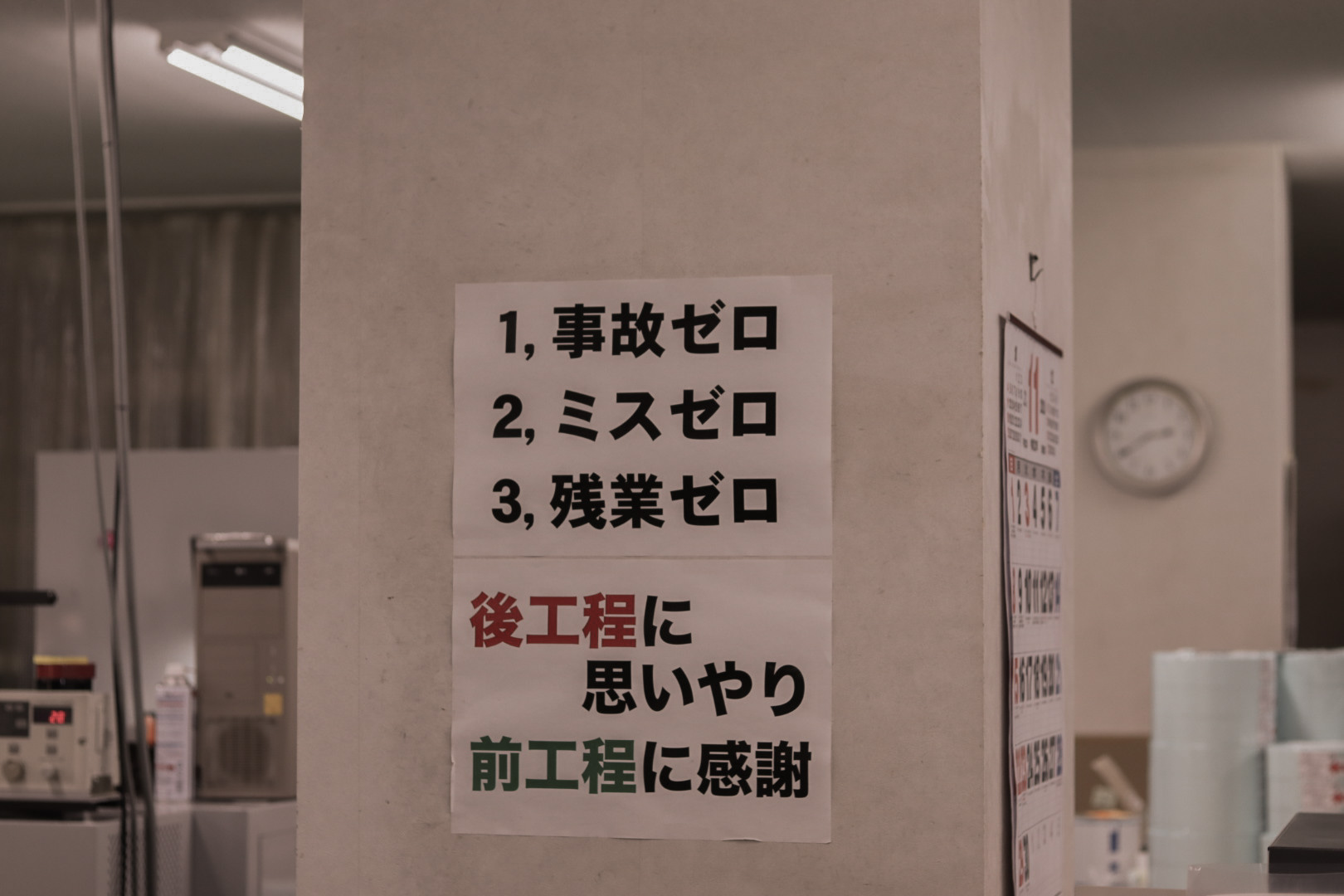 It is an enlightenment poster. No.3 says "zero overtime".
The average age of Eiko printing's employees is about 30 years old.
It was impressive that both men and women were employed without distinction, and they are working energetically. How is this warm working environment made?
"Work is not interesting if you are not really enjoying your work from the bottom of your heart. In our company, we don't have sales targets or overtime obligations. We should aim for a life that makes you feel happy when you die rather than working under stress and scarifies many things".
When I heard those words from Mr. Abe, I realized. How happy it is to be passionate about what you have fun with. I strongly felt that Mr. Abe's sense of value makes a "friendly working environment" for Eiko printing.
"I would like to spread the industrial aspects of Beppu with HINODERIX"
 In 2020, Eiko printing developed the world's first product that suits modern needs.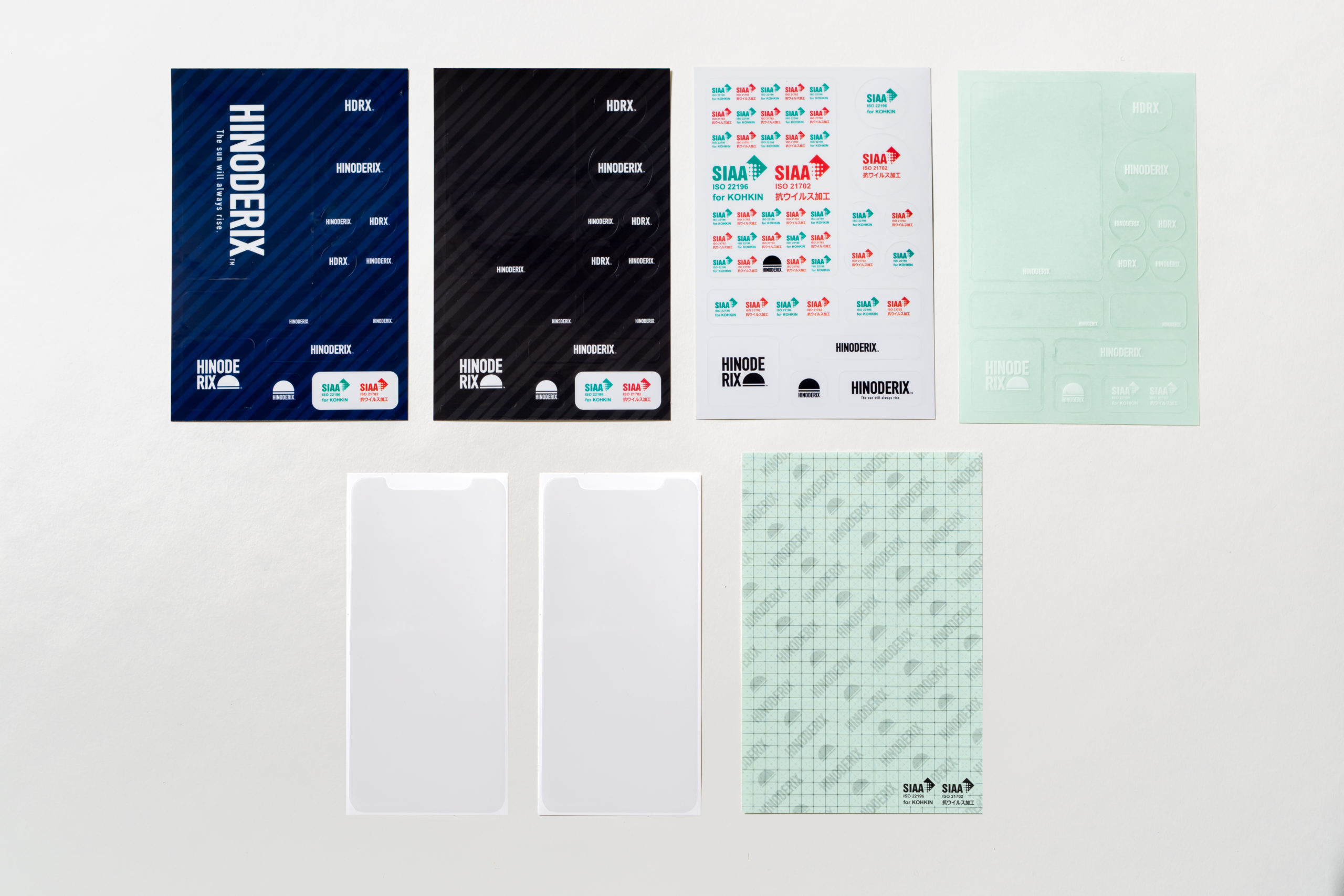 It's called "HINORERIX". It is the world's first sticker/label product that has acquired the SIAA mark in terms of both antiviral and antibacterial properties.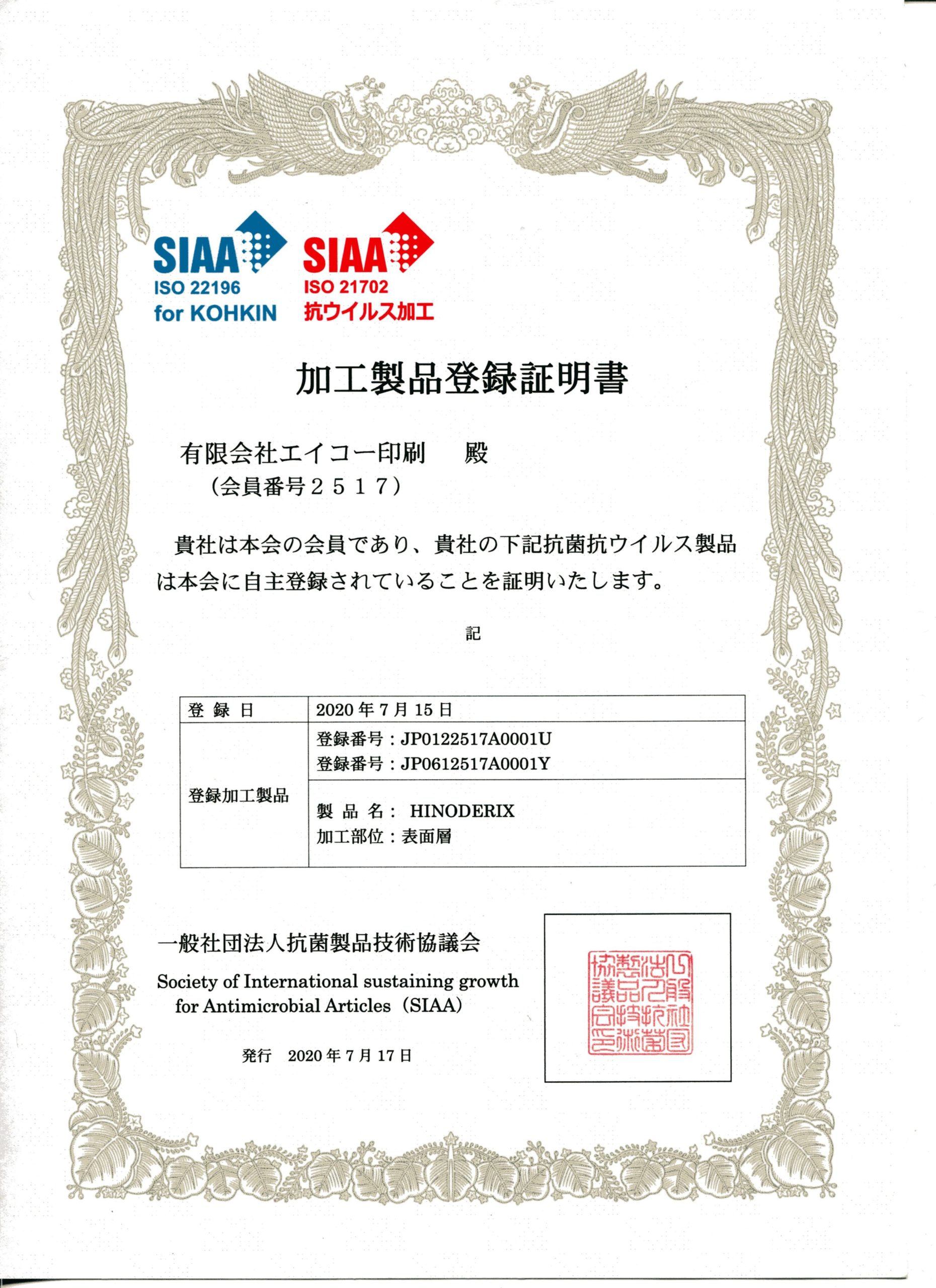 A certificate certifying the quality of HINODERIX.
We often see this SIAA mark in the toilets or washrooms.
This mark is allowed to be displayed only on products that have passed the test in "Quality, Safety and appropriate labeling" established by Antimicrobial Products Technology Council of Japan HINODERIX uses RIKENTECHNOS's RIKEGUARD as a top coat and its antiviral/antibacterial effects last for about 10 years. Also, this product is sticker type so you can customize it as you want and put it in various places.
I actually touched it.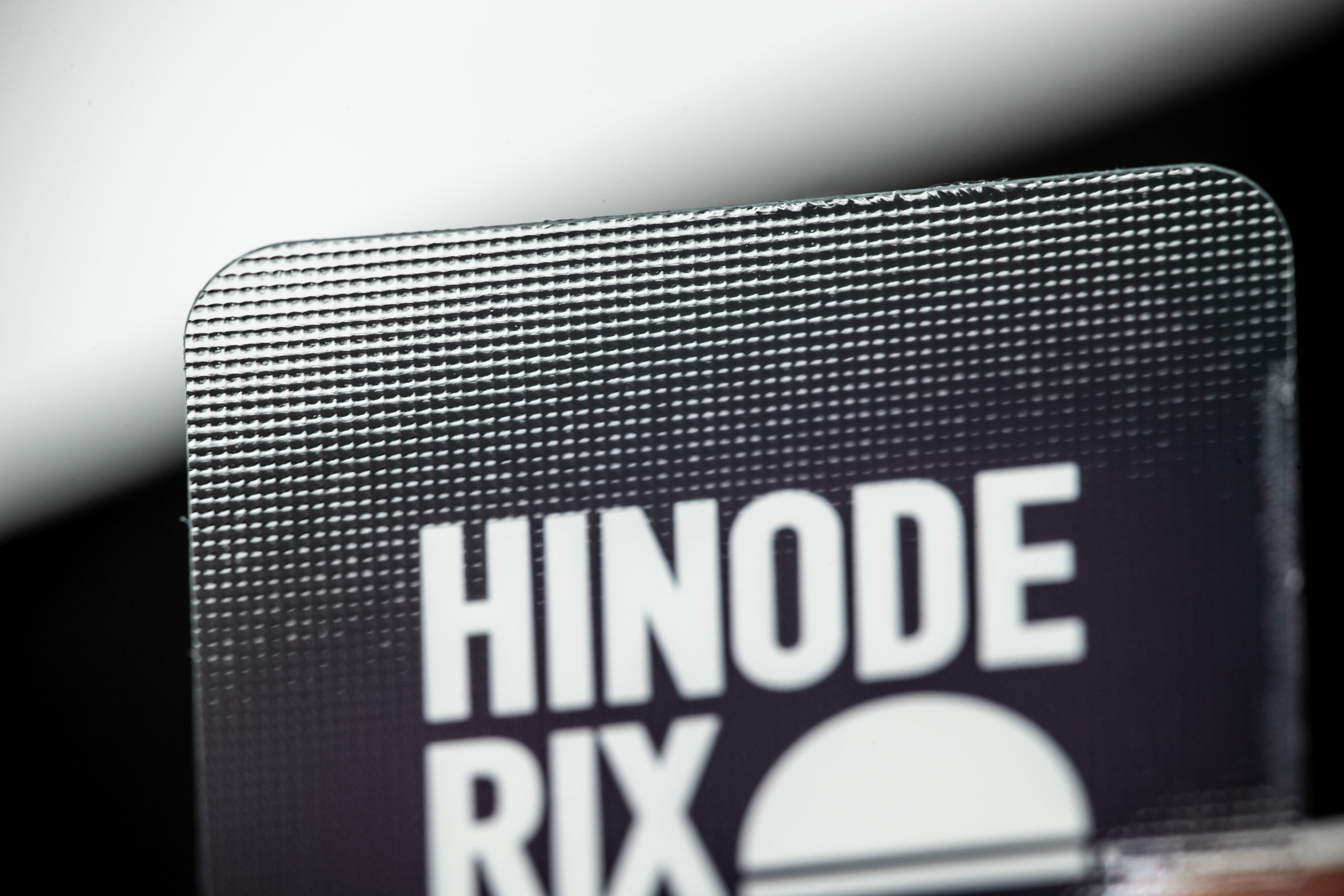 Enlarge the surface of HINODERIX
The surface of this product looks shiny, but when I touch it, my fingers do not slip. Even if you try to put stickers together, they will stick to each other instead of slipping. I was surprised by the gap in appearance. This HINODERIX has been recognized for its reliable antiviral performance, versatility, durability, and has already adopted in many places.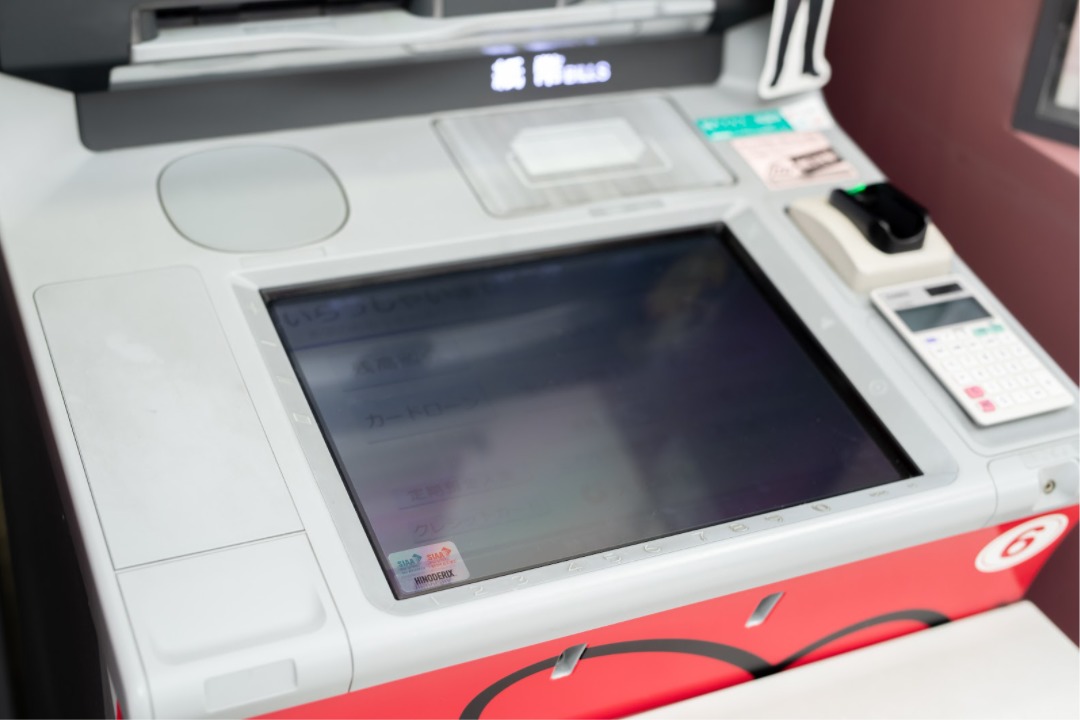 Adopted for ATM touch panel display for Oita bank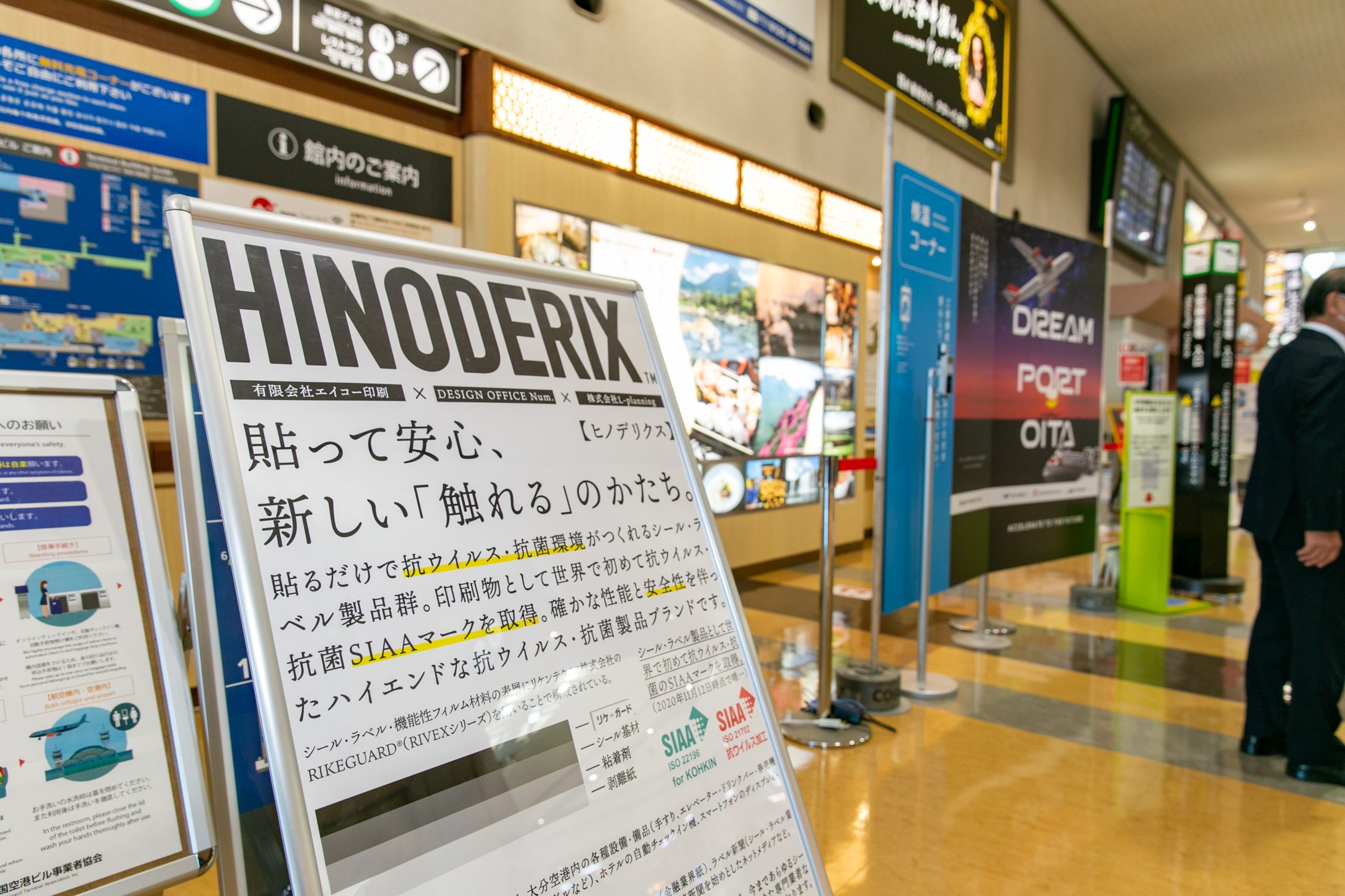 You can find HINODERIX in Oita airport everywhere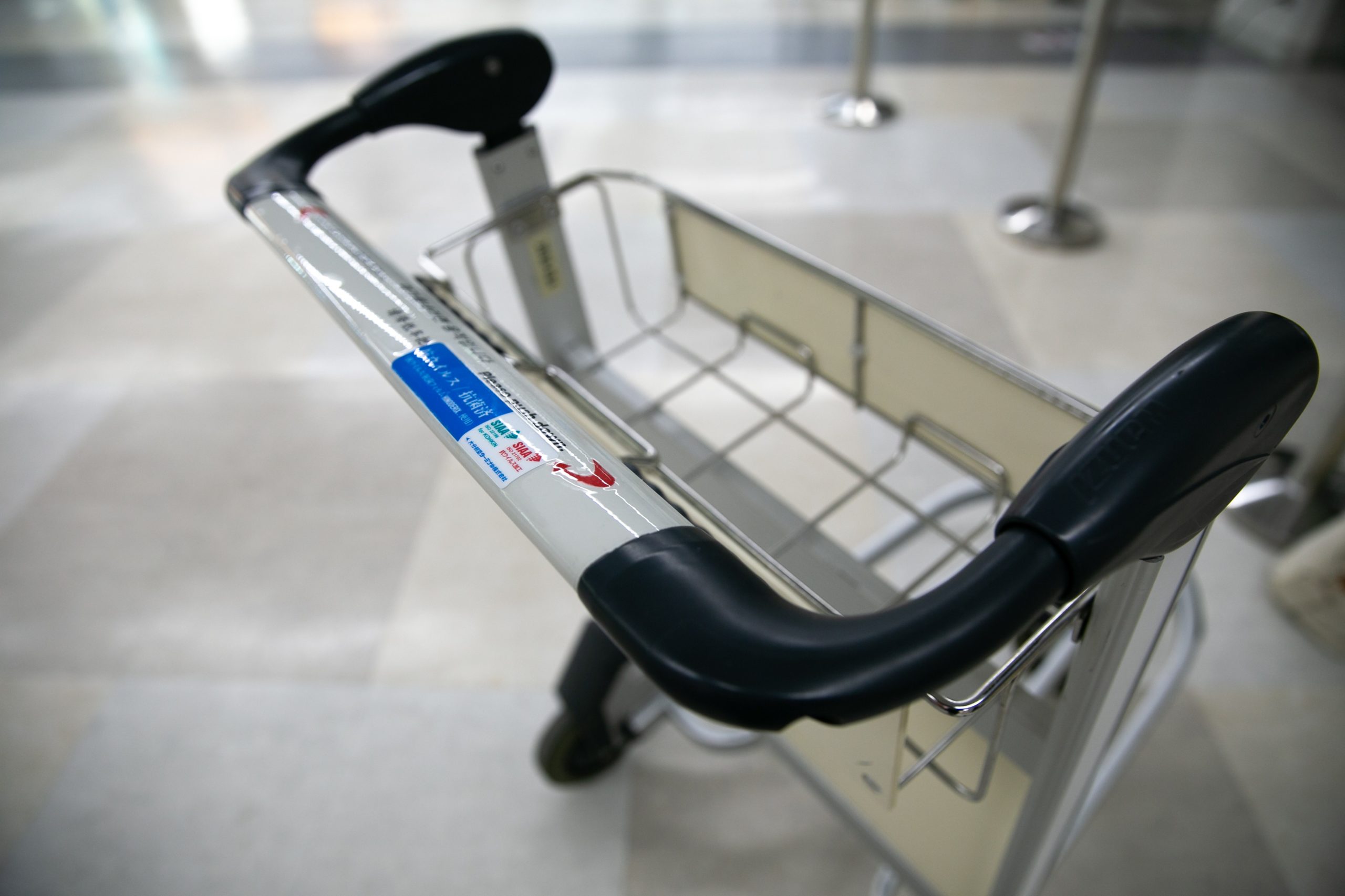 The handle of the "baggage cart" which is familiar to us in our daily life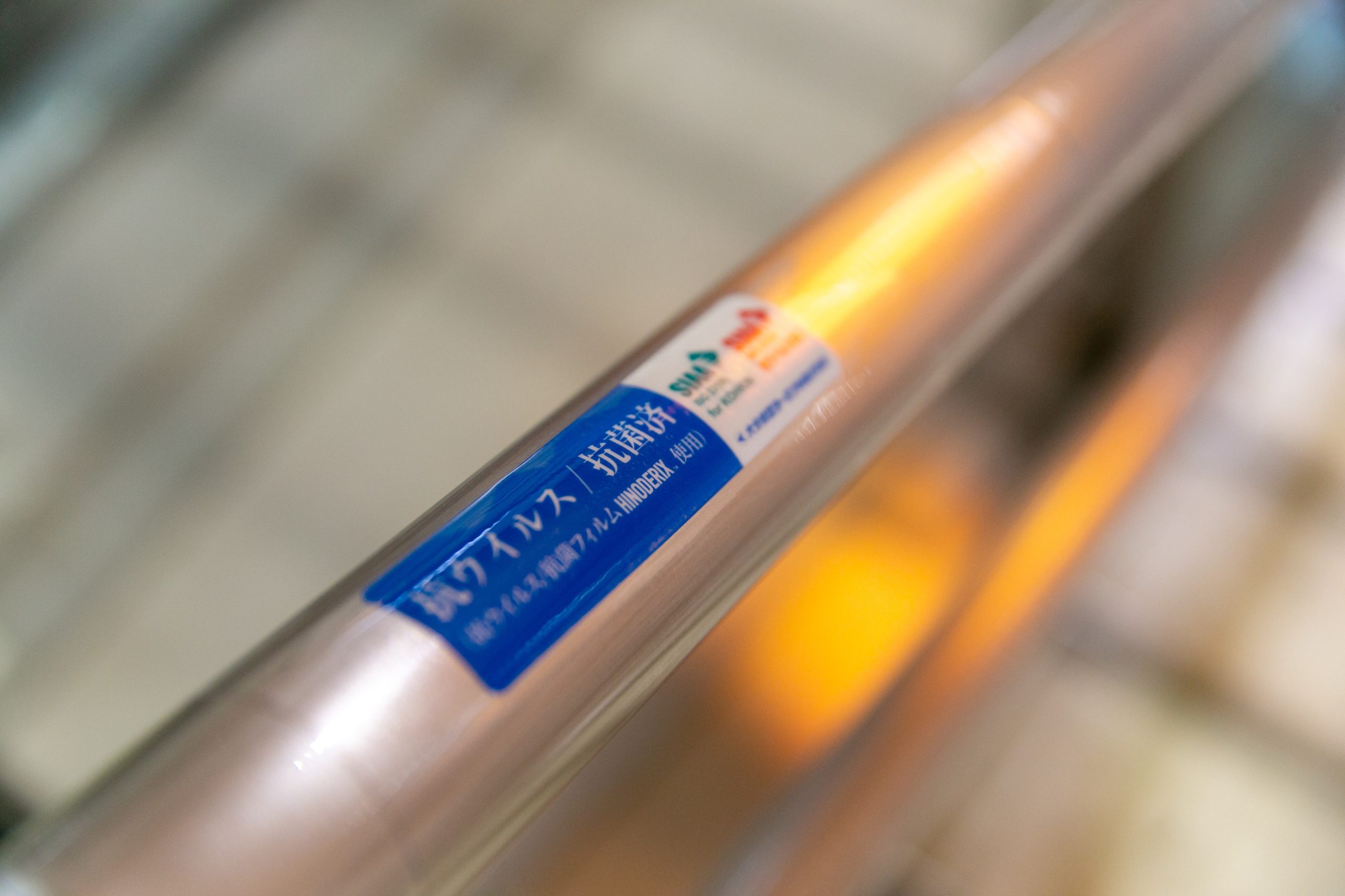 A handrail on the stairs can be a helping hand for those who are worried about their feet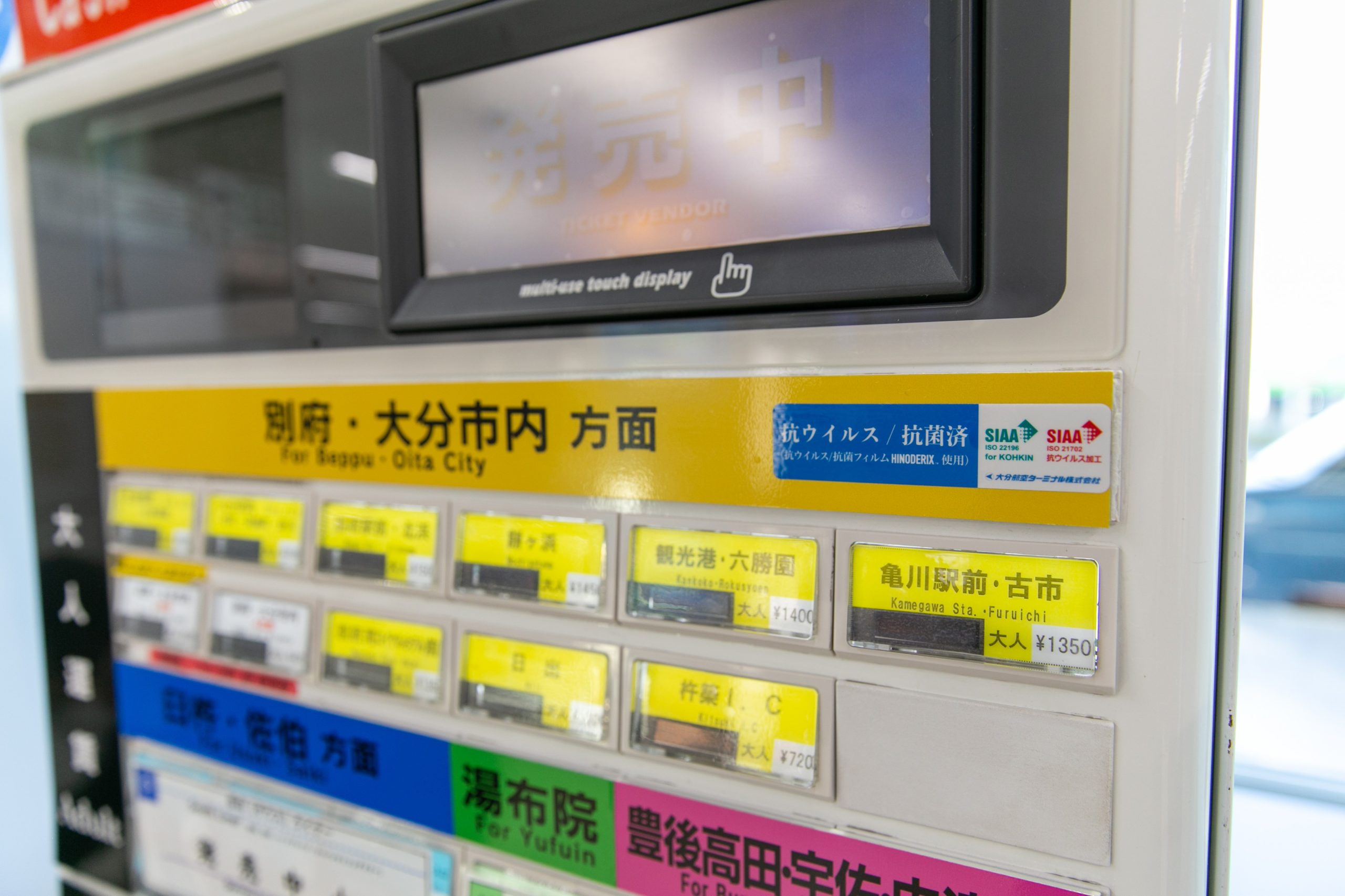 A bus center where various people come and go. It is safe because it is also affixed to the button part of the ticket vending machine.

I asked Mr. Abe about this product's future.
 He said, "I want Beppu to be known as the "birthplace of HINODERIX", as people say, "I came to Beppu because I'm interested in your HINODERIX, not because of the hot springs."  
Mr. Abe said enthusiastically.
 "I would like to use this opportunity to spread the diversity of industries in Beppu. So, we have to work hard."
We hope this HINOREDIX, born here in Beppu, where different cultures from all over the world and the power-filled by industrial successors will illuminate this dark corona pandemic society like a sunrise.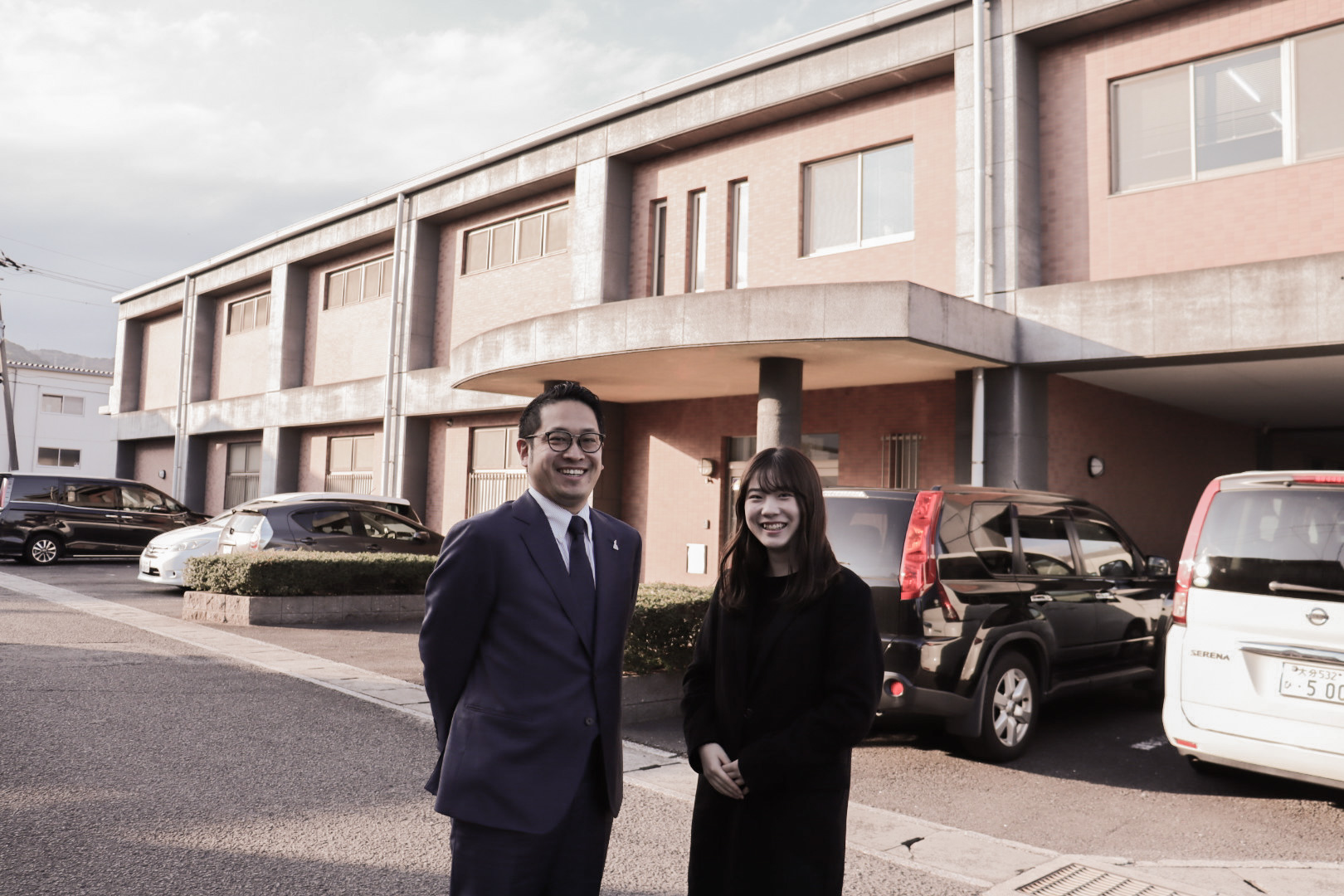 With Mr. Abe in front of the Eiko printing company building. It was a lot of fun and time flew by!
Editor's note
After I interviewed  Mr. Abe, I felt strongly that I want to get a job that I could enjoy and have a passion for because we only live once. Currently, I often think deeply about my future toward job hunting. I realized I would like to face myself and make choices without regrets. Also, I am sure that the world's first antibacterial sticker which was born in Beppu will be used all over the world in the future and the wonderfulness of Beppu's manufacturing industry will be known. I will continue writing articles as a writer to spread Beppu's industry all over the world.